Every dog lover wants his dog to be happy and have enough space to play around, prowl, look outside and have a good time. If your house does not have enough fun things to do for your dog, redo the backyard by adding simple elements that are set to delight your dog! Some small modifications will go a long way in making your dog a happy one. Try out these simple backyard ideas to make it dog-friendly.
Flowing water –
[Image – California Waterscapes]
Keep it running where your dog can access it. Dogs love to drink a sip or two every now and then directly from the water source, and it would be a great idea to have a water feature added in the backyard just for them to lap in, once in a while.
Give them space –
[Image – Pat Bernard Design, Inc.]
Have areas fenced off enough for them to run around without getting entangled in your plants, bumping with the pots or getting obstructed anywhere. Fence off seclusion, especially, for them to play in and be safe.
Have some shade –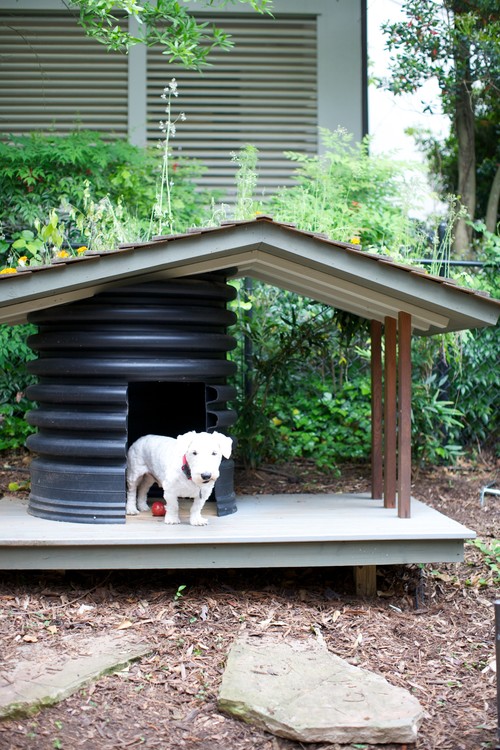 [Image – Heather Garrett Design]
If there aren't many trees around for your four legged friend to rest under, invest in a good doghouse or have some kind of easily accessible shed for the dog to rest under. It is a good idea to have a dog house because it gives them a sense of belonging and their own area.
Dog proof your garden –
[Image – Asian Landscape]
Some plants if, accidentally, eaten by dogs can be lethal. Commonly known toxins are lilies and mums, and you would like to ask your vet about other harmful plants your dog might end up munching on and ending up badly. Remove them from the dog's reach before you let it out in the backyard. Also, many pesticides or insecticides can be fatal for the dog too. You might want to get an alternative for them or stop using them completely. Also, for the garden pathways, avoid cocoa mulch as it has the same lethal effect on the dog as chocolate.
Place to play –
[Image – LDa Architecture & Interiors]
If the dog is well-exercised, it will be in a better health for longer and will not get frustrated or be grumpy. Leave a play area where it can run amok, play, fetch or chase the squirrels! Otherwise, your dog will be bored and look for menace.
Add some paths –
[Image – Home & Garden Design, Atlanta – Danna Cain, ASLA]
Since dogs like to guard their territory and are generally curious, they like to prowl and the path in the backyard will be great for that! Remember to avoid cocoa mulch for the path filling completely in order to keep your dog safe.
Choose dog-friendly material for surfaces –
[Image – THOMAS KYLE: Landscape Designer]
If the surface gets too hot, the dog will be uncomfortable and cranky. Try to use concrete, brick, flagstone and smooth pebble for the surfaces. Ideally anything that does not cling uncomfortably is good. It should also be of right friction; you don't want a dog fracture.
Novelty dog add-ons –
[Image – Opulent Items]
[Image – Randy Thueme Design Inc. – Landscape Architecture]
Small but attractive features like a peep hole, pride rock for lounging around or unique play area are a nice addition to the backyard as dogs get bored easily and would want something new every now and then. Keep playing around with these elements as they are inexpensive, but bring a lot of joy to your dog.
Best friends and companions, the dogs need their fun time too. Let the dog have a fun time in the backyard by these simple modifications and let it enjoy your home as much as you do!