timber frames make up the Casa Adpropiexe designed by Carlos and Bastai.
Untouched by human invasion, an existing tennis court forms a levelled ground for the Casa Adpropiexe designed by Portuguese Architects Carlos Casatenheira and Clara Bastai in the valley of Geres, Portugal. Offering unique design ideas, the structure is erected on a raised platform made from concrete bed and is supported using 52 timber frames. It is quite evident from the timber frame construction that, the architect has employed the use of locally available material and has utilized it to the utmost advantage of portraying an eco-friendly home.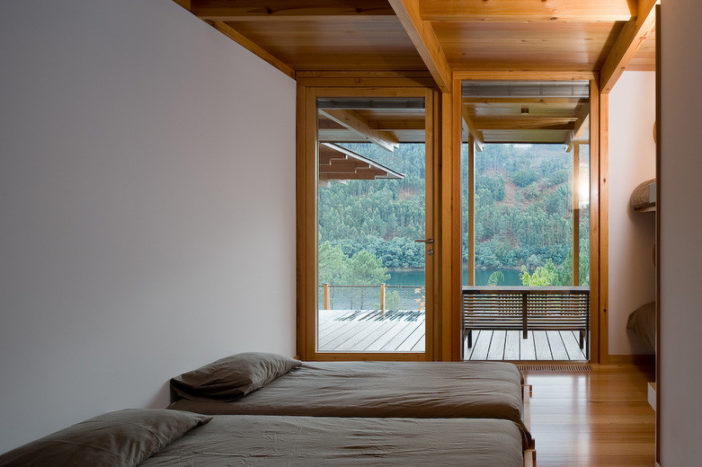 The entrance is by a bridge from the roof level, approached by a mountainous climb, which reveals stunning and mesmerising views from the roof top. With the lower tier levels of the house, the architect has assembled the space based on the degree of flexible usage. The guest bedrooms and entertainment zones are centred on the structural deck, supported by the timber frames. Moreover, copper has been used in the place of eaves, which leaves behind a tantalizing brownish hue owing to its exposed nature to the atmosphere. The facades are decked in clear sliding glasses that opens up to the scintillating views of the Gere forest.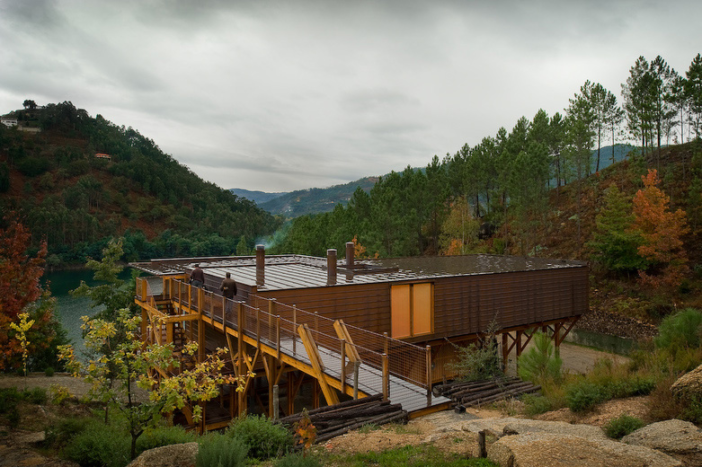 With a penchant for detailed design, the architect has refrained from re-touching the exposed timber frames and leaves it to revel in its artistic shades, which illuminates the facade nestled amidst the green ivy trees. With the principal family rooms catering to the ground floor of the timber structure, the public and semi-private areas are segmented using timber screen dividers that lend an elegant touch to the internal spaces. The use of rattan and teak wood furniture brings out the tropical essence of the entire place with regards to its surroundings. A very innovative and satisfying project, the architect has nurtured the design on the site bringing in the harmony eluded by the nature.
Photo By :- Carlos Casatenheira and Clara Bastai