Designed by Mathias Klotz, the wooden and steel facade Raul House in Chile faces the Andes Mountains and a beautiful lagoon near a sloping site. It is built on a concrete pile foundation bed that rises above the sloped ground to support the external wooden and steel structure of the house. Being rectilinear in form and layout, the house appears dark on the outside, to merge with the thick foliage of the forest and is bright on the inside, to exude spaciousness and light. The house opens to the south and west where cascading views of the mountains and the lagoons offer breathtaking moments to be savoured by the family.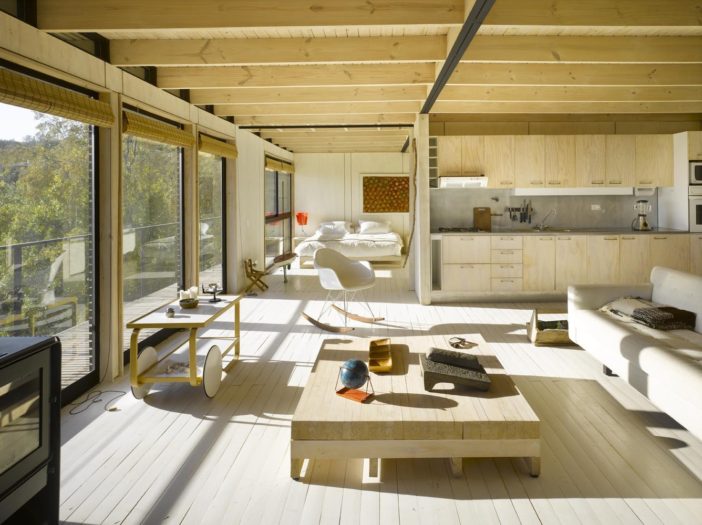 Talking about the layout, the architect has used locally available materials like pine wood, steel, plywood, and timber to raise up the structure of the house offering some great green design ideas. A clean and neat finish without a much exorbitant design seals the tone of the house. It is spaciously laid out with a double twin bedroom, with a seating lounge and individual wash areas. Also, the main living hall overlooking a semi-covered deck is large enough to house the entire family.
Right behind the family area, is an open kitchen counter, followed by a master bedroom towards the rear end of the room. The architect has ensured to provide at least one main view of the mountains, to every room and this has worked out best in the living room. Outside on the deck, the family can enjoy the amazing views of the Chilean forest and being designed on a low budget, the house is appropriately designed and is very eco-friendly in nature. On the whole, the house is worth the effort, by building it on a strong slope with minimal design works and uncluttered style.
Photos By : Roland Halbe, Leonardo Finotti, Courtesy of Mathias Klotz