Thao Dien House designed by MM++ architects in Vietnam is a renovation project that focuses on bringing nature to the indoors to transform dark and unused spaces into habitable living areas. As a thumb rule, any existing house to be renovated would have an increased construction cost, which has to be leveraged by efficient planning and allocation of materials, labour and other resources. This concept has been adapted and modified for this renovation, where much of the existing structure is retained whilst large span openings are made to bring in sufficient light and air for effective cross ventilation.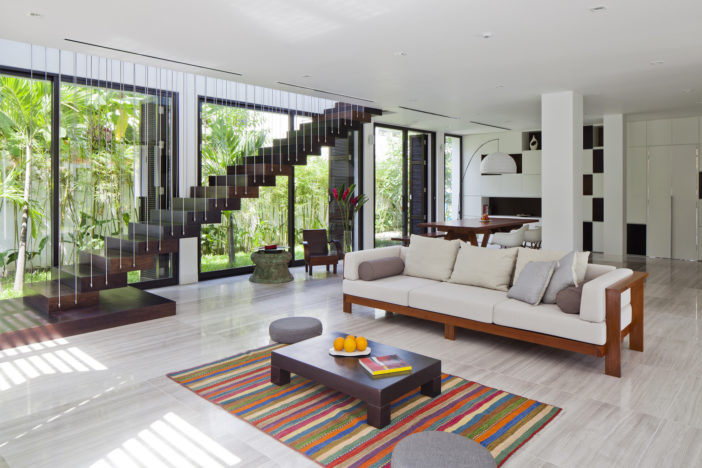 With a streamlined design phase, the architect has added green design elements like a vegetal panel to the retained cubic facade that breaks down the monotonous look of the wall. These vegetal walls are an integral part of the house and an extension of the garden, which conceals the master bedroom suites and in turn improves the quality of air and light entering these spaces. On the lower floor, the architect has implemented the mixed use of three different functions, namely the living, dining and cooking on an open plan layout. This opens up the space to look visually enlarged and spills on to the outdoors, as well.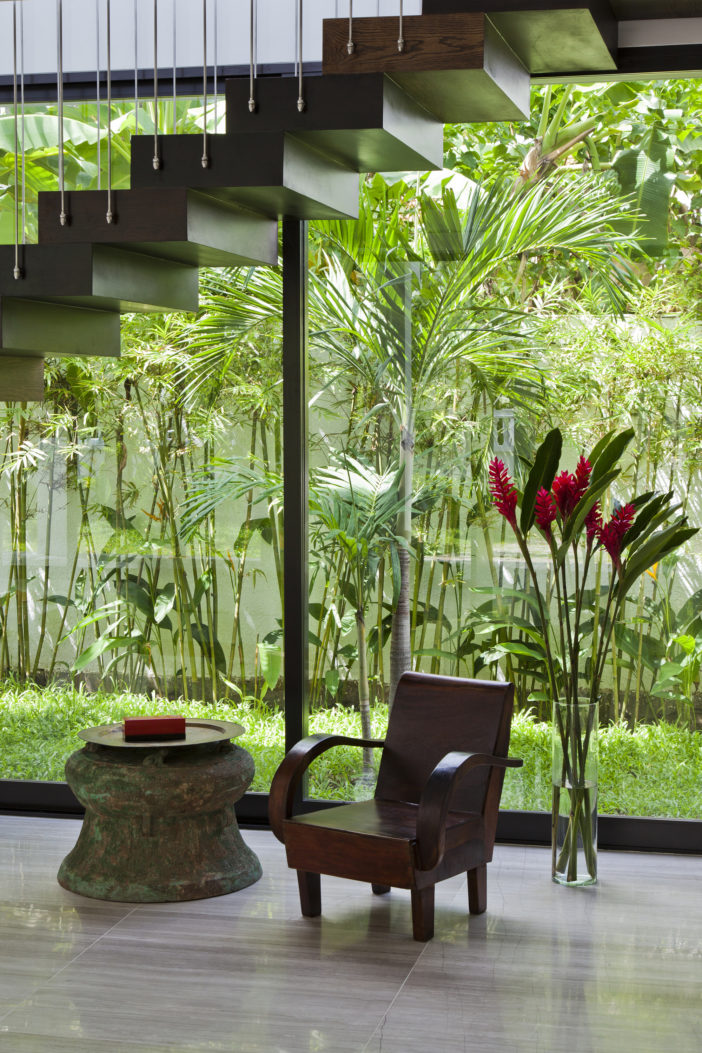 On the outer patio, the architect has sheltered the house, which makes enough room for a sun deck and an open dining area along with a swimming pool. Also, the first floor of the house reached by a flight of floating wooden stairs is the private lounge, which gives access to 3 master bedroom suites with a walk in wardrobe and attached washroom. The look of the house is more inclined towards embracing minimalism and is designed with a lot of finer details that enhance the aesthetics and finish of the interior décor. Much of the spatial arrangement is done in keeping up with improved day lighting, ventilation and circulation around the house. On the whole, a very simplistic and practical approach, the house is designed in a manner that appreciates its surroundings and becomes one with nature.
Photos By :- Hiroyuki OKI