Most of us try to play safe by choosing the most secure colour and design options. However, you can be having a lot more fun by giving your indoors a twist. If you have never explored the option of adventurous interior designs, then with these interior decorating ideas and options, you can test the waters and still not go far beyond your comfort zone.
Create excitement with unique shelving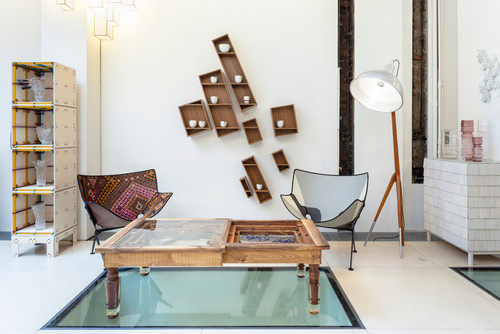 [Image: Inge Clement Photography]
Shelves are an important part of storage and do not have to be conventional. The shelves used in this image are designed in such a way that they can be mounted at a different angle, thus creating an interesting display on the wall. This is just one of the many options that can be explored. There are many other unique formations and designs that are suitable for this kind of storing and display.
Accessorise with varied scale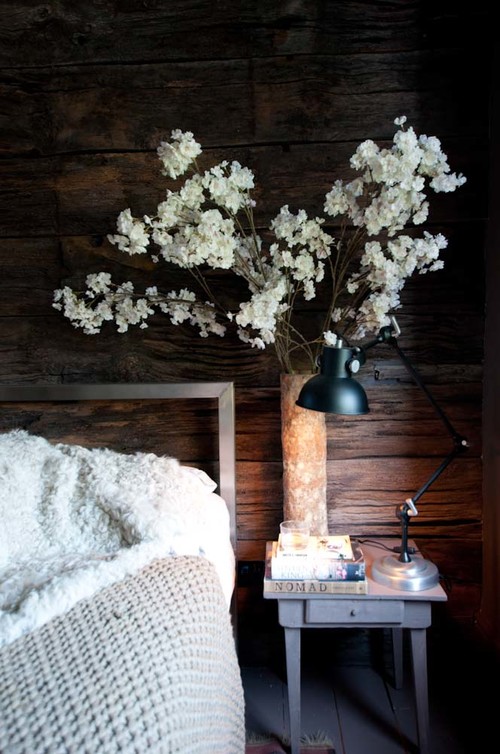 [Image: Abigail Ahern]
It is common to see the same scale items on our dining tables or bedside tables, the most general arrangement being that of candles, lamps and a mid-size vase. However, it would be a welcome change to use a different scale of items like an oversized arrangement of flowers in a vase with small accessories to create an unsteady line of vision. You can also do this for other places such as a mantle piece, dining table, etc.
Explore a feature wall option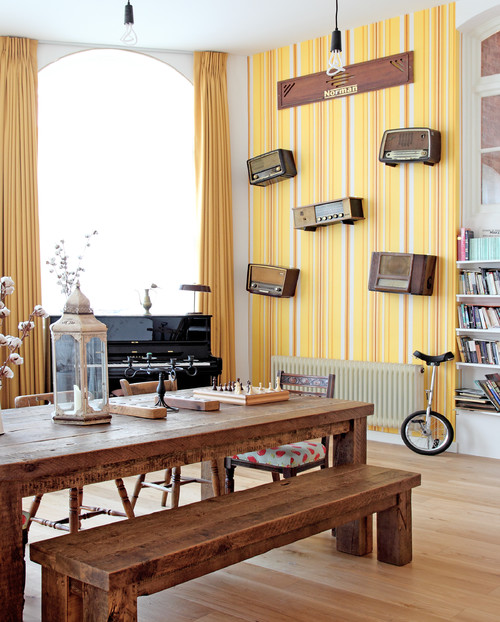 [Image: Avocado Sweets Interior Design Studio]
A feature wall is a lot more than quirky wallpaper. There has to be some element of uniqueness to make it worthy of a feature wall. Like in this image, the homeowner mounted vintage radios on the wall to create a fancy display.
You can also use your own musical instruments or old hats to create a 3D wall feature. However, before you delve into this idea, make sure that you only mount the things that you are fond of collecting and wouldn't mind seeing on your wall every day.
Make your hallway more fun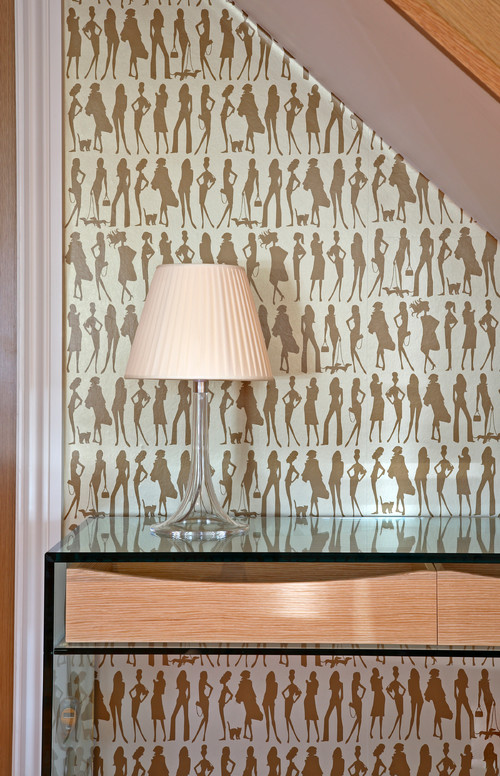 [Image: Avocado Sweets Interior Design Studio]
You can make your hallways far more interesting by adding cheeky wallpapers. You can also consider using a risqué imitation to adorn your walls. The choice remains yours as far as it is quirky and has a visual value of its own. You can also pick wallpapers designed for kids to be used in the context of grown-ups. How about a colourful balloon's wallpaper for that passage in the house? There is no harm in toying with the idea!
Make art out of your old clothing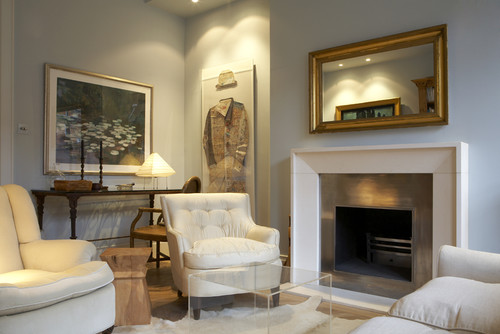 [Image: Brian O'Tuama Architects]
If you have an alcove that is sitting empty with nothing interesting to display on that corner, you can use your old tailored suit or vintage kimono dress to create a piece of art. This is a very unique way to dress up that alcove.
Retro meets conventional
[Image: Chris Snook]
You can take the vintage looking room onto another level by adding elements of retro in it. In this room, the décor has been done in a rustic finish with quirks of its own. But the disco balls on the ceiling are making the room look different and far more exciting. When you are bored, just remove the balls and restore your old world charm, minus the retro.
Make your ceiling central focal point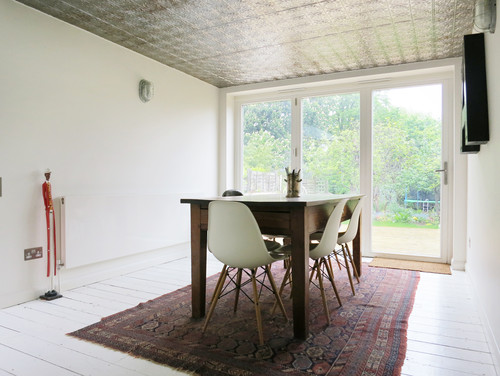 [Image: House of Locations]
White ceiling has been traditionally used to keep them from overpowering the walls or the accessories. However, what if you were to treat the ceiling as a focal point itself? In this house, the ceiling has been done using elaborate tiles that complement the flooring and walls by creating a sense of uniqueness.
Introduce more colours with old lego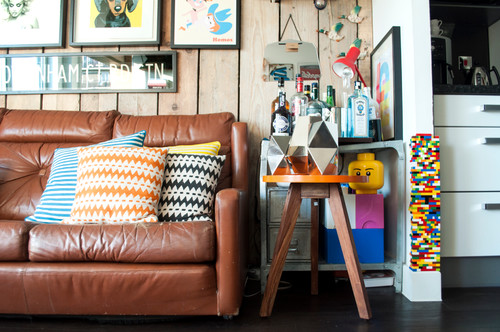 [Image: Amelia Hallsworth Photography]
You can introduce a lot of colours and much of your childhood back with the Lego bricks. In this room, they create jazziness by being added to the dividing walls. The ultimate playfulness can be attained by adding more old toys into the décor of your home. Think of unique ways to get that look and achieve your own quirks in an easy and playful way.
Urban Art in Period Home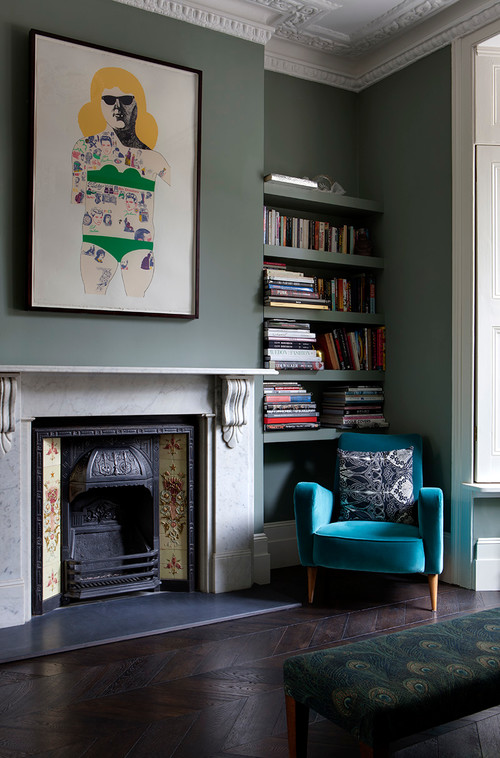 [Image: Brian O'Tuama Architects]
If you have an elegant looking traditional fireplace, this is where the urban art will make the most of its quirky presence felt. The revolutionary edge will be highlighted in most demanding way without taking the limelight away from the fireplace. You can also do this conversely by mixing old oil paintings with a contemporary home to make a statement.
It may not be possible for all of us to step out of our comfort zones and explore the individual style options. However, these interior design ideas and options and more can be well within your comfort as they are not overly demanding and at the same time have the ability to make a statement for itself. So, this year, try to make your home décor fun by experimenting and quitting the safe play area.