We often have those empty boxes that we use for storing small items like mementos, photos, ticket stubs, etc. Although it appears like a stop-gap arrangement and something which is a constant reminder that we need to invest in storage that is more visually pleasing, you can also take a look around the house and will be able to see so many things that can be put to better use. Here are some unconventional decoration ideas to make your home appear sorted and stylish.
Vintage China for jewellery storage
[Image: Focal Point Styling]
It is not always a great idea to store all your antiques in the attic. Your pretty and petite pieces need a far better treatment than the dust of the room that has seen better days. If you have some unmatched china that you have been saving for all these years, now is the time to use it for storing your jewellery in fancy vintage holders.
Colourful box made of plastic blocks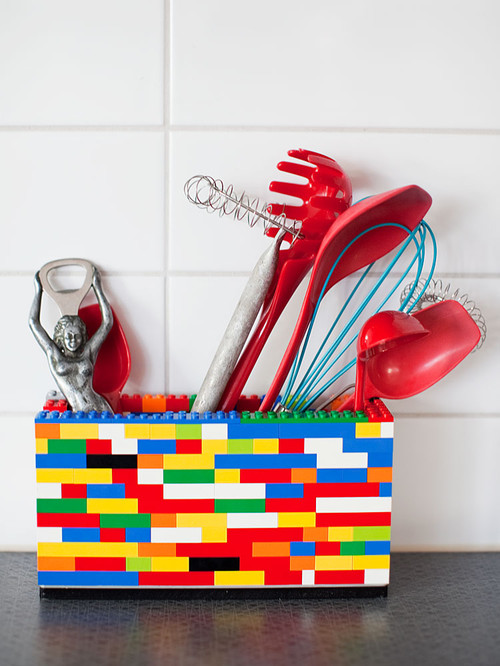 [Image: Fotograf Lisbet Sporndly]
Imagine a colourful box sitting on top of a counter? This simple work of art made by your little one can be a great source of storage in your kitchen to hold spoons or other small items. Not to mention how you can flaunt your child's first artistic creation.
Fruit basket for bathroom
[Image: Michelle Ross]
One of the innovating bathroom storage ideas is to maximize the small and limited sink space in your bathroom by adding this tiered fruit basket to your bathroom that can hold a variety of things. You can sort your sink space by arranging your toiletries as per the basket tiers
Unconventional umbrella stand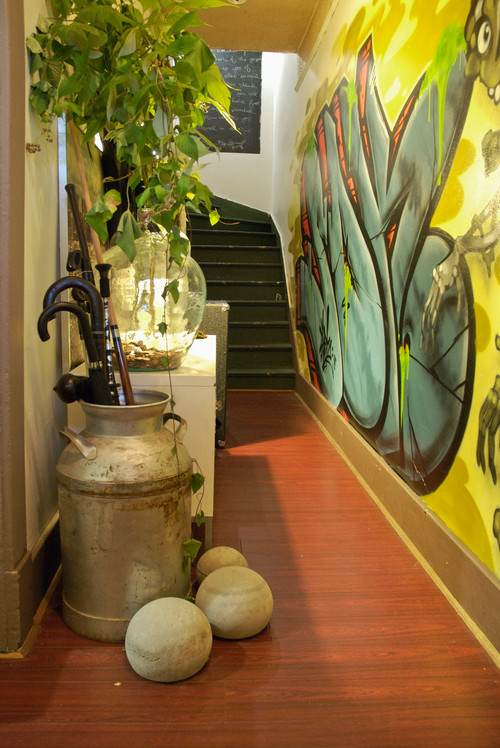 [Image: Heather Merenda]
Who would have thought that a milk jug can serve as such an interesting stand to hold umbrellas? It is not only creative but also chic in the alley coupled with other design elements like small rocks and a vase.
Galvanized buckets for storage
[Image: Sarah Greenman]
So your son is growing up? Take out all the "kid" stuff and store it in huge galvanized tubs and buckets that are easy to manage, unbreakable and provide versatile storage option. They are also less space consuming and a healthy alternative to large chests.
Bookcase wagon
[Image: Tess Fine]
Your kids may have grown out of the toys but that is no reason to throw them away. This wagon makes a very interesting bookcase and can inspire your kids to take up reading every once in a while. Be creative with your children's playroom and you can create a healthy environment for them to connect with.
Get your hands on a grocer's scale
[Image: Kerrie L. Kelly]
You may not really find this at your home but if you can get your hands on it, then you are likely to make a huge impact. You can use it for variety of purposes like in the kitchen for fruits, in the bathroom for towels or in the office for storing handy stationary.
Vases with distinctive style
[Image: Shoshana Gosselin]
You have neck pieces in great numbers? Use these mismatched vases to keep them from tangling and easy storage. You may have a lot of vases or jugs in your kitchen that you don't use anymore. They will serve a good purpose on your dressing table. You can also paint them a shade of white to make them look chic and classy.
Wooden rustic ladder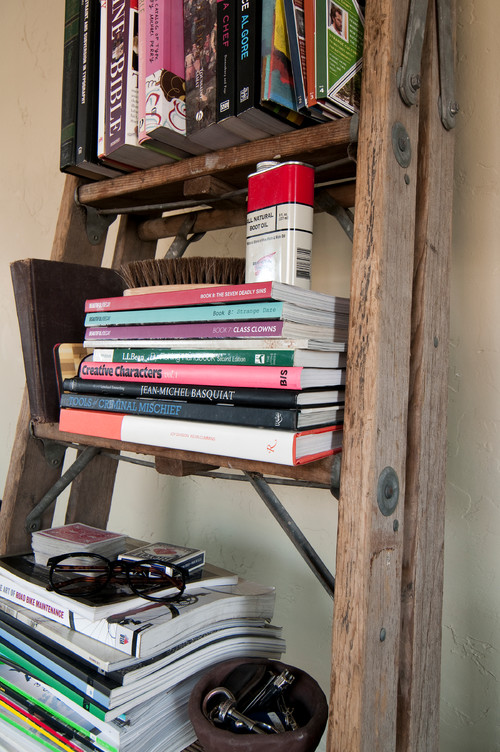 [Image: Lucy Call]
This rustic quintessential ladder can be a great way to store a variety of items like garden tool, books, shoes and it can be placed anywhere in the house as it does not demand too much storage space.
Plastic hanging shoes manager
[Image: Simply Organized Consulting]
You have a junk drawer at home that has anything to everything stored in there but you would rather hold on to it than throw any of that stuff away. Well, then you can get a shoes organizer and sort the items as per relevance. You can also use it in a pantry to store quick snacks while you are on the go.
Lone drawer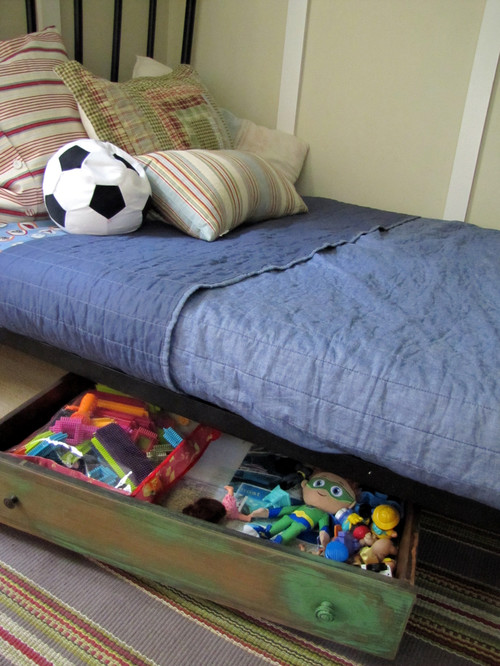 [Image: the Painted Room]
That old chest is now useless because of all these years. But the lone drawer from it can be used for storing many things like blankets, books or any other small items that you need out of sight. The best thing is that it can easily slide under the bed.
Tote bag as paper/magazine holders
[Image: Heather Garrett Design]
Women have too many bags that they don't use anymore for whatever reasons. You can use one of those tote bags in your room, bathroom, and/or kitchen to hold magazine, bills or newspapers.
Industrial toolbox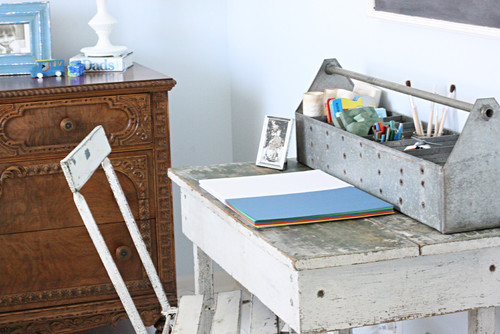 [Image- frenchlarkspur.blogspot]
Store your home/office supplies with the help of an industrial tool box, which is not only a chic addition but also keeps you pins and pens in order and in one place.
Spice Racks as book racks
[Image: Jennifer Bishop Design]
Spice rack sitting empty on a kitchen wall? You can dismantle it and use it to store books in your kid's rooms or play rooms. You can also use it to hold small soft toys to keep them off the floor.
Flaunt your heirlooms
[Image: Tess Fine]
You can use the existing china cabinets to display your old and classy heirlooms. This will help you arrange your space better and also put the old cabinet to a better use.
Cardboard art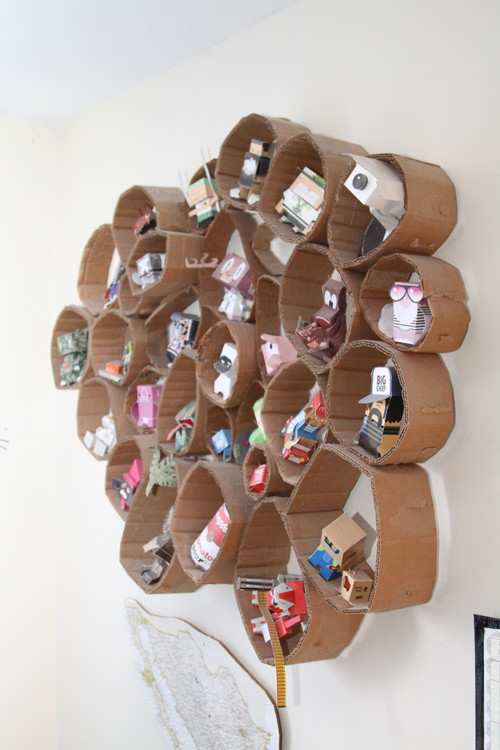 [Image: Jeff Jones Snap it Photography]
Use a large cardboard box to cut out pieces that you can use for storage, and then secure them to a wall with the help of invisible tape. This small art can be used to display your small items.
Sort mail with dish rack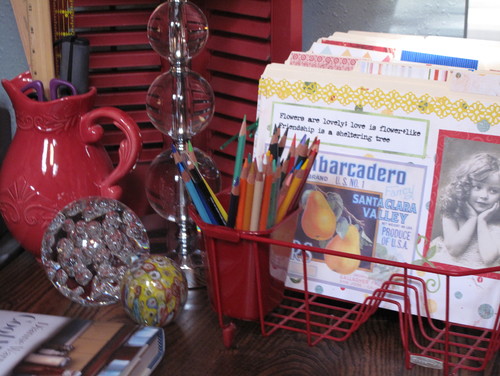 [Image: Cozy Little House]
You can sort your kid's drawing books and your mail by using a budget-friendly dish rack. There is also an additional spoon holder that is a good place to hold the pens and pencils.
Tackle clutter with tackle boxes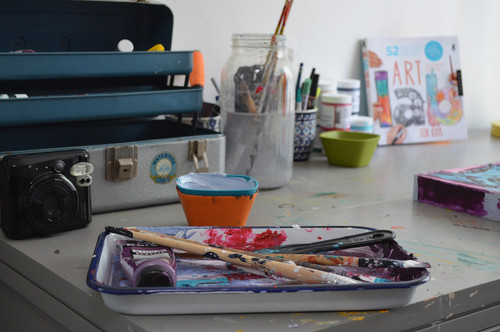 [Image: Sarah Greenman]
Preserve all your important items and art supplies in the tackle boxes without compromising your aesthetic passion.
These are some very generic ideas that have been put together creatively to not just enhance the stylishness of the décor but also provide an exciting storage for small items that create huge chaos and lose frequently. These simple storage ideas will be easy to implement and will help you use your creative bend of mind to come up with more such exciting ideas.