Pride yourself with a bedroom where every piece of furniture exudes quality and luxury. Fitted bedroom furniture at Strachan is designed, built to fit every inch and durable enough to last more than a decade. There's a superb range of collection to choose from. The design caters to every taste palette from contemporary, classic to traditional as it blends in perfectly with your personality and the character of your home. Maximize the potential of your bedroom space by infusing your creativity with bespoke fitted furniture, great value for your money indeed!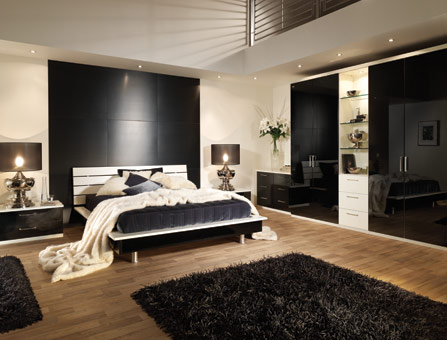 If you enjoy sleek and minimalistic look then you'll adore the Portofino Black & white High Gloss contemporary bedroom furniture. White worktops and contrasting black frontals give a timeless look credited to its high gloss finish. A stunning collection that is beautifully designed, crafted and handmade built to precision.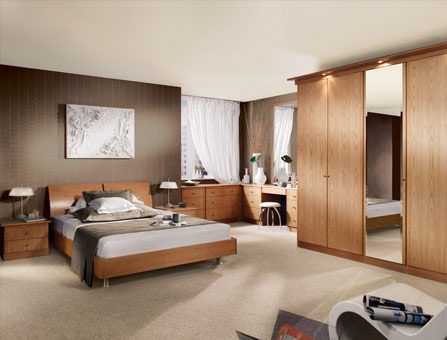 For a contemporary yet timeless feel the Sienna Oak furniture is expertly crafted from European Oak. This collection is available in Natural Oak, American Black Walnut and Rock Maple. Don't think twice when it comes to this understated design because this immaculately finished furniture has clean modern lines and crafted to create a bespoke fit.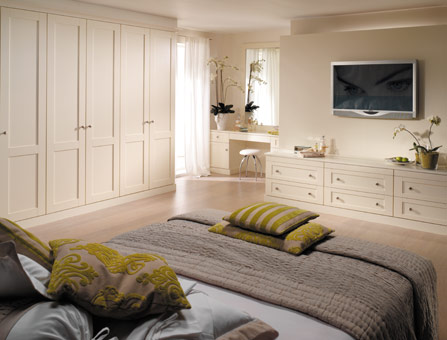 For those who prefer clean, simple lines and timeless understated style, Verona White Finish is a classic adaptation for a bespoke fitted bedroom that offers elegant spaces to unwind. Also available in English Oak this versatile collection has clean lines that will blend into your style if you envision a beautifully organized bedroom that has ample storage and yet looks classic in style.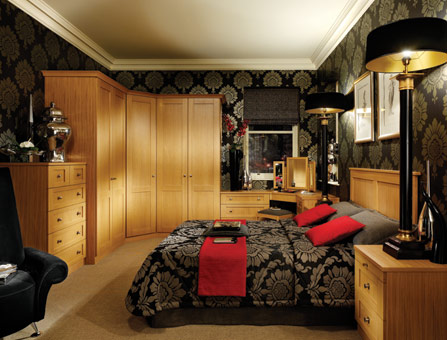 A classic bedroom design that is seamless and blends with a stunningly glamorous design that is sure to make a statement in a contemporary setting. The Mountain Oak is available in Medium Oak with a distinctive shaker influence. The silky touch of oak veneer gives this room a luxurious effect and the bespoke fitting is tailor made to your vision.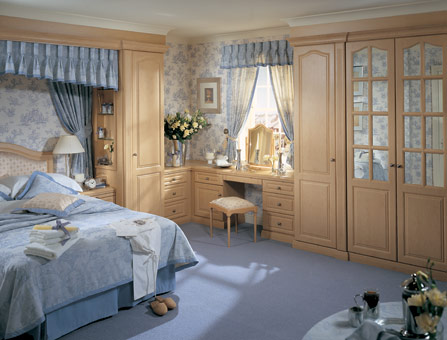 Vermont Birch Finish is one bedroom design that is sumptuous and sophisticated enough to compliment the character of your bedroom space with its warm and welcoming soft birch finish. The delicate details and design brings an understated traditional style to life. There is a wide range to choose from Uno Walnut, Mellow Oak, Birch, and Maple to English Oak Finish. This one comes across as a natural choice when looking for a timeless design.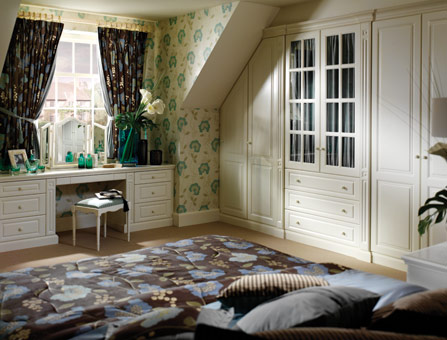 The Cotswold Alabaster White bedroom balances out a traditionally classic style with practicality because of the way it's expertly crafted to fit every corner precisely. The details are carefully considered as can be seen the way frames have been moulded elegantly along with the superbly glazed door lines, the coordinated fabric fits the color scheme highlighting the classical proportions.