John Wardle Architects is an Australian architectural firm recognized for their exclusive high standard projects. The Fairhaven Residence is one of their sophisticated works that spreads over 4,628 square foot and is located in Victoria, Australia. Situated on the top of the ridgeline, the house offers magnificent views of the surf beach and the ocean below.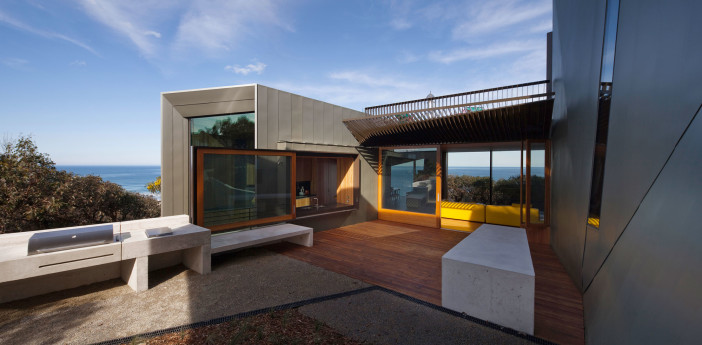 Coming on to the interiors, the house is all about timber and wood. The designers have worked on the tea tree landscape and have used wood in its natural polished finish for everything, including walls, cabinetry, floors and the ceilings. There are large windows in every room that have been proportioned and oriented for offering the best views of both exteriors and interiors. The dining deserves a special mention with the open walls and timber finish that ensures the visitors overlook the sea while enjoying sumptuous meals.

The bedroom comes with walls that have large glass panes for views, while all unwanted furniture has been done away with. The bed features completely white linen, while the floor, walls and ceiling are in wooden finish in the same look. The designers have also worked on including a few pieces of modern comfortable furniture in a gray and white finish. A stylish fireplace has been used for essential warmth in the sitting area where the furniture is a contrasting bright yellow finish.

The lighting solutions are extremely high fashioned with use of ceiling and pendant lights in a modern combination. A design that's meant to stun eyes, The Fairhaven Residence from John Wardle Architects is a true architectural wonder in all respects and has everything needed for luxurious living.
Photos by: Trevor Mein