Why does your home smell in a typical way? Because the activities, you do in your home, make it smell like that. The home smell is the most comforting smell ever. It is the familiarity it sparks and then stays in the mind's window forever. For a fragrant and memory inspiring home, try these habits in the daily routine.
Bath oils and fragrant bubbles –
(Image – Sarah Greenman)
Have the bathroom made fragrant by some beautiful smelling essential oils and bubbles. The relaxing bath will always have its impact on your senses. The wonderful smell of cleanliness and the fun one has during a bath will be etched in your senses forever.
Flowers and herbs –
(Image – Hortus Oasis)
Why not let the nature take its course and let your memories be created in the lap of some beautiful smelling plants? Adorn the windows with jasmine and honeysuckle for their amazing smells, and your sleep will be infused with lovely smelling dreams!
Lavender rows in the garden –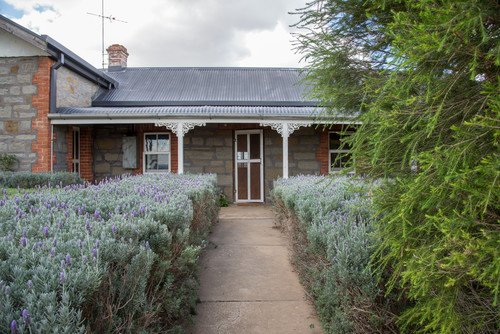 (Image – Jeni Lee)
Lavender has the capacity to soothe out any stress or tension just because its scent is almost magical. Try to plant a row of lavender around the walkway and see the effect and remembrance you will have of it all your life. Lavender is also beautiful to look at, and so, the garden will be a visual treat, as well!
Coffee and tea –
(Image – No20 Christine F. Interior Design)
There is nothing like a mug of freshly ground coffee and freshly brewed tea. The scent just fills up the senses and endears to the soul. We have fond memories surrounding a cup of coffee and tea in our house. Try and experiment with the way, adding new ingredients and altering the memories – little by little!
Flower arrangements –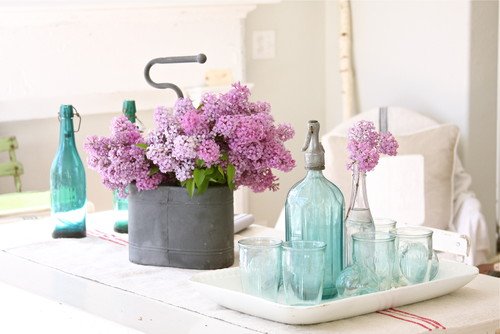 (Image – Dreamy Whites)
One single twig of a fragrant flower scents up the space with a beautiful aroma. If you are fond of lavish arrangements, go for them and spread some nice smells. Else, just have a sprig or two to brighten up your day along with offering some fragrant dining room décor ideas.
Kitchen smells – something yummy cooking –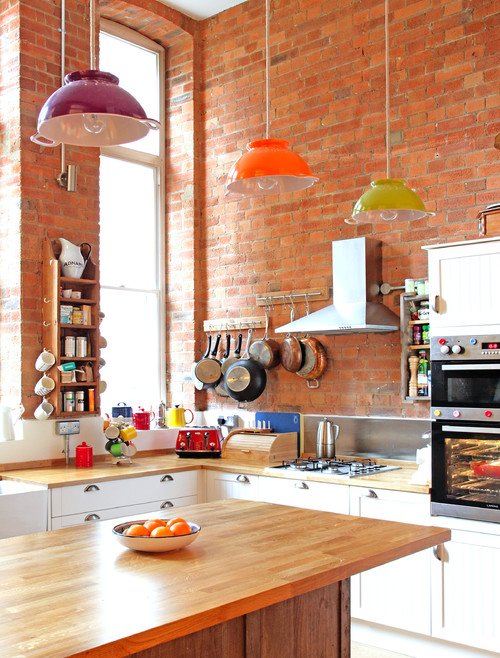 (Image – Avocado Sweets interior design studio)
Nothing brings up the home reminiscence in a vivid way than some amazing kitchen smells. Bake, fry or cook – this will give your house homely feel and ambience. Even the kids and your pets will associate with it!
Garden smells –
(Image – Sarah Greenman)
Does the rain washed soil or freshly cut grass has a vivid memory lurking around your mind? Do you want your family to have similar memories of a happy home, as well? Have a garden, big or small is immaterial, and let these smells have an impact on your family's minds and souls.
Perfume –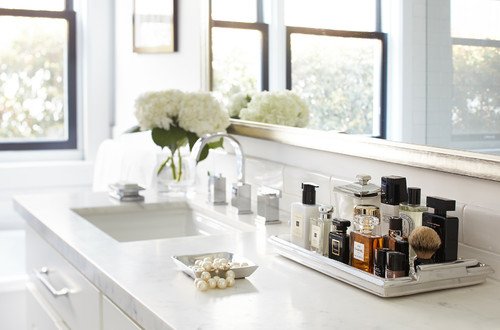 (Image – Urrutia Design)
That sensual silkiness, which spells magical moments, cleanliness and adulthood all at once! Have a corner in the bathroom or dressing area, which stocks all your perfumes and your kids, can associate with this smell all their lives. A great way to provide some character to the room and also some awesome bathroom décor ideas.
Vegetable garden aromas –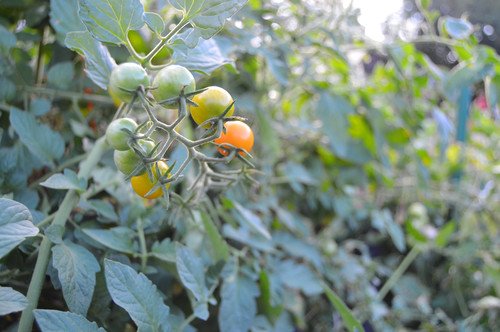 (Amy Renea)
As kids, one of the best memories we had was to go plucking vegetables in a huge garden the grandma had. With little hands and little baskets or bags, we would look for ripe veggies while we took in the aromas of various herbs and greens growing around. Make this a memorable activity for the kids and let them breathe in nature. Plant some tomatoes as they are the easiest to harvest and take care of.
The human mind is a wonderful place. The associations and connections our mind makes with the senses remain etched forever in the memory and provide for nostalgia and emotional bonds as we move on with life. Stop, halt and feel – the smells of the house are trying to make your memories. Assist them by making the home a fragrant place full of homeliness!