Lighting is one of the most overlooked aspects of your home décor and more so in the kitchen. Kitchen lighting ideas must take a lot of things into account such as its functionality and also its compatibility with the rest of the décor. The experts warn that lighting a kitchen is an art that either goes unnoticed or is planned poorly. However, the problem is poor planning can only be detected long after the work has been done and the contractor is gone.
You don't need to use the same old lighting fixtures that were fixed into the center of the room or fluorescent lights that flickered, even in its best days! No need to live with that anymore. Thanks to the growing industry, experts have a solution to your problem that will help you plan your kitchen in a much better way.
Any good professional will be able to tell you why you need to invest your time and money into your kitchen lighting ideas and how to design a scheme that is suitable for your kitchen.
Give your kitchen lighting the due it deserves
[Katie Anderson Interior Design Consultants]
It is really sad that most people do not even consider lighting as they are planning their kitchen décor. Lots of light or its lack thereof can have a profound effect over a period of time, both emotionally as well as physically.
A well-lit kitchen is necessary for not only improved quality of life but also your health. Confused? Well walking into a poorly lit kitchen means that your eyes will have to work harder for it to adjust to the change in lighting conditions. This can cause one to feel fatigued or even tiredness. However, investing in quality lighting will at least take these worries off your hands.
Evenly Lit Kitchen is an Effective Workspace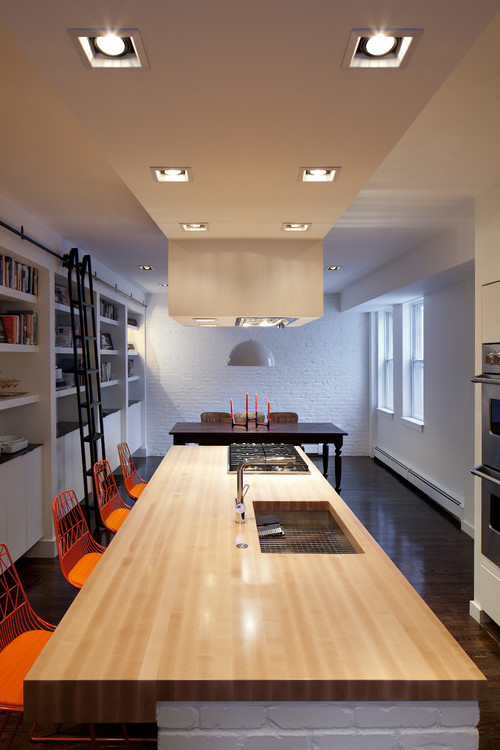 Aesthetic kitchens
[Bunker Workshop]
Your kitchen should have the same kind of lighting across the room. You need this if you want it to be an effective workspace. You can also integrate a dimmer into your lights so that you can increase or decrease the illumination as per your preference. When you have guests over, it would be a good idea to have a dimly lit kitchen for a more celebratory mood.
Improve your Home's Resale Value
kitchen lighting ideas
[Randall Whitehead Lighting Solutions]
You may not know this, but a well-lit kitchen can amplify your home's resale value up a few notches. Kitchens and baths are the two most important aspects that can help sell the house, and for a good price if one has paid attention to it. No matter how much money you paid for that renovation, if the buyers can't see it, they are not going to buy it. In fact, low lighting conditions even make space look crammed. You can create an illusion of space by simply lighting your kitchen in a smart way.
Use the benefits of optimal kitchen lighting plan
Aesthetic kitchen
[Katie Anderson Interior Design Consultants]
There are four types of lights that make up your kitchen lighting: accent, task, ambient and decorative. Some of these light sources are able to meet multiple purposes.
kenorah design build
[Design Platform]
Also known as the focal lighting, this type of light features decorative objects and artwork on the walls or even on your upper cabinets that don't reach up to the ceiling.
The best form of accent lighting is a recessed downlighting. However, people must realize that cast a triangle of light and must be spaced in a way that they do not cast shadows.
[Hughes Studio Architects]
This is the light you need when are working. This light is mounted to the countertop perimeter or underside of upper cabinets. The lighting overhead is directed to the island countertop and the pantry to make it easier to work.
It is very important to have the right color of your task light. If you want a full blast incandescent lighting, then you should select a light source of 2,700 Kelvin and if you want the color to be of lowered incandescent, then look for a light source that is 2,400 Kelvin. Using these color temperatures will also merge well into the incandescent sources in other rooms.
[Hankins & Associates, Inc.]
This kind of light is an indirect source that provides an overall soft glow. You can place interesting strip lighting over the cabinets that don't extend up to the ceiling. This kind of lighting creates an illusion of tall cabinets and lights the neglected spots of the kitchen, making them more functional.
[Randall Whitehead Lighting Solutions]
This type of lighting entails pendant fixtures, stylish sconces or lighting the island or peninsula with interesting overhanging lights. You can also add a chandelier over your dining area to make it appear more inviting.
You can choose a chandelier or a pendant light with warmer tones and add a dimmer to it so that you can alter the lighting as per your mood.
Get started with the lighting Plan
[Kenorah Design + Build Ltd]
In order to get the best results, it is important to get a professional onboard, who can help you with lighting options and the ones most suitable for your kitchen type. If you are going to spend money and time on lighting, you might as well install them in places where they are actually needed and solve more than one purpose!
Lighting your kitchen in the right way can uplift its aesthetic sense and also make it appear classier. If you do it the right way, then you can also increase your home's resale value! These expert interior ideas and tips will you get started on the right footing so that you can smartly and economically manage your kitchen lighting plan.