Genets 3 house project is one of the rare modern homes with a difference and is located in Belgium. Designed by popular design studio Atelier D'Architecture Bruno Erpicum & Partners, the house is spread to two levels and has an area of 10,000 square foot. The residence features a mezzanine office with four bedrooms and a swimming pool. The high ceilings of the house are one of the main highlights of the construction. Most parts of the house are designed and completed in white with large walls and railings in glass, giving a very unique feeling to the entire setting.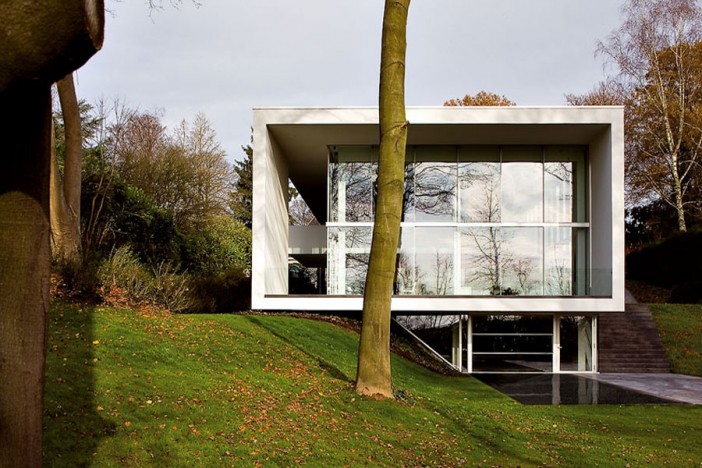 Using high ceilings, the lower portion of the home blends well into the natural surroundings and has glass panels put together with metal beams for maximum indoor lighting. The walls of the interiors are designed in white for mature finish, while the matching furniture in white is the perfect contemporary choice for a large home like this. The flooring for most portions has been done in the concrete marbled way to retain certain amount of subtlety.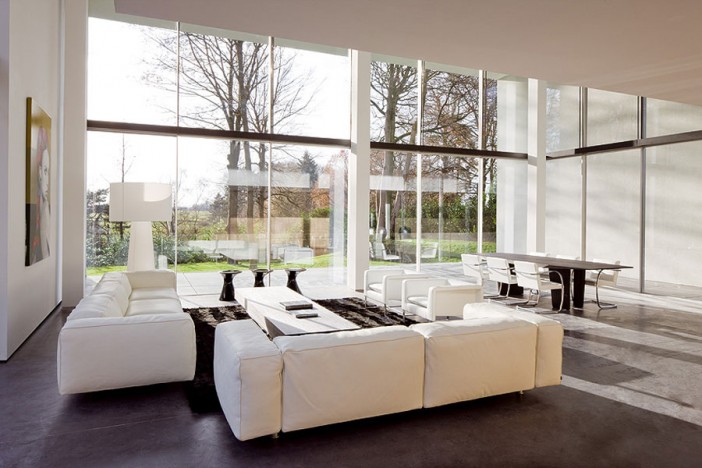 Apart from the white sofa collection in the living area, the furniture in rest portion of the house is a blend of style and functionality. The office has classic modern style wooden furniture, while the hallway leading to the upper level has simple benches in white. For the lighting, the design studio has most relied on ceiling LED lights with occasional use of lamps for source lighting and practical needs. Walls have simple white finish with use of large paintings. Rather than using too many things, the house is more like in the open style with plenty of free floor space, which makes the area looks larger.
Photos by: Jo Pauwels