It is rewarding to have even the smallest patch of greenery in your homes, especially if you live in an urban environment. However, the problem is that these urban spaces have severe room limitations and lack of sunlight. As much as we would love to have too much green space, due to restriction we have to make do with all that is available. Here are some creative design ideas and ways to work that tiny balcony into a striking feature.
Beautify with fake grass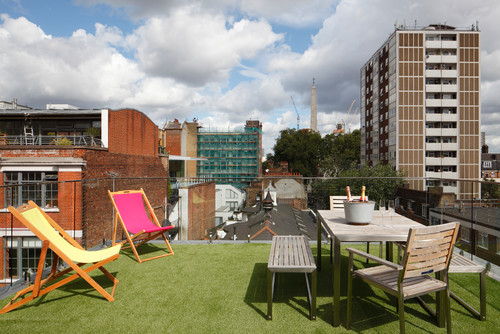 [Image: Robert Rhodes Architecture + Interiors]
When it is not practical to have real grass in your open spaces, then an artificial one comes across as a realistic option. Fake grass is not only low maintenance, but also low cost. It can be a quick fix in spaces where the actual one cannot be planted. No need to deprive yourself with greenery because your garden does not receive enough sunlight for the grass to breed. What more? You don't need to worry about its overgrowth or weeds that somehow find their way into the small growth.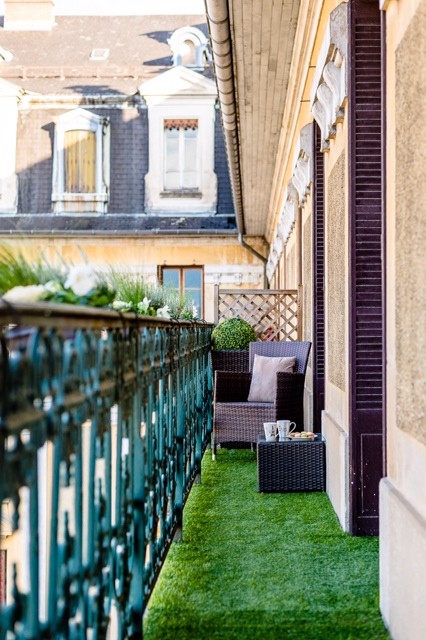 [Image: Arabesque & Co]
These simple, yet readily available options can make your balcony or terrace garden instantly look cheerful with this low maintenance patch of green which is easy to walk on and feels great.
Gravel path lined with Trellis  
[Image: Alma-nac]
If you are living in a narrow row house, then you can transform its back lot into a stunning pathway by adding gravel on the path and lining it with wood trellis, as well as climbing plants. Gravel is not only economical, but also a smart way to add finishing touch to the backyard.
Multiple Outdoor Rooms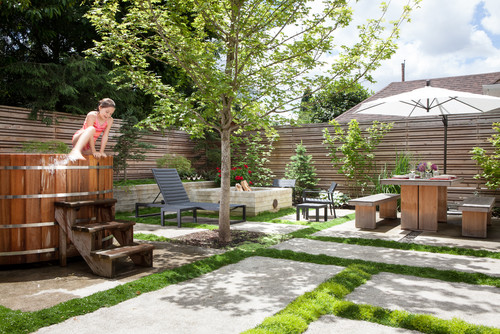 [Image: Howells Architecture + Design, LLC]
In this backyard of this house, there is a lot of scope of activity even for a small space. There are a tub and a separate dining table along with a fire pit, which has been demarcated with concrete slabs bordered by mossy cover on the ground. However, the whole space has been tied into one another with a maple tree, which has been planted in the centre for shade and an interesting focal point.
Step up Deck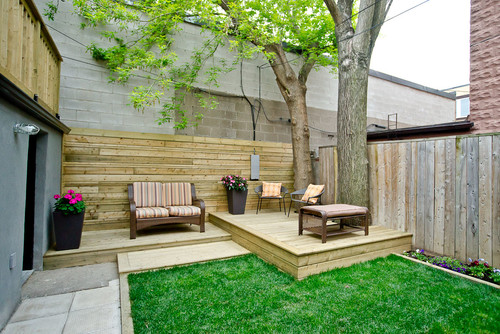 [Image: Re:Placement Design]
You can introduce different areas in your small backyard by adding split level decks, which can add a visual point of interest with a simple increase in height. You can plan the space according to your usage. Perhaps add seating at one level and a passage on another to clearly delineate the area.   
Curves in the right place  
[Image: Harrison's Landscaping]
This garden has a curved bench along the wall, which is not only space saving, but also makes up enough room for a number of people to be seated. It works perfectly for an outdoor seating and also a great way to sit outside and enjoy the evening. The feel of the space has been augmented by the use of mirrors that have been positioned directly behind the bamboo hedge, which improves lighting and creates an illusion of space.
 Playground in the backyard
[Image: Little Miracles Design]
Give your kids the reason to play outside and also room to run around. This structure installed in the backyard provides a play zone in one part and benches on another, which makes up for an outdoor dining area. Although, this backyard is low maintenance already with its frugal design, yet you can further reduce the cost of maintenance by using an artificial turf.
Hanging Garden
[Image: The Room Illuminated]
The floor space has been conserved in this small patio by placing the plants in the wall planters. You can choose the plants to add more greenery or also use some herbs or lettuce for your very own hanging kitchen garden. You must keep a ladder within reachable distance to tend to the plants or you can also use a hose to water the ones on the uppermost level.
 Zen themed gardens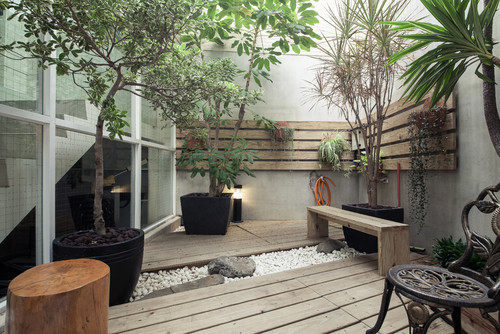 [Image: Oliver Interior Design]
This garden has been designed with the help of rustic looking wooden planks that provide warmth and simplicity to the backyard patio. The stones section bisects the deck with a few boulders placed in between for interesting effect. A wooden bench offers a seating option and completes the look, which has been combined with the wooden planks on the wall to place potted plants and tie in the design. Give yourself a treat of peace and relaxation when you step outside in a garden that looks calm and composed in its design.
Rooftop Garden
[Image: nArchitects]
This green roof garden is all it takes to make your urban space not only liveable, but also enjoyable and eco-friendly. An outdoor dining has been added with weathered wood pathway that complements one another in a unique way.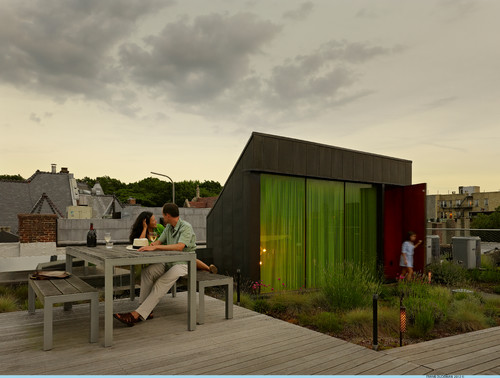 [Image: nArchitects]
The tall buildings in the vicinity have been complemented by tall grass clumps and native flowers, which make the rooftop garden look more realistic.
These outdoor design ideas and elements are not something that needs a lot of investment or too much design technique. All they require is a bit of common sense and creative bend of mind to bring a little outdoor inside. You don't have to overdo the space to make it look attractive. You can bring in a lot of changes by making small amends here and there and binding it all together with aesthetic sense.