When you already have a shortage space, it can be a very tough task to look for storage of all your items. As much as you like to keep your home clutter free, you also need lots of storage space to ensure that it is possible. However, if you are clueless as to where to start from, then these creative storage ideas and tips will give you a kick start in organizing your home and boosting space exponentially.
Open shelving combined with common storage containers
[Image: 2 Ivy Lane]
Storing identical containers in open shelves are a great way to hold a lot of items together in a neat organized way. If you want to make the most of the available space, ensure that your shelves reach all the way to the top. You can place all kinds of containers in the shelves but be sure to keep the design common. Measure the size of the shelves so that you can buy your containers accordingly. Don't make this wall full of potential storage space look shoddy. Instead, use your creative bend of mind to solve not just a purpose but also enhance the décor. To keep the arrangement consistent, use labelling system so that it is easy to access the items that are being stocked up in these containers.
In this image, the homeowner has used this wall with open shelving to store shoes and has used an instant photograph of the pair as the labelling system. You can also write in a neat handwriting or use a label maker for this purpose.
Shelves/storage on the staircase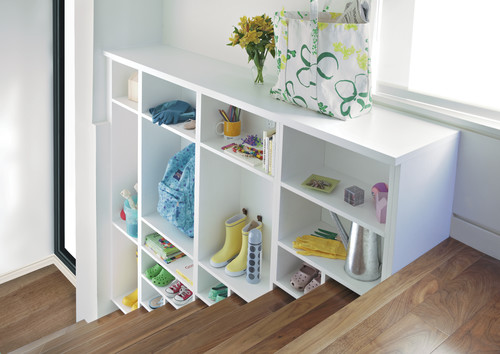 [Image: California Closets]
Stairs are usually a space that has been wasted and is only used to pass between floors. However, you can use it for a much better purpose that is by placing shelves on the steps. You can store so many things in this open storage like shoes, bags, books, etc. Get one customized as per your staircase and use it to organize the little things that cause the maximum chaos around the house.
Add storage potential to your dining room
[Image: Optimize Design]
We all have a low sideboard in our dining rooms for storage purposes. However, it does not offer as much as we'd like to stack up our things. So get rid of the old one and make way for a storage unit that has much greater potential to accommodate the items of your regular use. This especially will be helpful if your dining table doubles up as a workspace. However, be sure to maintain the look and feel of the dining room, even though you may use it for other purposes. Store a wine tray or serving pieces and even other times to make it look like what it really is – a dining room.
[Image: Mary Prince Photography]
If your house is based on an open layout, then it may seem like a bad idea to transform an entire wall into storage space. However, it can be a good option considering the limited amount of storage that a buffet has to offer. In this home, the homeowners took up an entire wall, which has been converted into a complete storage solution that can hold linen, dishes, pantry goods, etc in a seamless way.
Store your book collection in a mini wall library
[Image: Ascher Davis Architects, LLP]
A wall comprising of books from the top to the bottom has the ability to make a standalone statement in a big room. Coupled with a library ladder, it can together make a small room look sufficiently big. However, it may not be easy to pull of this design as people generally believe that it will make their room look stuffed. However, contrary to the belief, the room actually looks bigger and you get to store your favourite books in one spot in a much organized and a sorted way. Add a comfortable chair and you can transform this room into your favourite spot.
Unpack all your items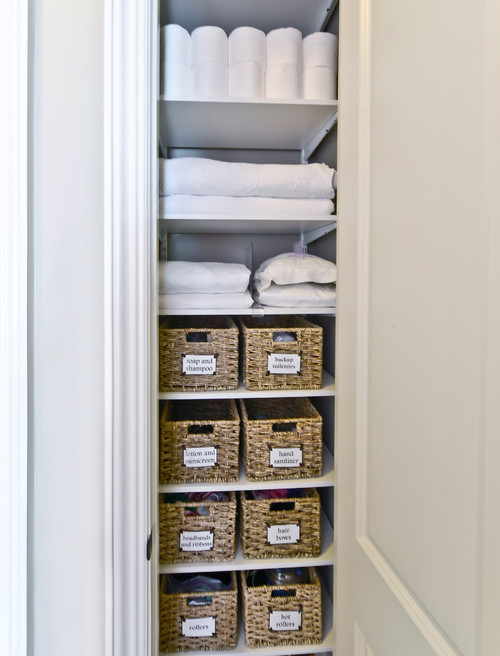 [Image: Organized Living]
After you make a trip to the store, unpack all your latest purchase and discard all the outer packing immediately. This will make it easier for you to store all these items.
Organize vertically
Check every single closet that you have in your house and make sure that every inch of space is being used to store things. Stack them vertically if you are falling short of space.  
Combine open and closed cabinets
[Image: naganjohnson architects]
Open shelves are nice and attractive and much easier to access when you need something. However, there are also some of the items that are best concealed behind closed shutters. You must work up a plan that also includes closed spaces to hold such items and can prevent the hassle of cleaning those shelves every day.
Minimalism is the trick
[Image: Optimize Design]
You can make your big furniture pieces seem less imposing if you keep them simple and minimalistic. It is not such a great idea to have a large cabinet or chest looming over your head in a small room. Instead, you should go for a hardware free design with light colour and simple, plain surface. The glossy surface on the cupboard will help bounce off the light, which makes the room look bigger, like a mirror effect.
Make design out of every item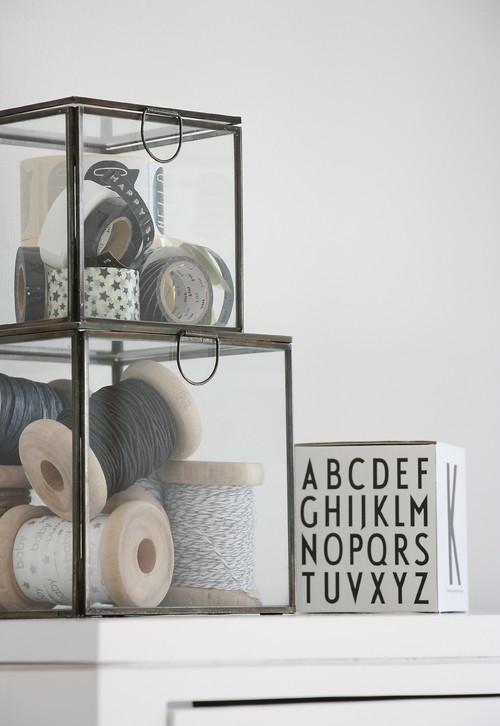 [Image: Holly Marder]
Stop the clichés and prevent messing up your home with the quintessential decorative pieces. Instead, take a look around your house and see the items that can be used for ornamental purposes and even meet your storage needs. You can take out all your clean containers to hold beautiful craft supplies or use a mason jar to fill up with candles. The idea is to be creative with the existing things free up all the used up space, save money and be a lot more organized.
Use open gaps in the walls with shelves
[Image: Lauren Rubin Architecture]
You may have done your best to exploit every inch of your space in your home for storage purposes. But there is always a door with inevitable gaps that can be put to better use. Don't waste that potential storage space! Just walk around your house and look for such spots where there can be open shelves inserted to make them usable for stocking up items. For instance, kitchen door has a 6 inch space on either side which sits uselessly accumulating dirt. You can insert shelves and use it to store dishes or other important items of daily use.
Storage is more of an art than a habit. You need to see the areas that you can transform into possible cargo spaces without causing damage to the existing décor. All these interior design ideas are simple and can be naturally blended into the current interior theme in a budget friendly way.