There are just a handful of rooms in a house where lighting is as crucial as the décor, and one such place is a dining room. This light fixture is your room's focal point and also plays a huge role in making the area appear more intimate for your guests. Not to mention that the quality of light needs to be great so that you can exhibit the elaborate spread you have prepared for your friends and visitors at home.
Dining room lighting ideas require you to make the place appear cozy, inviting and also stylish. So here are some tips that you can use to create perfect lighting scheme for your every kind of dining room.
Invite People to the Dining Table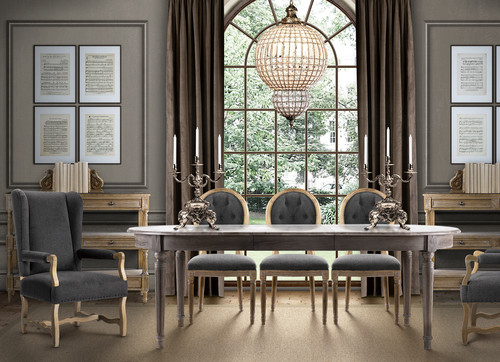 [Zin Home]
You may not know this but sometimes hanging a chandelier in a certain way can imply that the guests are invited to have a seat at the table. While most will take the cue and grab a seat, some will feel automatically gravitated towards the light source. However, make sure that the bulbs in the chandelier are never too bright so as to make it uncomfortable for the guests. The lights should be hung low just enough to encourage guests to take a seat at the table.
Classic Chandelier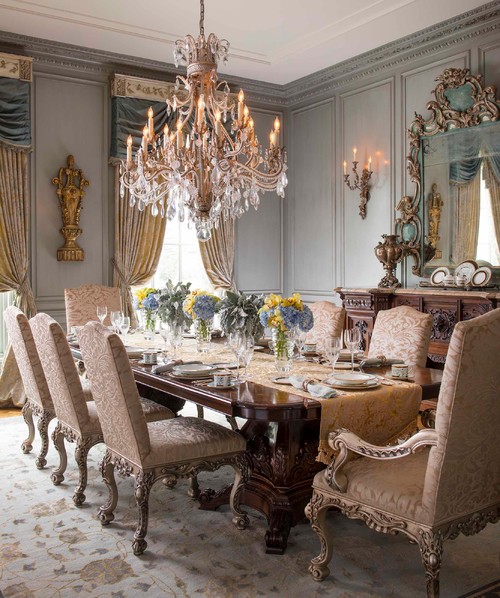 [Dallas Design Group, Interiors]
A classic chandelier is so versatile that it can dress up any room with its old world charm yet sophisticated appearance. Gold and silver accents only make it more perfect for the shot of glamour in your dining room. You can make your dining area appear stylish, chic and classy.
Consider the height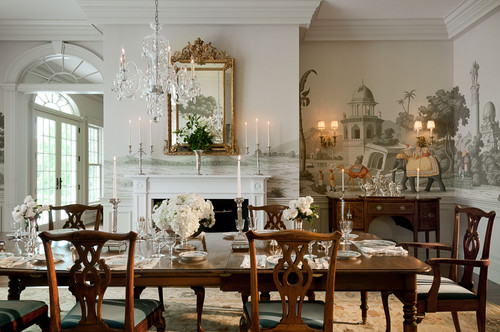 [Crisp Architects]
When you are hanging a chandelier in a room, height is one of the most important aspects of it. Ideal height is to hang it between 30-36 inches above the dining table that is enough to illuminate the area but also not be too bright or intrusive to block the other diner's line of sight.
Have Lighting Control Option in your Chandeliers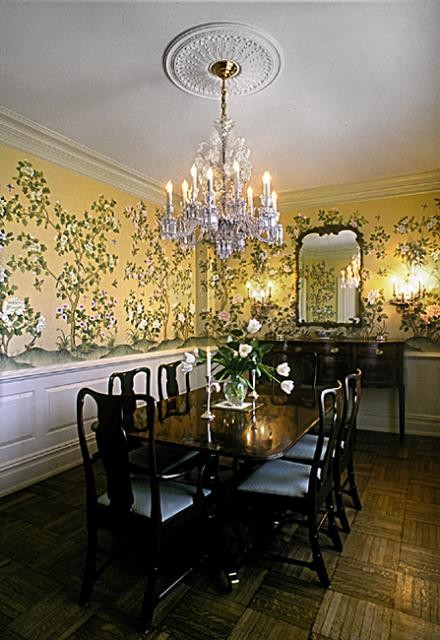 [Tobin + Parnes Design Enterprises]
There are many rooms in the house that can do away with secondary lighting that can be manipulated to create a certain ambience in the room. However, you don't have that option if your dining room. At a dining table, your main source of light has to be the overhead chandelier. However, what you can do is add an option to control the illumination levels to set the mood right when it is required. You can add a dimmer switch to the lights and toggle the lighting when the mood strikes.
Don't be afraid to use a large chandelier
[RLH Studio]
While other parts of the house are driven by exact dimensions, even the fixtures are required to follow the general rule of thumb when deciding the correct size for your room. However, you are not bound by any such rule in a dining room. Since your dining table is dominated by the overhead fixture, you can feel free to experiment with the size. A large chandelier will be a good choice as it will be the focal point of the room and will also make an individual statement.
Built in Cabinet for China Storage
[Dewson Construction Company]
This is a must have in any dining room, a built-in storage for your china. You can highlight these areas and flaunt your expensive dinnerware by using candlelit suppers, pin lights or even lighting the arches so that your pieces are shining bright, no matter what time of the day it is.
Don't just depend on the chandeliers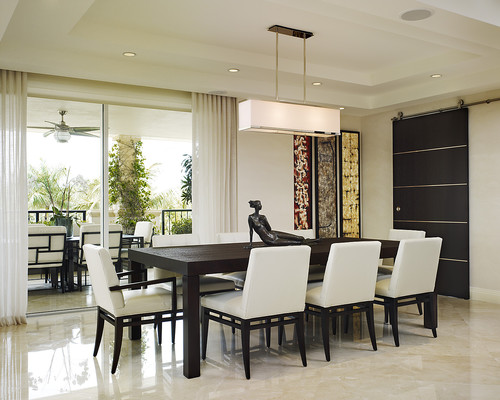 [Arnold Schulman Design Group]
We have repeatedly said that chandeliers are the main and the most important source of light in a traditional dining room. However, it is not the only lighting option that you need to consider in your dining room. Many people also use can or pin lights to brighten darker spots in a room. Some people even go so far as have a pin light that is directed towards the diner's plate. This makes for a great presentation and is also stylish, not to mention how it illuminates the food.
Use sconces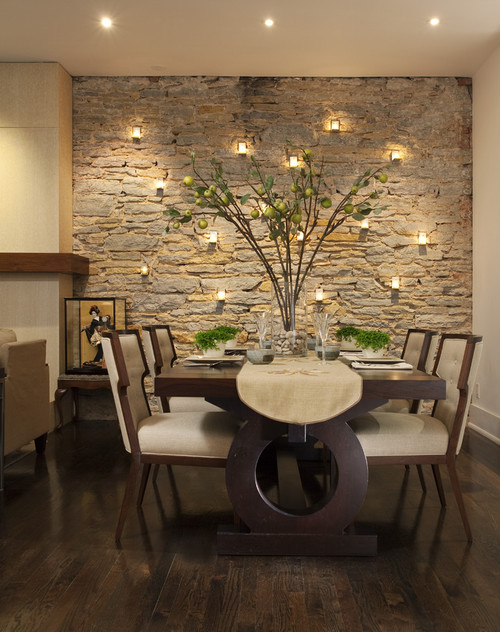 [Charlie & Co. Design, Ltd]
Sconces are a great way to introduce more lighting in your dining room. If you have decorated your room with interesting murals, you can use these light options to highlight these areas. Just ensure that these candles, bulbs or sconces are fixed above the line of sight.
Dining room lighting is as actually much easier than lighting other areas in a house. By using these simple lighting ideas and tips, you can also make sure that it is functional, aesthetic and attractive too.