Completed on a rural site in Northeast Oregon, the Glass Farmhouse project is a unique home that has been designed by Olson Kundig Architects – a studio of Seattle. Spreading on an area of 1,450 square feet, the house is located close to a barn on an 80 acres plot.
The exteriors: The house was designed by Olson Kundig Architects with idea of having contemporary glass box that will seem to float around surrounding wheat fields. The designing is mostly in wood and glass, and given the location, the snow and winters, as well as, the hot and dry summers aren't a problem here. The house features large operable windows designed and made of high-efficiency glass for cross-ventilation and cooling. The basic foundation of the house is in concrete.
The interiors: The main attraction of the house is the floor to ceiling windows in glass with beams that make the living areas open much to the public. However, forming an internal cube, the privacy of the house has been ensured to the best possible extent.
The interior work is mostly in marble and wood, with the flooring and parts of the interior walls completed in a gray finish. Rather than using complete walls, the zoning has been done in much partition style that works well. Some artifacts and decoration pieces along rugs and carpets complete the look.
Furniture and lighting: The living room and kitchen furniture are more about functionality and use, and the space restrictions have been honored with modern style furniture that works well. Colors like green, white, and black have been highly used in the furniture element.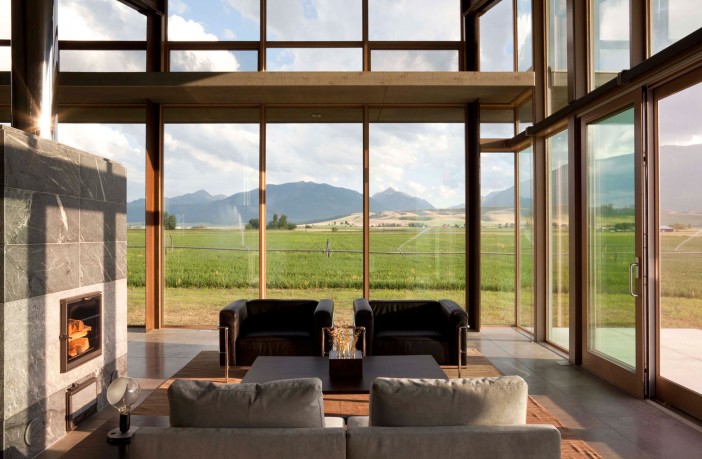 A glass house that adapts to the environment, this house is something to watch!
Photos Courtesy : Olson Kundig Architects