Divercity Architects in association with mplusm has designed the magnificent and beautiful Grace Santorini hotel that has splendid 20-rooms. Counted among the best hotels around the world, the hotel is one of the perfect choices for a honeymoon or vacation.
The exteriors: The location of the hotel is what that makes it a perfect choice for a vacation. The location gives views of the enchanting Santorini sunsets from a higher level, and the design of the hotel makes the most of it. There are two swimming pools, and the infinity pool is the main highlight from where the sights are beyond words. Keeping in line with the Greek theme, the exteriors are completely in white, except for a few furniture elements and views of oceans, which is pure blue.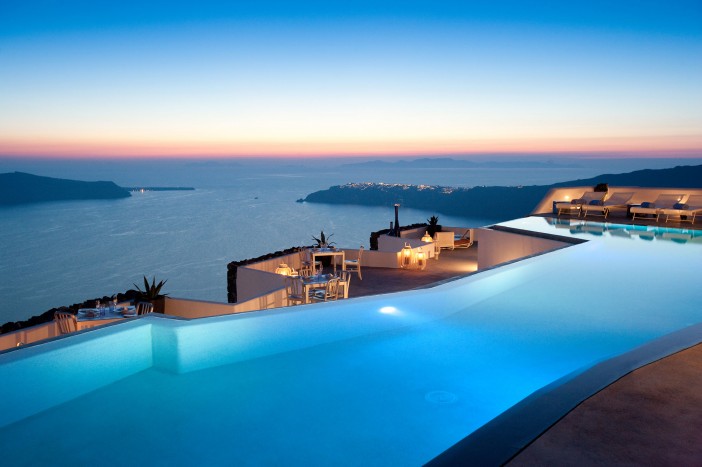 The interiors: The best of luxuries have been ensured for all the rooms, and the visitors here can choose between Luxury Suites and Deluxe Rooms. Some of the rooms have plunge pools and the views of the sea are ensured from each suite. The flooring in the rooms is either gray or white, as required by the interior theme. The complete white walls are plastered and look so smooth that it's hard to figure out the dimensions or each wall.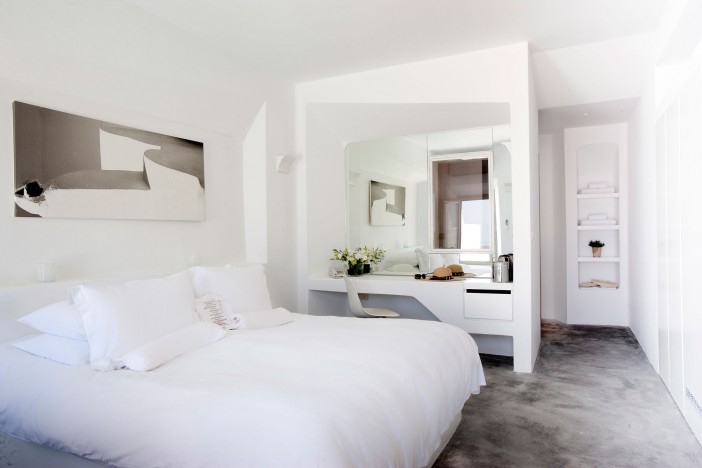 Furniture and lighting: The blend of modern and classical elements in the furniture is what makes the rooms so much interesting. Since the themes are white, everything from the drapes, upholstery and fabrics are designed sans any color. In fact, the appliances and lights are also in the same color and mood. As for lighting, the suites have everything from small lamps to free standing lights and beautiful LED, used in balance.
Photos by: Erieta Attali, Serge Detalle