Located in the busy streets of New York City, the Omonia Bakery by bluarch is a Greek patisserie joint, with a warm and cosy décor, stirring up the indulgence, to relish the flavours of Greece.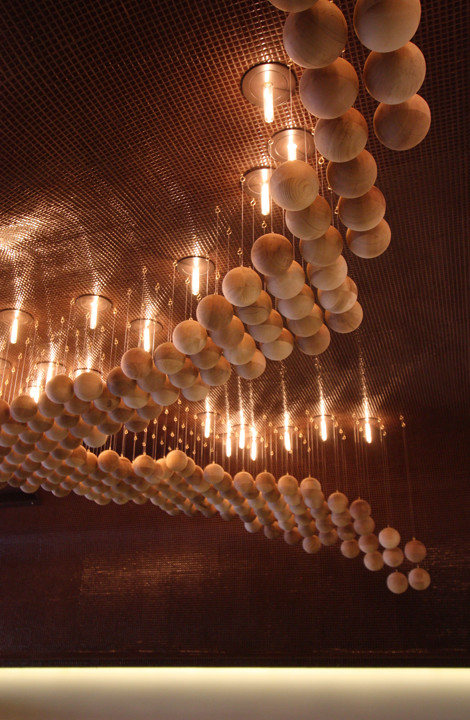 With a linear plan, the frontal façade of the bakery has a glass pane, which reveals the brown chocolate clad bizazza tiles, each of quarter inch size wrapped over the ceiling, and walls. Interestingly, the ceiling plan of the bakery captures the visual sight, layered by an undulated surface, with morphed bubbles. In addition, a cluster of six-inch long, incandescent tubes illuminate the ceiling arranged in an abstract form. This arrangement surrounds the three drop down ceiling levels set in an ellipse shape.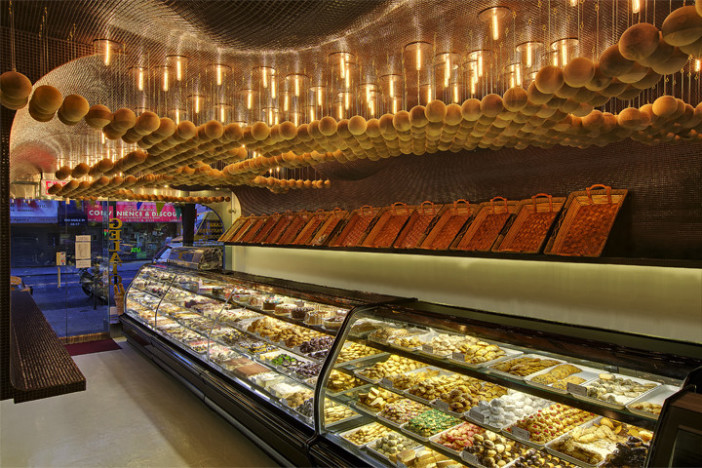 Moreover, a four-inch diameter, redwood globe stands fixed to the ends of the incandescent tube, which creates a soft light to fall over the display cases. Conversely, the bizazza tiles in chocolate colour recreate the magic of chocolate, gliding from across the ceiling to the wall. It stands vividly expressed by the use of tiles and renders a soft glow to the décor, where the walls bounce off the light from the ceiling.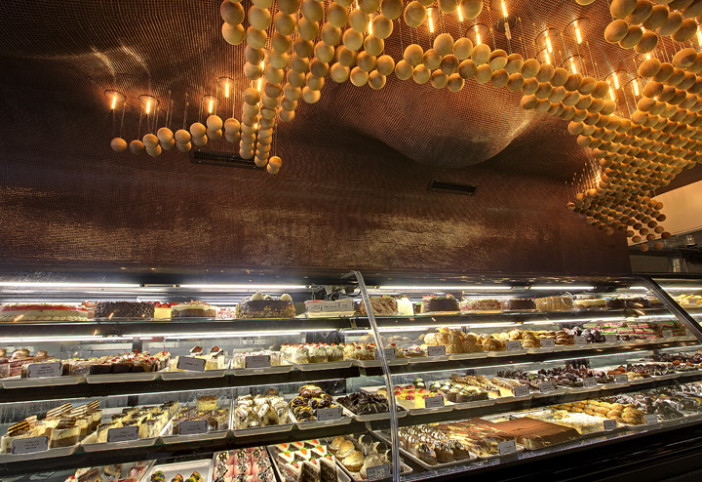 On the other hand, the functional arrangement of the décor is simple where display cases align towards one end of the wall and stand lit by LED lights, whereas the kitchen and the bathroom follow up, one after the other, on a straight line. The floor is epoxy clad and meets up the brown bizazza tiles on the walls, thus completing the look of the décor.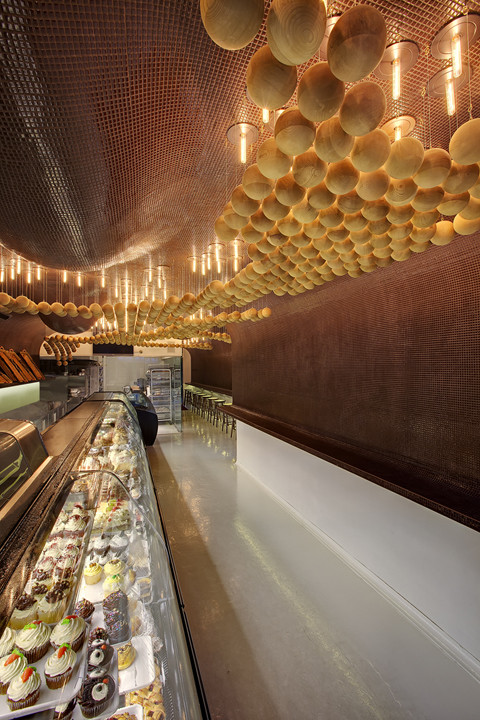 Simple and visually entrancing, the highlight of the décor rests with the ceiling where the hanging luminaries, with the redwood bulbs, soothe the eyes and create interesting visuals from every angle of the space. In essence, the interior décor is candid and very apt for the chocolate patisserie, using the ceiling to invoke a glitzy visual.
Photos By : bluarch