Light can determine not only the look but also the mood and character of the room you are decorating. It can really bring out particular colours and features within a design. The type of light and how it is used within a room can undoubtedly have a transformational effect. In addition to standard wall and ceiling lights there are many different options available to you. Another thing to take in to consideration is the ways in which natural sunlight can complement a particular colour, theme or material.
Contemporary Skirting Board Lighting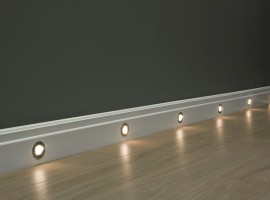 The use of skirting board lights can really help to accentuate a floor design. They are used in many areas of the home including hallways and kitchens. You can see how the light reflects off the sparkly mirror pieces and polished surface of quartz within this kitchen design. The use of timeless black and white colours to complement the blue skirting board lighting certainly helps to produce a contemporary style. These spotlights are not only stylish but also economical. Displaying a unique style, they certainly have what it takes to provide a standout quality as part of modern interior decors.
How Natural Light can Transform Areas of Your Home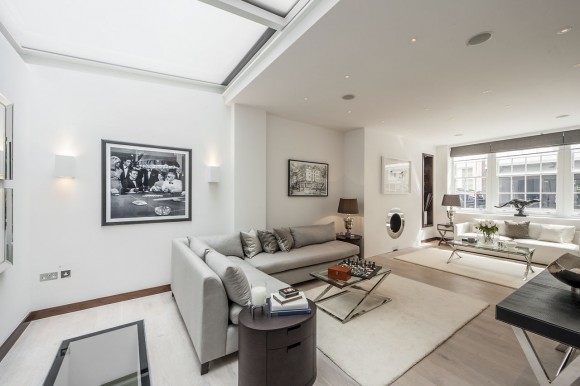 Providing rooms with exposure to natural sunlight can be an effective way of creating a bright and vibrant appearance. The colours you use in these areas can also have a big impact on the overall design. Glass panels on the roof of a sunroom or conservatory allows in plenty of natural light. Take for instance this stylish dining area. Matching wall and floor shades produce a consistent decor throughout. The soft colours of white and ivory certainly emphasise the available space, therefore making interiors appear more spacious. The polished finish of the large format floor tiles featured within this design also help to reflect light incredibly well. A design like this can also be cost effective as you will obviously use less electricity in rooms which contain a great deal of natural light during daytime hours.
Using Light to Bring Attention to a Focal Point
Sometimes only a small amount of light can have a big impact on a particular design. An inward travertine wall design featuring a spotlight undoubtedly adds a decorative feel and a new dimension to this shower room design. It gives the area a stylish focal point by introducing a different element. The great thing is you don't even need to acquire a multitude of different materials to create this look.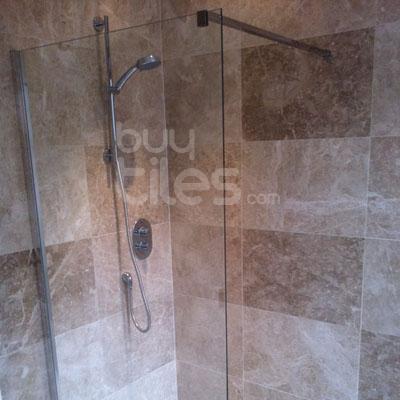 It is formed entirely from natural stone travertine, displaying the soft neutral shades of cream and beige. In an area which would otherwise appear rather dark, this addition certainly brightens the interior extremely well. Stainless steel and white surrounds also combine to complete a stylish, yet uncomplicated decor. The subtle inclusion on the shower room wall further emphasises the elegant quality of this bathroom design.
Discover great deals on quartz, porcelain and travertine tiles at Buytiles.com
By David Neil