Our hallway actually marks the entrance to the interior of your house. It should thus give an overall impression about the house in general. Dark and dimly lit hallways do not seem welcoming at all. Thus, hallways should always be bright and properly lit up. Hence, it is essential to accessorize your hallways properly to give it the right look. Suppose you have an ignored and dimly lit hallway, which leads into a sitting area that is bright and roomy! Even though the interior portion of the house is bright, the dark hallway will be a mood killer. Thus it is essential that the hallway be decorated in such a way that it is in synch with the theme of the home.
In order to make sure that your hallway is compatible with the rest of the decor of the house, the easiest way to do so is to install a hallway mirror. The shape, size and frame of this mirror or even mirrors in some cases will depend upon how the rest of your house has been decorated. In order to execute such a co-ordinated decor, you must plan everything out at the very onset.
Take a look at some of the designs given below, to get a few ideas which will help you in planning out the entire thing:
Keeping it contemporary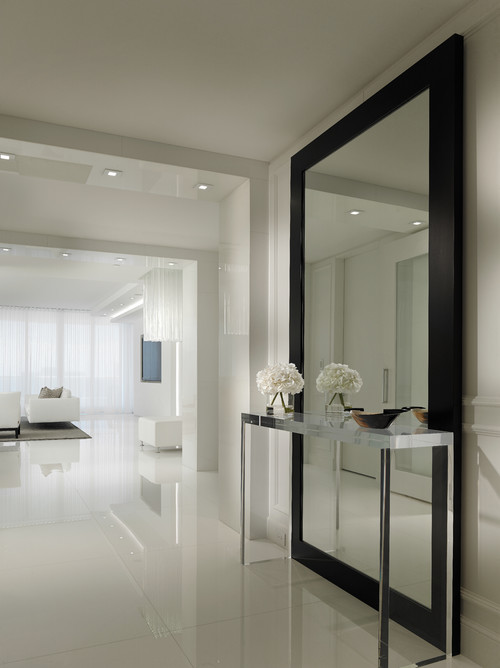 [Barry Grossman Photography]
Regular geometric patterns and solid colours are the trends that we see the most these days. These contemporary styled houses call for coordination in every corner. In houses like this the hallways must serve as a proper introduction to the rest of the interior decoration. A dark framed standing hallway mirror is the best fit for a hallway like this. The dark coloured frame adds a sharp contrast to the white background but it does not look out of place. If you have a contemporary styled apartment make sure then when you fit a mirror like this in your hallway you light it up well, with the use of handing lights.
Its cosy and homely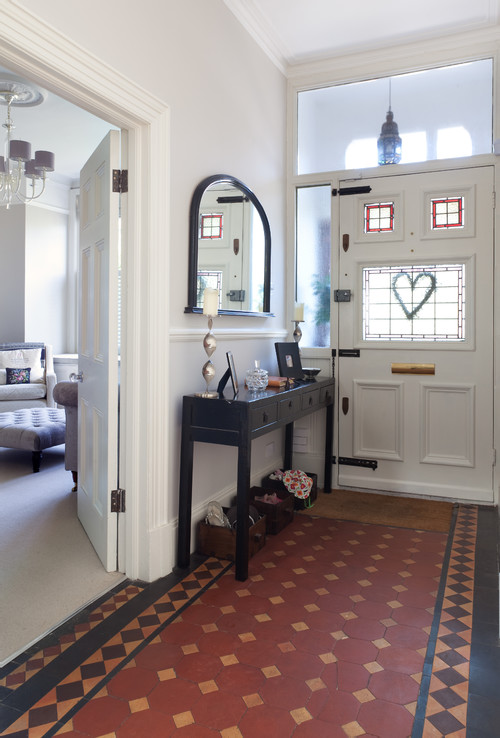 [Paul Craig Photography]
If you wish for a cosy theme for your home, then your furniture has to be a representation of that. In fact, your hallway should also reflect what is there inside. In such cases, it is best to opt for small friendly shaped mirrors. It is essential that the edges of the mirror be rounded and it should never be sharp. There should be certain warmth to it. You can also fill up the hallway with other things, like a table and a few potted plants. If it does not look over stuffed it can never feel like a home!
Scaling to new heights
[Carolyn Parker Interior Design Ltd.]
The greater the height of the mirror, the larger the space will seem to be. If you have a small hallway you can always use a single mirror of considerable height, since it adds a definite feeling of being spacious. The light too when reflected from the mirror, gives one the illusion of a larger space. You can either opt for a standing or a mounted mirror. If you cannot find a mirror of the desired length, it is always best to mount to give it more height. In cases like this, it is best to keep the hallway as simple as possible, and of course, colour co-ordinated.
Oh so fancy!
[jamesthomas Interiors]
If you like to keep it a little fancy and upbeat then you probably have thought about decorating your hallway with a nice printed wall paper. If you have plans to further accessorize it then it is best to keep the mirror as simple as possible. If the wall paper and the frame both become too fancy, then it will seem imposing to the one who comes in. So, if the wall paper is fancy, then in order to neutralize the effect, you need to opt for a plain frame that will not call too much attention to it and make the wallpaper the main attraction. If you go for a dark shade of wall paper, then make sure the hallway area is well lit!
Now that you have these ideas, it will be much more easier for you to plan out the whole thing in a jiffy!