If you live in one of the big cities, then you would know the space crunch woes. However, there are many competent designers out there who can make your awkwardly shaped backyard into a fully functional extension of your home. It does not matter where you live, their simple tips and tricks can make any space into a comfortable one and a spot where you cannot only relax, but also recreate and socialize. So, if you have a backyard that has been sitting uselessly for years, not serving your purpose, then these design ideas and tips will help you maximize that space.
Breakdown the area
[Image – New Eco Landscapes]
You can create your backyard into a multi-functional spot by breaking the area down into separate areas with the help of furniture. You can have a dining area, lounging area, cooking area, bar, garden or any other such functionality by just compartmentalizing the backyard. In this image, one can see how the space has been utilized by designating a specific spot for a specific activity.
Use smart lighting
With the help of lighting, you can accentuate specific areas. You can install a big light over the dining area to highlight the table, ambient lighting around the lounging area for a soft glow and some more lighting near the plants and greenery for an added effect. However, the trick is to use it wisely and not overdo it so that it remains with the design and theme.
Extend a small room outside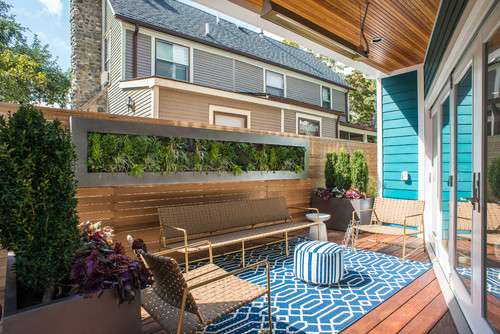 [Image – Lotus Gardenscapes]
If you feel that there is a space in your house that is too small, you can extend that space outside your house. For instance, if your living room is slightly cramped, you can extend the seating area in the backyard and open up that space for the guests so that they can freely mingle inside and outside the house. Give it a warm décor to make it seem inviting.
Harmonize the interiors and exteriors
If you truly want that space to justify itself as an extension, you need to match it with the rest of the interior décor and there should be harmony between the interior, as well as the exterior. Use the same colour scheme and pick the same style and textures so that you can tie these spaces together. You should also make use of comfortable lounging chairs to make the space look more inviting.
Use the angles to your advantage
[Image – The Garden Route Company]
If you have a backyard that has a square shape, then define your paving in a lateral direction so that you have greater landscaping area. This is not only aesthetically pleasing, but also a wise use of space.
Don't ignore the Scale
If you own a small backyard, be mindful of the things you would like to include in the design. It will not be such a great idea to cram a huge table in a small space. You can use foldable furniture or the extendable tables to suit the scale of the backyard. Don't grow plants that will overshadow the size of the space and look daunting in their appearance. All the elements of design must complement each other and look supportive of one another.
Use common material across the backyard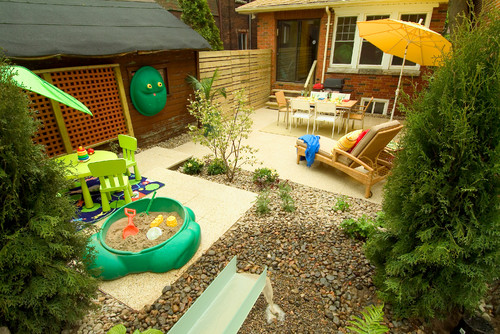 [Image – Carson Arthur Design]
If you are going to use multiple functional areas in your backyard, make sure that you use common surface material to gain cohesion. You can separate the play zone for the children and sitting area for the adults by tying the continuous paving together with the help of common material.
You can also use the same material as you used in the other parts of the house. For instance, you can design your backyard, in the same way, as your front yard, which will give the illusion of a unified space from front to back and make the area look bigger.
De-clutter the space
[Image – Re: Placement Design]
If you add too many design elements in your yard, then you will end up making the space look cluttered and crammed. Instead of stuffing the space with too much furniture, incorporate built-in seating and avoid using huge fixtures. You should also keep the planters under control and have just the right amount of greenery.
For the backyard to look compelling, neat and a usable space, you need to avoid any sort of cluttering. If you want something to have a huge impact in your design, don't increase the quantity but the quality. 5 well-grown flower plants will serve a better purpose than 10 small ones.
In this image, the designer has kept the minimalist design as a core theme and has introduced seating in a corner with a raised deck. This creates more space for recreation, and also, a humble spot for warm evenings.
Form an enclosure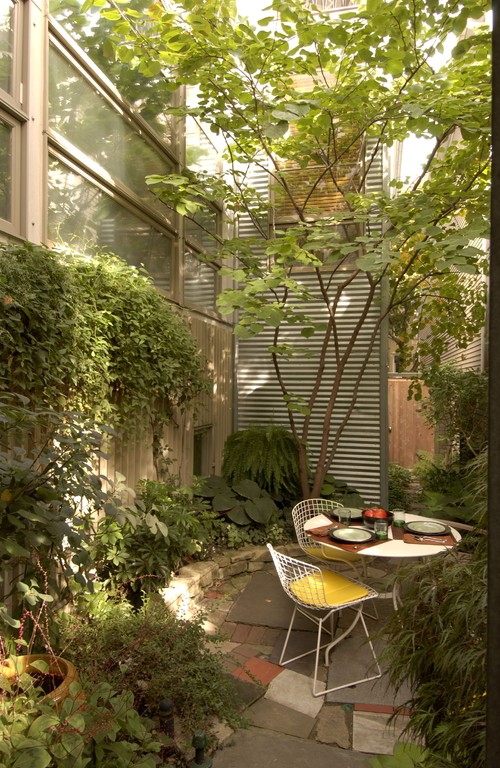 [Image – Burns and Beyerl Architects]
To make a small space feel intimate, you can always create an enclosure that will separate the seating area from the rest of the backyard and feel cosier. It is not possible to achieve this with a large backyard where you have too much space and too little to do. You can get the small enclosure look with the help of pergolas or even plantings. You can also use vertical plantings to give you privacy by creating an envelope of planting material.
With the help of using plants as a form of enclosure, you are not only increasing the visual greenery, but also create private space within that environmental enclosure.
Control the backyard views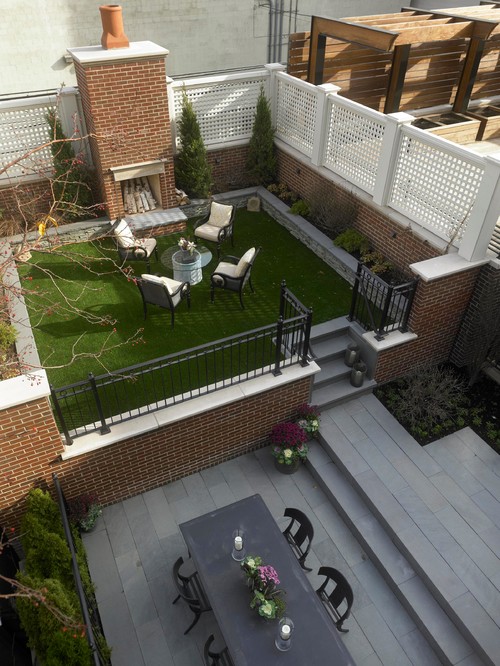 [Image – Burns and Beyerl Architects]
If your backyard does not enjoy good views, then you can use design elements to control the line of sight. The designers highly recommend the use of trellises that can not only block the unsightly view, but also leave just enough opening to allow light breeze to pass through. They don't seem as obstructive as using a fence. Trellises are more visually appealing and artistic for a backyard than a fence.
Use contrasting designs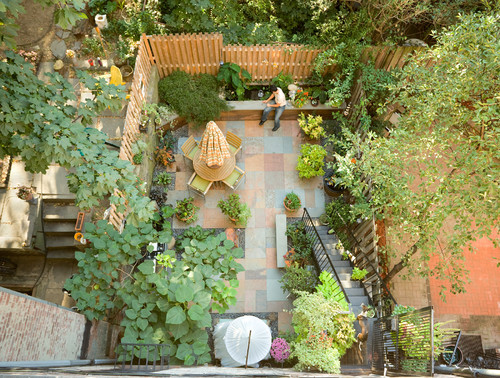 [Image – Tobin + Parnes Design Enterprises]
If you want to introduce some exciting variety to your design ideas, think of interesting contrasts in colours or even shapes. You can mix rectangles, circles, squares and all kinds of shapes to create an artistic illusion. You can also get some opposing plants like spiky leaves and creepers. It can have a very strong visual impact if you play up the contrasts to in your design. You can also use square tables surrounded by circular plantations to break the shape monotony. Have a counterpoint for every design element that you use in your backyard.
Don't make your backyards high maintenance
[Image – Martha Angus Inc]
When you have a small backyard, your biggest advantage is that they are easy to clean and maintain. Don't spoil this advantage by overdoing the space. For instance, don't use ground cover soil for plantation as compared to planters. The planters are much easier to control and have a greater effect in contributing to the greenery of your garden or backyard. The ground covering soil will only make it dirty by mud all over the place.
If you use native grasses and plants, they use much less water for survival, which means less maintenance. You can also use anartificial surface of grass in some spots, which can maintain the colour and character of a natural yard, but does not require as much hard work. There are all kinds of hedges available in the market that look as good as natural and take up very little space in the installation.
Use terrace technique for slopes
If your yard is tight and has a severe slope, you can use the terracing that can be used for greater activities. Although it is an additional expense to create a whole structure, and then, bind it to the design of the backyard, but if money is not that big an object, do consider this fool proof method to introduce additional space that can be used for many other purposes.
Bring character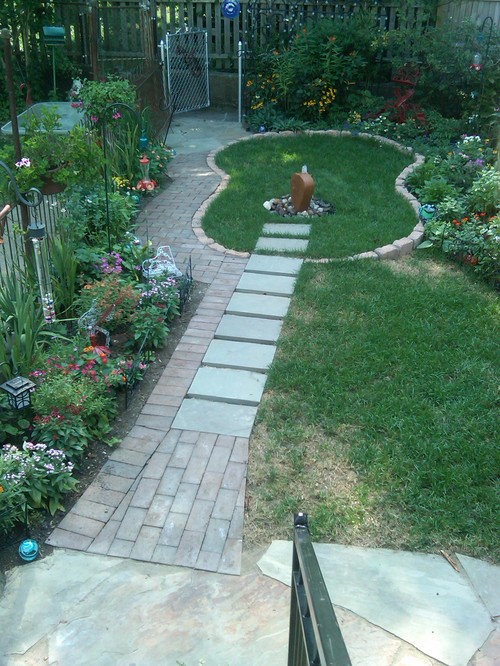 [Image – Garrett Churchill Inc]
Character can play a huge role in creating a space which people will remember. Take the attention off from the small size of your backyard by giving it a personality of its own. You can also add funky colours to entice children into the play area or exciting furniture for a charming little spot. You can also involve a local artist to help you design an interesting pavement work.
Give a focal point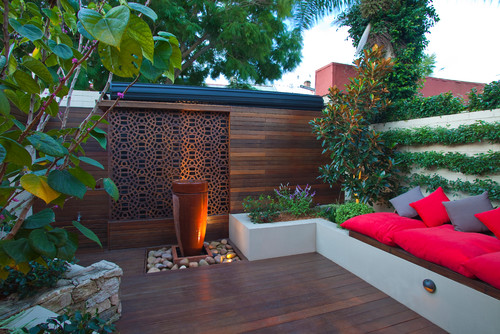 [Image – Outhouse Design]
Just like a character in the backyard, when you add a point of focus, that too takes the attention off the size of the backyard. By adding something of interest in the centre of the backyard, you take the eyes away from the walls and push them far, which create a sense of space. You can add anything from a planter to a sculpture or even an artwork. If you install a single sculpture with up-lighting, it can be an amazing visual treat for your backyard design.
Involve professionals if required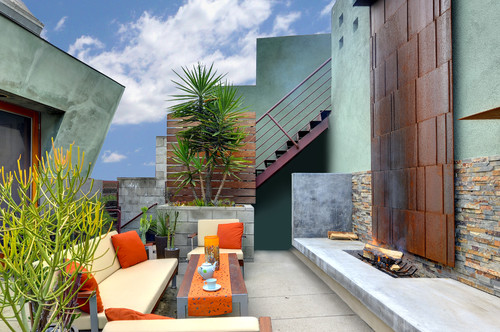 [Image – The Architecture Studio, Inc]
People often think that it is much easier to design a small space than a large one. However, it is the complete opposite of it. Large spaces have a lot of room to experiment with which is not the case with a small spot. You need to be careful with the aesthetics, and also, have to ensure that it does not look cluttered. This is the reason you should involve a trained expert when you are not confident about designing a space on your own. Small backyards need a bit of expertise to be able to put together an efficient design, which looks attractive and functional at the same time.
Small backyards are a common thing with urban households and many people just leave it as it is thinking about the hard work that it entails. However, by using some simple design ideas and tricks by the professionals and involving experts at the right stage can get you an attractive backyard that will serve perfectly as an extension to your house.