Wessels Joyce Associates, one of the known architectural firms of South Africa, has taken and completed the project of E16 house. Located in the Western Cape Province in city named Knysna, the house is a treat to the eyes from inside and outside alike, and some of the bedroom design ideas are worth a steal.
The exteriors: The house is designed to be a perfect mansion like home with large open windows and sliding doors. Partly of concrete and most of glass, this is like a construction that demands attention for the good reasons. The house has an extended deck that ends at the well designed and lighted infinity pool, while there are elements of stone around. The various portions of the house have been connected using wooden surfaces, and with the railings around and small spots, the views can be enjoyed without any restrictions.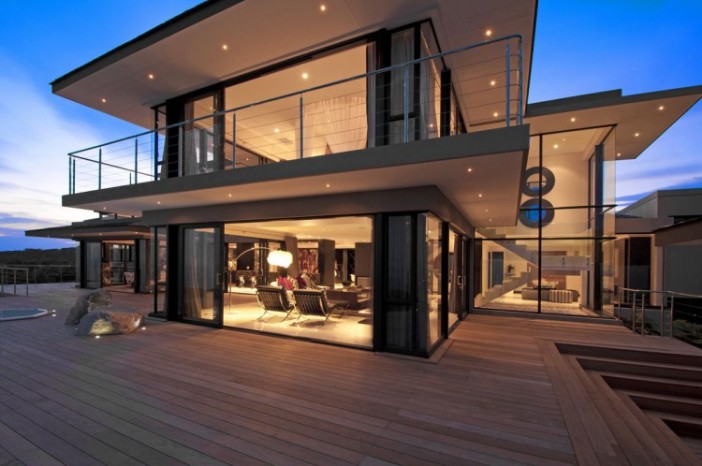 The interiors: The interiors of the house have been designed with the needs of the luxuries in mind. All levels of the house have floor to ceiling glass windows and doors that add charm to the interiors and ensures the best views from each room. From using high end polished surfaces and stones to large paintings and artifacts, the house has it all for a fine living. The bedrooms here open to large views with beautiful white drapes all around, and the living rooms are designed for posh lifestyle. The kitchen interior design ideas are equally effective and work in line with the main theme as intended.
Furniture and lighting: For the furniture of the house, the choices are more on the contemporary style but with a few classic elements thrown in. There are large tables of wood combined delicately with beautiful white and colored upholstered furniture and chairs. The lighting is as per needs with LED lights and beautiful and designer pendant lights used in a mixed balance.
Photos by :  Wessels Joyce Associates