Most of us like having glazing and shining pots and oaks on the display area. However, with years of use, which is often about deep frying and high heat cooking, most of the pans, pots and cooking vessels seem to lose their shine.  Can you restore the same appeal that was on the vessel when you got it home? Well, while not all old pots and cookware can return to their old charm, there is no denying that a little care can go a long way. In this post, we will talk of the most common materials that go in the making of cookware, and how you can care for each kind.
[Image – Frederick + Frederick Architects]
Stainless Steel: A majority of the homes today have stainless steel cookware because they last long and have very limited corrosion or damage over the years of usage. As a part of the cleaning process, you have to ensure that you do not leave the stainless steel items in the sink after cooking. Also, if you don't want to create spots or too many scratches, it is better to use wash them by hand rather than the dishwasher. The simple rule is to clean the stainless steel cookware once you are done.
Dealing with the stainless steel stains: One of the major concerns is the number of stains that are a result of years of negligent maintenance. The simplest thing that you can do is to use white vinegar with a soft rag or cloth to clean the surfaces for cooking. The harder stains are always on the bottom of the pan on the outer area, and for cleaning those marks; you can use scrubbing powders that are widely available. It is better to make a paste of the powder, and use it with a soft wet sponge.
[Image – Centsational Girl]
Nonstick: In a world we are counting each calorie we take; nonstick cookware has been a great innovation. Most modern kitchen chefs and housewives would rather use nonstick than anything else because it consumes less oil and makes every food item much more nutritious. If you are someone who is using nonstick on an everyday basis, make sure that you cook only on low and medium flames as high flames can cause permanent damage. Rather than keeping the utensils for later wash, make sure that you clean the cookware instantly using a mild soap cleanser and soft sponge.
Many of the times, the nonstick cookware damages and we continue using it. This is something to be totally avoided unless you want your family to fall ill. Most of the stains and other damage to the nonstick is on the outer side, which can be cleaned with scouring powder (warning: don't use on the inner side) and a soft wet sponge.
[Image – Crisp Architects]
Copper: Copper pots and pans are known to be good options for cooking. For regular cleaning, you can choose to use warm water and liquid soap for copper cookware with a soft sponge. However, like many others, you may have seen how copper utensils lose their shine soon. The best choice for the new feel and removing the stains is to use lemon with some earth. Some people also use ketchup after letting it on the pan for some time, which is also an idea to be checked. For getting rid of stains, make sure you are using a rag.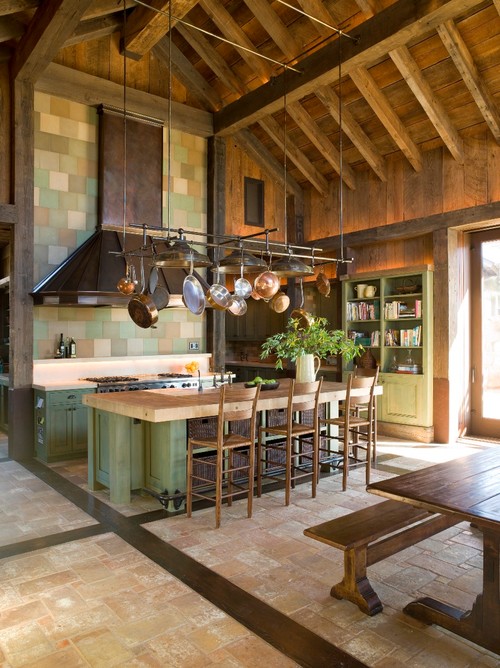 [Image –John K. Anderson Design]
Clay Pot: Such cookware choices demand a lot of care because the clay pots are prone to damage due to sudden change in temperature. The best thing to do is to soak the pot in water for at least 30 minutes before cooking, and as soon as you are done, make sure you clean the pot. For the cleaning process, you can use baking soda and warm water, but avoid using soaps and detergents unless the pot is glazed. For glazed ones, you can use mild soap but keep the instructions from the makers in mind. For the stains, you can again use baking soda on the area and leave for 30 minutes before washing off with warm water.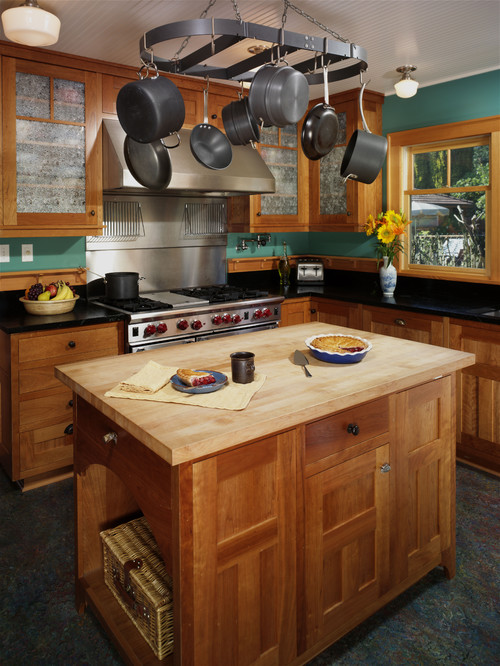 [Image –Goforth Gill Architects]
Hard Anodized Aluminum: Another cookware material that demands some amount of care on a regular basis. First and foremost, do not ever clean a pan or oak directly after cooking, which is the main reason for warping. Let the pan cool down completely, and you can use any mild dishwashing detergent for cleaning. Unless you are in a rush, you must clean pots on your own rather than in the dishwater. For the stains on the outside area, make a paste of baking soda and keep for 10 minutes before washing off with mildly warm water.
[Image –The Last Inch]
Cast iron: Firstly, get rid of the moisture on the pan, which is one of the main reasons for the rust, by putting it in the oven before first use. Clean the pan after every use instantly by using a paper towel, and when you find the food to be existent, place the pan under hot water to clean with a soft brush. Soap is NEVER used on cast iron pans and cookware. For the tough stains, boil water in the pan and then use a soft brush for cleaning.
Happy cooking!