Modern Home Architecture
Putting off the kitchen cleaning for months now? You are scared of it because you don't have a plan or checklist. Try this 7-day cleaning ritual and feel more energized, de-cluttered and free while you enjoy your spick and span kitchen! Let's see how to clean kitchen:
Day 1: Appliances –
(Image – Milk and Honey Home)
De-clutter – Fridge and freezer need to be cleared out of expired/useless goods. No other appliance needs to be de-cluttered.
Cleansing – Warm water cleaning of fridge shelves and trays; stovetop degreasing; microwave wipe-up; dishwasher and over self-clean option to be activated and cleaning the back of the fridge.
Day 2: Cupboards and drawers –
(Image – Mu-2 Inc.)
De- clutter – Takeout everything from the cupboards and drawers- look over each item and discard what you don't need. Be strict. Do this step in parts for convenience. Put them back. Place them according to ease of use.
Cleansing – Wipe down all shelves, drawers and counters; Inspect your cookware and remove stains; get the knives sharpened.
Day 3: Pantry makeover –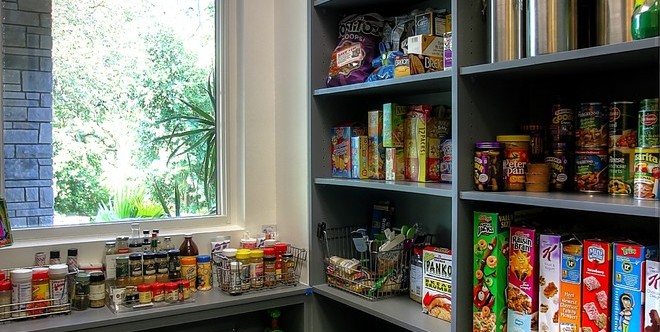 (Image – Barley & Pfeiffer Architects)
De-clutter – Takeout everything one at a time and go through the contents. Throw away expired food or things you will never use. Procure some airtight containers and transfer the eatables into them to protect them from decay. Sort things according to cooking categories: baking, breakfast, etc.
Cleansing – Wipe down all shelves; take off the grime and replace the shelving paper.
Day 4: Sink, Garbage and Drain –
(Image – Katie Rosenfeld Design)
Cleansing – The cupboard under the sink can be cleaned out of old cleaning.
Drain – Pour white vinegar down the drain and wait for 10 minutes. Then let boiling water down the drain.
Sink – Scrub with a semi-hard scraper paying special attention to joints and water – logging areas. If the sink is stainless steel made, avoid wire scrapers.
Garbage bins – Take the liners off and scrub the bins out.
Day 5: Open shelves and counters –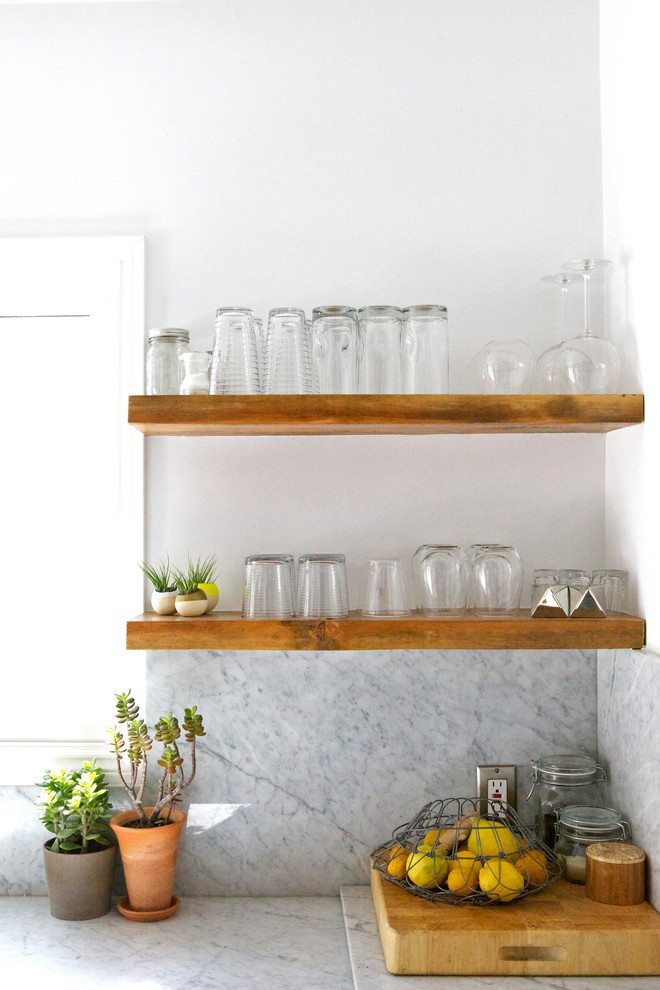 (Image – Natalie Myers)
De-clutter – Keep only those items, which you regularly need. Otherwise, move them to the concealed cupboards. Do not keep any items on the counter unless you can bear looking at them every day.
Cleansing – When everything is cleared of the counter, you can see where the grime has settled – the corners. You need to be ruthless in scrubbing.
Day 6: Windows, walls and floor –
(Image – Whitten Architects)
De –clutter – Place anything kept on the window sill or floor should be moved away and thought about.
Cleansing – Starting with the ceiling, vacuum hard coming down to the windows and the finally the floor. Cleaning spray can be used to wipe walls. Take off the curtains, wash them or vacuum if cannot be washed. Get any doormats or rugs professionally cleaned.
Day 7: Make it interesting!
(Image – Gaylord Design LLC)
Make the kitchen space a hangout zone! Make it more interesting, so that your time in there is not a drag, but something you look forward too. Think of add-ons, like tables or seating.
De-clutter – Takeoff the papers, notes, old plastic bags, boxes et al. and make some space for the air to flow.
Cleansing – Make a commitment to clean up the non-cooking area of the kitchen at least once in a frequency you can maintain. Spot clean the areas, which cannot be taken away for washing or cleaning.
We try to make our sleeping quarters so nice and comfy; we tend to ignore the kitchen- a place the lady of the house spends so much time in. Make your kitchen a place you would love spending some time in. Try cleaning the kitchen using this 7-day ritual once every quarter at least. Make it nice and fresh so that you feel like going in there with a light mind and happy heart!