Hurteau-Miller Cottage is a beautiful home for a single family designed to cater the needs of the members with excellence. Kariouk Associates, a well known design studio based in Ottawa, has designed the home. Although the house spreads to two levels, most of the public and private living area has been included on the ground floor itself. This cottage style home looks more like a timber clad wonder with porous rooms that offer plenty of airing and lighting ensured. For most parts of the exteriors, the design is simple in a wooden finish that works perfectly for the surroundings around, which consists of long trees.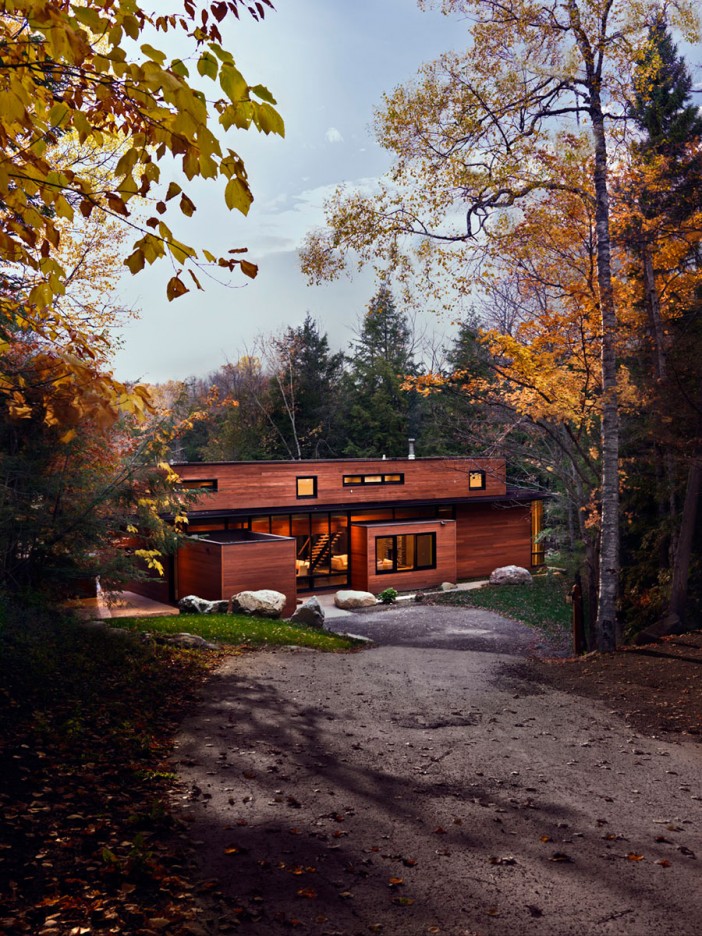 For the interiors, the design is simple yet classic in every sense. The floors are marbled with portions designed in wood, while the furniture is mostly in simple lines. The dining and living area is open enough for amazing lighting, and the bedroom has views but required levels of privacy. Parts of the wall are more like extended glass panels, and the rest of the options is either in natural stone designs. Walls for the main hall are colored in green that gives the right level of accenting with the living room furniture that is mostly in white. The kitchen is more in the open style with cabinets and panels designed in a fine blend of wood and metal.
The ceiling of the ground level is done in wood and features ceiling mounted LED lights and hanging pendant lights as per requirements. An open staircase with wooden steps leads to the upper portion of the house. Balanced and completed in the most natural way possible, this is a home in the woods with a difference!
Photos by: Photolux Studios, Christophe Lalonde