Fighting with interior design ideas for your tiny living room? Do not worry as one can have a beautiful room without adding too much stuff in it, and make it functionally multipurpose at the same time. Check these small living room ideas:
1: Add mirrors:
[Image – Jamie Keskin Design]
This is a classic way to illusion of space. Hang up a mirror on a wallpapered wall opposite the window and get rid of the boxed-in feeling the room gives off. Keep the wallpaper print light and breezy, no need of a bold pattern or color up there. This idea paired with light furniture is the ideal combination.
2: The hidden storage: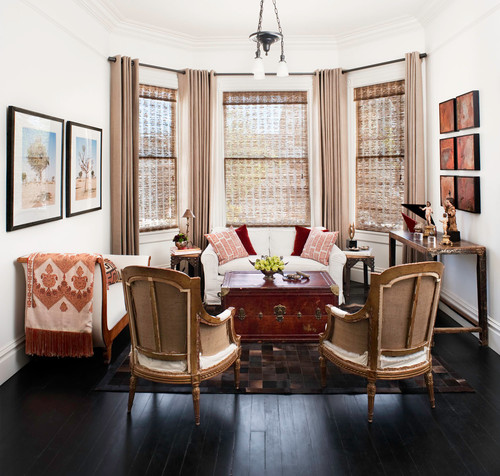 [Image – Antonio Martins Interior Design]
No place for a bookcase, magazine rack or any other storage things in the room? Check some storage ideas of living room and make some way for concealed storage like this table, which comes with a cavity for storage of books, papers, or other stuff.
3: The high ceiling:
[Image – Serena & Lily]
If the room is small but has a high ceiling, draw the eye upwards by hanging an unusual collection of paintings and pictures till the highest point. This will make the room look grander and bigger than it is!
4: Fill up a corner:
[Image – Carlyn And Company Interiors + Design]
Get one large, chunky sectional sofa, like an L-shaped one and take up the entire corner. This has two advantages – one, you can only count a single piece of seating in the room and two, it accommodates many without needing any more chairs or stools. Superb idea for a small room!
5: The small sofa: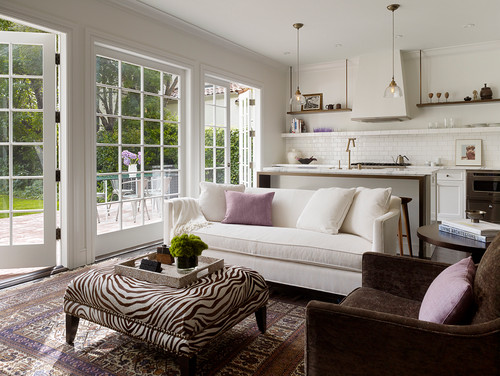 [Image – Kathleen Bost Architecture + Design]
This is a wonderful way to add a seating without taking up extra space. This downsized sofa is elegantly perched in the middle, doubling up for a table, as well as, extra seat whenever needed. The visible legs do not hinder the line of sight, making it ideal for a small room.
6: Backless sofa:
[Image – Caitlin & Caitlin Design Co.]
Why not have a through-and –through sofa as your living space may be limited and the open plan requires you to plunk the couch right in the middle of the room. A bulky, back sofa will seem to take more space as a line of vision is obstructed, try a backless one. It also gives more seating space.
7: Multifunctional furniture:
[Image – Kelly Deck Design]
Go for furniture pieces that can be used as two or three other furniture types the same time. If you look at the picture adjoining this text, you can see how the two poufs like ottomans can be seating as well as a table surface at once. The sleek design and light fabric adds to the space illusion.
8: Built-in storage:
[Image – Jeff King & Company]
Have one wall covered up to make space for the TV unit, bookcase, even a foldable desk and other utility and leave the way for the rest of the seating to be arranged in the room. This way you will not need any other piece of furniture to clog up the living area.
9: Use all the options: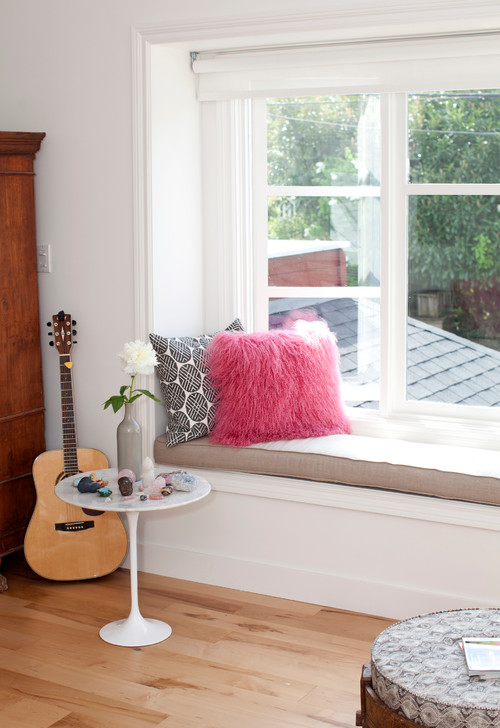 [Image – The Cross Design]
Your window could be big enough for a seat, get it done. If possible go for a sofa cum bed, or table with storage. Do everything you can to use up the space. This way the room can be multifunctional, as well as, clutter free.
10: Dump the sofa:
[Image – A+B KASHA Designs]
You do not need a sofa at all! There is no rule that says your living room is incomplete without a couch. Have beautiful and comfortable chairs to make the room nice and livable, surrounding the table with shelves or drawers. This way there is extra room for an additional bookcase or an ottoman too!
11: Invisible piece of furniture and Low seats:
[Image – Melanie Coddington]
Sometimes, using acrylic or glass molded furniture piece fools the line of sight and since you can hardly see it, there is no intrusion or clogging of the already space. As is shown in this picture, the table is hardly visible in spite of being there. Therefore, the narrow room seems more spacious! Is that not a brilliant idea to make the look work?
A low seat will always be outside of the line of sight, so it will be away from any cluttering. Also, low seating looks smarter and sleeker, especially in a small space. Like the picture given above, the low seats against the fireplace look subtle and do not obstruct anything.
12: No armchair look: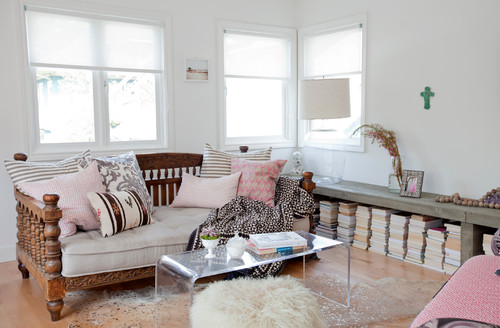 [Image – The Cross Design]
Like the sofa is unnecessary in a small living space, similarly armchair too is not absolutely important in the living area. Try putting just a sofa and center table, and pair this combo with some other seating innovation like a window seat, hammock seat, a pair of ottomans, etc.
Blessed with a small living room, your interior decoration innovativeness gets a good exercise! Get inspired from these interior decoration ideas, follow the basic rules and twist them for maximum effect to make the most of the limited space you have. If in an apartment, you need to make the living room a highly operational and functional space, as it is actually a spare space for the house. Think creative and renovate the space according to your need.