Architectural Design Services
Real wood paneling looks beautiful, classy and so smart! But maintaining wood is no child's play. It needs fine usage, careful cleaning and regular polishing. Increasing number of users these days prefer wooden laminates – the best one can get without the hassle of real wood. It comes for cheap, looks stunning and is easy to install. Here are some ideas to use:
Combine light and dark –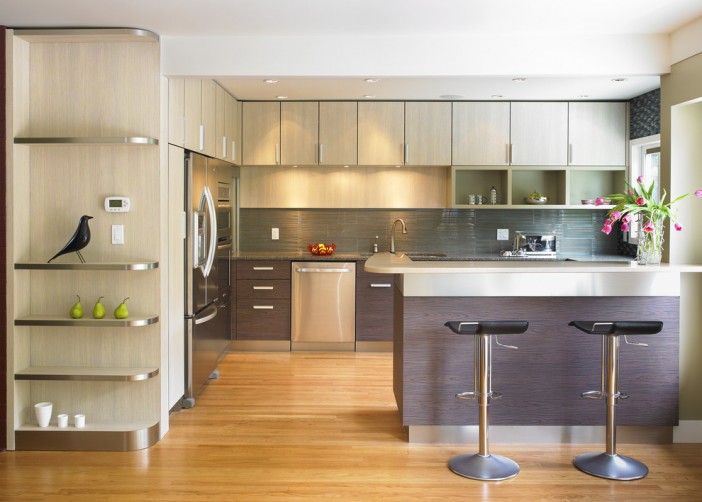 (Image – The Sky is the Limit Design)
It is a nice way to break the monotony the laminate pattern comes in. The repetitive markings make the laminate look mediocre and can be overruled by using combination. Try to make the tiling portion act as a connector between the light and the dark laminates. Accentuate and enliven using steel strips for edging and steel handles and knobs on the cabinetry.
Choose a graphic pattern –
(Image – miniskirthiker)
To break the faux – wood typecast, home owners are increasingly opting for more graphic and trendy designs to make the laminate look classier and with more character. Something only looks cheap if you choose cheap. The laminate design should be trendy enough to let go of boredom, but subtle enough to keep the place together – you don't want to go crazy looking at the same pattern all the time and get wary of it. Also, it must reflect the other spaces in a sense of continuum.
Combine with other surface coverings –
(Image – Chelsea Atelier Architect, PC)
Why not pair the laminate with acrylic, aluminum or other covering materials like marble or granite. Limit the use of cheap laminate and club it with these materials for a rich looking kitchen.
Laminates work best when they are put as front covering material for under-the counter cabinets and trolleys in kitchen. They don't demand a lot of maintenance and are resistant to damage by kitchen fumes and oil stains. Use them well to make the kitchen look richer for lesser.