Marc Prosman Architecten is known for creative designs and smart living solutions, and this particular house located in Amsterdam, The Netherlands is a clear example of that. Designed in the year 2011, the house named IJburg Villa is all about openness all through the rooms, which was as desired by the client. On the exteriors, the house seems more like a glass house with the back façade having frontal areas designed of glass. The frontal portal of the house is about a concrete frame made of wood. The designer has not used large walls for the boundary but has used simple logs to keep the views open far and wide from every portion of the house.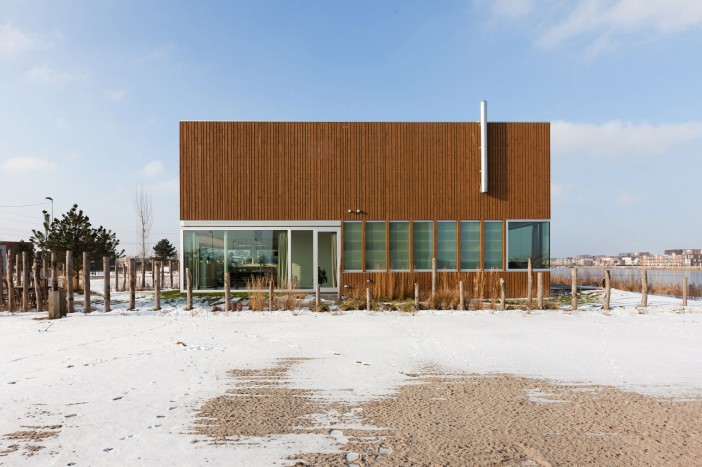 Inside the house, it is all about modern living with white being used as the master color theme. A long portion of the house has been used creatively for storing books, and the views from every corner are just spectacular. For the furniture, the designers have worked exclusively with modern elements such as elevated chairs, coffee tables, leather furniture and modern couches. There is also a specially designed fireplace in the house that ensures warmth in the cold winters of Netherlands.
The use of wood and glass for the exteriors has given the house a very light feeling that is natural and truly convincing. In the interiors, the designers have worked on the use of brown shades, probably to match with the exteriors. Most of the decorative items, flower pots, worktops and chairs are in white, especially for the kitchen and living room area. Modern living close to the nature with a design offering simple and straight views of the city doesn't get better than this.
Photos by: Milad Pallesh