Designed near the hood river in Oregon, USA by architect Paul McKean, the Neal Creek Residence built on a densely thorn bush forest with wet marshlands offers futuristic design ideas to others. Raised on to a floor above, the compact rectangular space is effectively designed to accommodate a living cum dining with a built in kitchen counter and two bedroom suites with a common bathroom. The space below the family room has the storing utility room, which is used by the client for storing their travel gear. It also has an extended deck, with a breakfast table for outdoor family times.
Built using wood and glass, the framed construction of this retreat home is designed to have a zero impact on the green forest. With wooden screens acting as blinds across the glass facade, it filters in the lights and shades of the tree tops, thus reaching out to the exteriors. An added closet to both the bedroom suites comes in handy with just the needed space to hang their attires. There is also an added bed space for 2 people right opposite to the bedroom suites, which doubles up as a reading lounge, as well. With adequate facilities incorporated to spend the weekends, the house is warm and cosy lodged against the tree tops.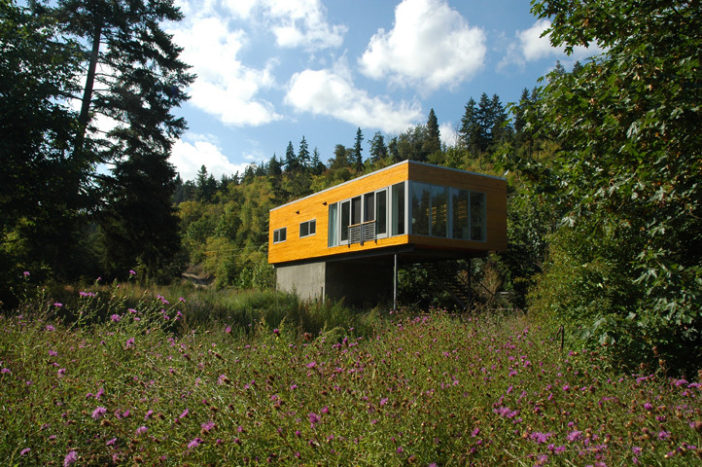 Being an ecological home, efforts were taken to use locally available materials for the patio deck, walls, and ceilings. Wooden flooring, built in kitchen cabinets and appliances made the home a comfortable place to relax and enjoy during the weekends. The danger of being washed out by flood, or being caught by a forest brush fire is reduced by designing the house atop the concrete grade. A completely furnished weekend retreat home by the creek, it is an absolute delight to the wildlife enthusiasts clients.
Photo By :- Paul McKean, Amy Donohue