The Gaga deli and eatery designed by Coordination Asia in China evokes a feel of openness to a brand that reckons with modern age glitz and glamour. Being a known brand in the hospitality industry, Gaga is quite popular among the young and old for its fresh coffee breweries and delicacies right off the kitchen counter. To connect with the thronging consumers of the brand, Coordination Asia have chosen a bright, refreshing theme that blends the exteriors with the interiors. It is about blurring the division between the two extremities, where people can meet and hangout with their family. They wanted to bring in a farm house festivity with added glitz.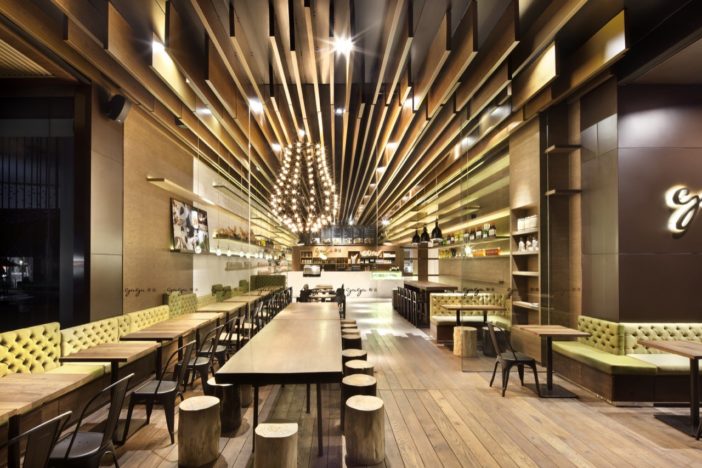 It is an L-shaped restaurant, where seating arrangements are done in two ways, one with an enormous large table with tree stumps for seats and the other is a green padded cushioned seat aligned to the wall. A mix of brown, beige and olive green shades, stirs in the elements of freshness, which are equally complemented by the hanging lamellas from the ceiling. It adds a more dramatic statement to the restaurant, where they are hung as straight planes, and also, follow up as shelves over the walls to hold food and products from the kitchen.
A straight clear aisle is maintained between the seating rows, which provide enough room for service and the flooring is of oak wood, which is laid in strips that disappear over neatly laid marble near the billing counter. A very sleek and unique interior design, Gaga is all about refined eating experience for consumers, who expect the environment to be a reflection of the hospitality brand. For consumers, it is about spending quality time, eating, and shopping for products associated with Gaga. It is a two-way experience and is very refreshing to the eye, with the details and delicacies, as well.
Photos By : Diephotodesigner.De