Volume B store by Marcio Kogan is a timeless architectural décor for a retail unit that specializes in designer furniture in Brazil. It is a voluminous concrete mass on the outer facade with a clear span opening at the entrance where the display of furniture draws up the entire focus from the street end. Moreover, a very deliberate effort by the architect resulted in the use of concrete and steel in their original form without an external finish. The use of concrete is beautifully portrayed by the architect by exposing its raw and rugged nature, which brings out an eccentric feel to the interior décor. At times, exposed concrete is the perfect backdrop for showcasing the various furniture collections without a distracted interior finish.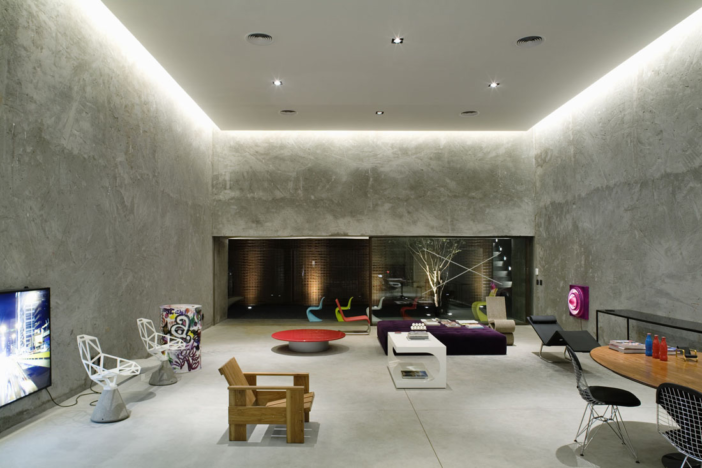 On the other hand, the use of steel in various layers help in screening views as partition dividers and also to facilitate ventilation and diffused lighting with a certain level of privacy. In this store, the various layers of steel are used as a skin or membrane instead of plywood or timber panel. The concept is to create solid spaces with voids, where concrete blocks retain the grey shades while the steel mesh provide accent indirect lighting from the street, the patio and from the workstation behind the store.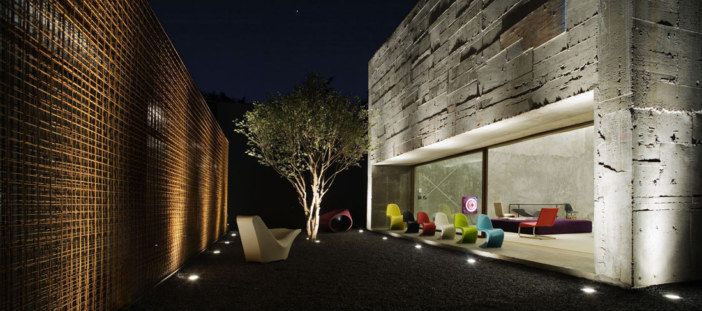 Even the interior concrete surface is left exposed with punctuated openings in the ceiling for tractable concealed lights and also has a cove lighting running around the periphery of the drop down ceiling. Behind the store, there is a patio or walkway leading to the storage room and office area, which is accessible from the main entrance, as well as the patio side. On the whole, the retail unit retains a natural and unparalleled décor that fits in well with the past, present and the future.
Photos By : Marcio Kogan