The Forest House designed by JYA-RCHITECTS, in South Korea, is an interesting project for a client, who wanted a restaurant with the forest theme. It was decided to keep the entire interior structure simple and devoid of a heavy décor, with the aim to provide many seating options and the highlight was bounced on the stairs with a bright yellow paint against the wood backdrop. The roof was designed to provide an external shelter and in turn make room for more seats on the outside, as well. This overhang of the roof over the exterior of the ground floor was decided to depict the forest theme by means of louvered openings.
For bringing out the forest theme on to the restaurant facade, the architect pixelated the forest frame into tiny squared louvers that can rotate about 180 degree with the slightest movement of the wind. Also, these pixelated units are in the shades of green and yellow, which are opened by hand and allowed to rotate by the gust of a windy breeze, which changes the look of the facade like a forest. These pixelated units are small and occupy the entire top half of the facade, which changes just like the seasons.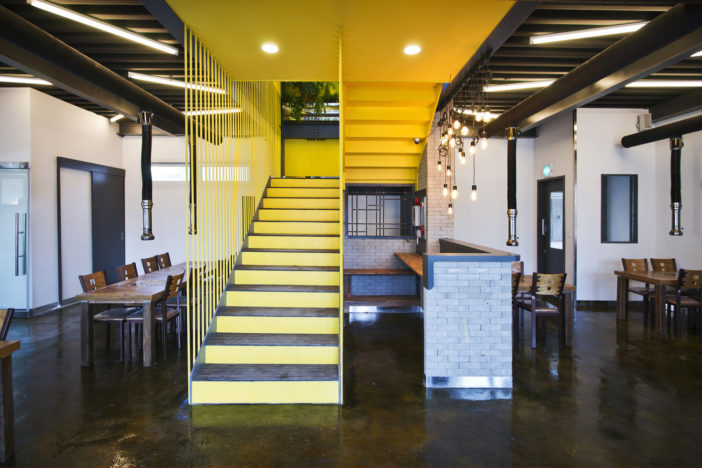 Beneath the facade, there are seating groups for a quick and casual snack whilst on the inside more elaborate seating options are available to have a fine dining experience. The interior design is simple, where the focus is more on the quality of food and to be able to serve and seat as many people as possible. On the exterior, the forest pixelated facade is a visual grabber and would definitely remind people about seeing a forest inside the city streets. A very straight forward approach to the restaurant has resulted with an innovative and unique facade that reminds us of going green in every walk of life.
Photos By : Hwang hyo Chel