Le Coiffeur designed by Margaux Keller Design Studio + Bertrand Guillon Architecture is an eclectic hair salon, shaded with soft sea tones of azure blue and white over vintage inspired octagonal tiles that fade into the concrete floor. It is a hair salon designed with subtle French element touches that can be seen from the bright yellows paired with the grey mid-tones, against the azure blue backdrop of the wall. The architect has picked quite a few distinct elements from the Marseille native region and has brilliantly incorporated them in the sea themed décor.
Classic vintage tiles in an octagonal shape are used at the L-shaped reception table with a sleek top counter with a water reflection finish. This tile used near the entrance slowly recedes away letting the concrete floor enhance the interior design elements of the décor. The use of an L-shaped sofa, paired with grey seats and yellow cushions creates a visual melange that is soothing to the eyes and mind. Also, the salon has hooded mirror units that are custom designed with a classic wooden seat, which brings back reminiscent memories of the medieval French.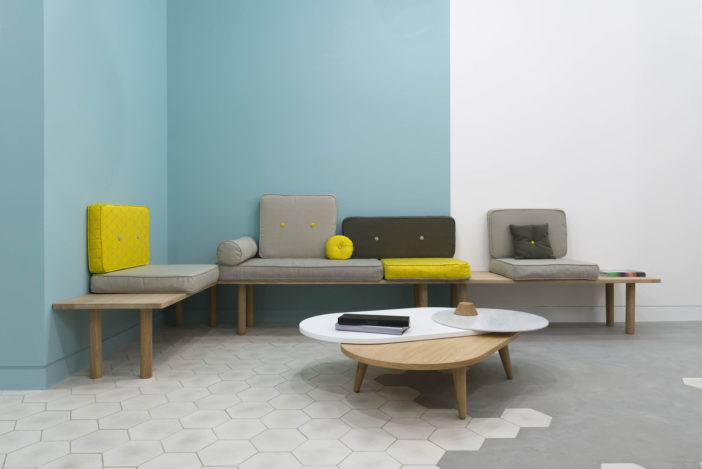 These hooded units are elegant to look at and increase the intimacy of the client, in the open layout of the salon. Also, a cabana is designed at the back with a black exterior and white interior, which acts as a hair wash area. It has a lounge deck seat, which reminds one of being near the sea whilst having their hair washed and groomed. Even the lights are custom designed and appear to be hanging in the shape of a hair dryer that completes the look of the salon. On the whole, it is a classic styled salon, subtle and fresh with design elements native to the region.
Photos By : Margaux Keller Design Studio