PacificDazzle baton designed by Atelier KUU is a full-fledged hair styling salon that brings nature right in the midst of this luxurious and elegant décor in Japan. This concept of using large sized planter boxes with trees that are trimmed in rectangular shapes brings out the greenness of the salon where the clients feel and experience the joy of being under the shade of a tree. Right from the facade of the salon, the architect has used boxed openings on to the exterior, which houses different green plants that create the impression of being spilled out of the box.
True to its rather rectilinear layout, the inside of the salon is also segmented into individual boxed units, which contain a cluster of shampooing and stylist rooms. They look like being placed in a random manner, but are well-thought of, to aid effective circulation and bring about the expression of spaciousness in the salon. Also, the architect has used miniature leaf patterns as a silver textured motif over white painted walls that add more depth and liveliness to the salon.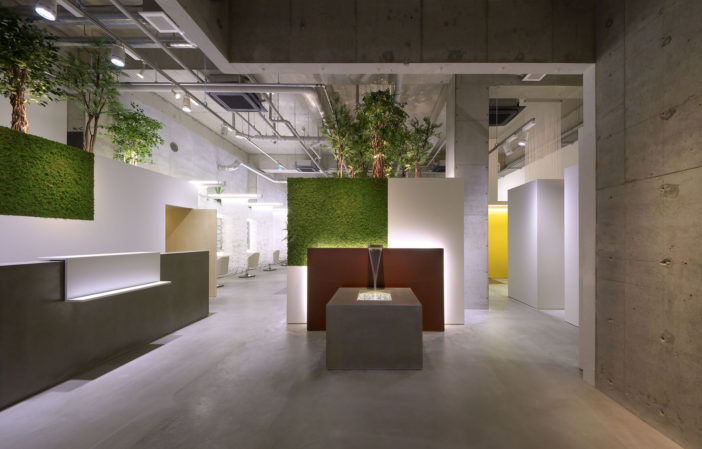 Moreover, the impact of white walls laid with green plants brings about a soothing and relaxed environment to the salon and bring every detail to the eye in a subtle manner. Even the choice of furniture is chosen with care to reflect on the spaciousness of the salon, where white plaid chairs and lounge seats create a sense of openness that visually stimulates the mind and is a great way to de-stress whilst having you hair done. Also, the ceiling is left exposed with all the lighting and electrical conduits to give away a rustic grey shade to the décor that perfectly complements the matte finish of the concrete floor. On the whole, with this unique and nature inspired salon, there is a balance between the different design ideas and elements incorporated into the décor and that make it a truly greener space in the urban city.
Photos By : Seiryo Yamada