As the winters go by and the summers approach, it is time to get out of the hiding and get back on the active and healthy lifestyle scene. For some of us, it may also mean shedding the excess winter weight, which we strapped on while being cosy in our homes. Before you hit the gym and start planning a life of health and vigour, just take a quick look around the house to determine if it is ready to support your lifestyle change or not. Here are some interior ideas and ways to make your home ready for the fitter choices that you are now going to make.
Expand your Living Spaces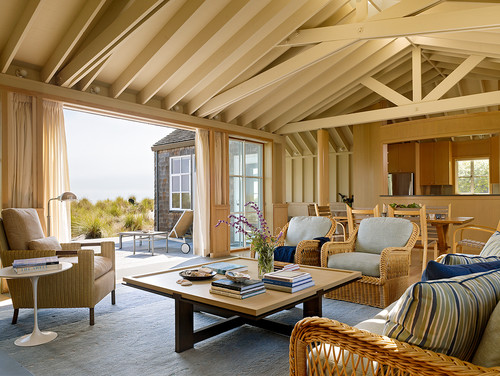 [Image: Butler Armsden Architects]
You can check the doors and windows of your house and see if you can incorporate French style or sliding glass doors to connect your room with the nature. You can transform your living spaces in a huge way if you expand your private quarters and invite the nature in. Think of this expansion in your kitchen, bedroom or even living rooms. In fact, this offers one of the amazing living room design ideas.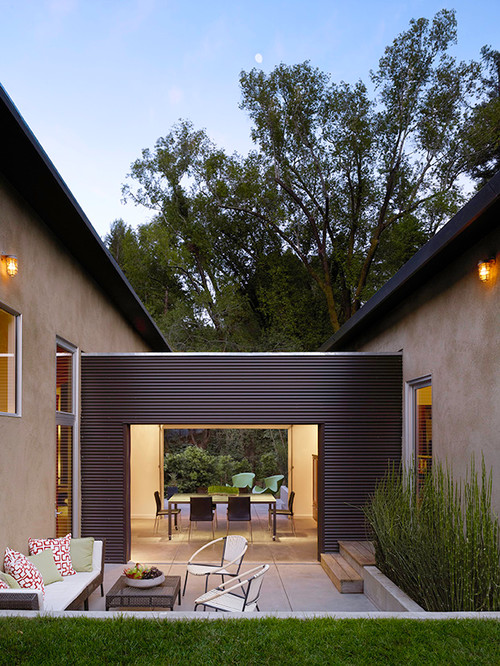 [Image: Aleck Wilson Architects]
You can also plan a Breezeway into the design of your home to establish the connection of indoor and outdoor spaces. These passages connect one part of the house to another and make an ideal place for a cosy sitting area in this outside space.
Avoid Sedentary Work with Stand-up Desk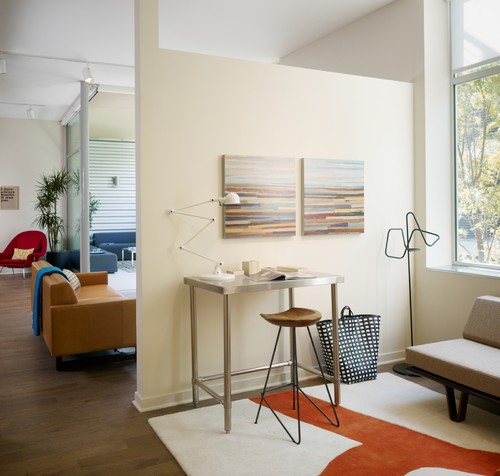 [Image: Incorporated]
If your work entails a sedentary lifestyle, then you should definitely go for a stand-up desk so that you can avoid the high number of health issues associated with excessive sitting. You can add a stool to have the flexibility to sit when you are tired. You can keep toggling between these two positions to keep your body active even while you are working in one spot.
Get a Smaller Fridge
[Image: Julie Holloway]
Large refrigerator means it needs to be filled. This will be hard to downsize if you have a full family. However, if you are a bachelor or a couple, then you perhaps don't need such a big fridge. If you live close to a supermarket, you will have an opportunity to make frequent trips to the store and make healthier choices than stocking your fridge up with frozen food.
Eat Family meals comfortably
[Image: Increation Interiors Ltd.]
It may not always be possible for you to find time to eat with the family. However, every once in a while, you can make the provision for everyone to eat together and instil the habit of healthy eating habits. You can keep your dining area available for dinner by keeping it clutter-free and make sure that you make the table inviting by using clean linen and real dishes. Spend good time at the table, which can be your only opportunity to spend quality time with your family.
Grow your Herbs Indoor
[Image: Bright Green]
If you have fresh herbs growing at an accessible distance, you are bound to cook healthy food rather than relying on the junk food from the fast-food stores. Just be sure to place them at a spot where they get enough light and it would not be a problem to grow your very own fresh smelling herb garden indoors.
Keep Healthy Foods with Accessible Reach
[Image: Holly Marder]
The best way to start eating healthy is by making the healthy food visible and easily reachable. Keep all your whole grains in a clear glass, juicer or blender on the kitchen counter, baskets of fresh fruits and vegetables at visible spots. These simple changes will act as a stimulus to pick up these food items rather than a bag of chips stored in the cabinets. Also, keep your tools for preparing healthy meals within reachable distance so that cooking becomes almost effortless. Move all the unhealthy items in your kitchen away from plain sight and deep in the pantry somewhere.
Use Long Stairs in the house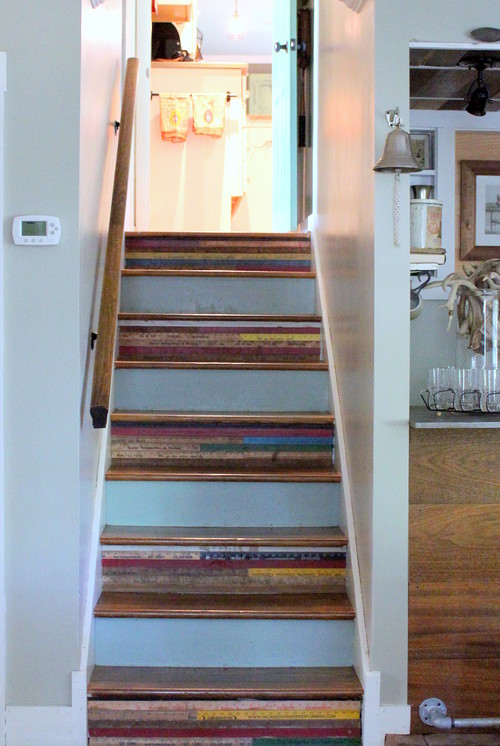 [Image: Sara Bates]
Long stairs are like in-built exercise systems, which are present in almost all the homes. Don't be easy on yourself and install smaller stairs. Instead, get as long stairs as possible as it will keep you active throughout the day. However, if you are at an age where going up and down the stairs a lot may not be an option then try to do it at least as long as you can walk up and down comfortably. This will keep you strong for a longer period of time.
Have a peaceful bedroom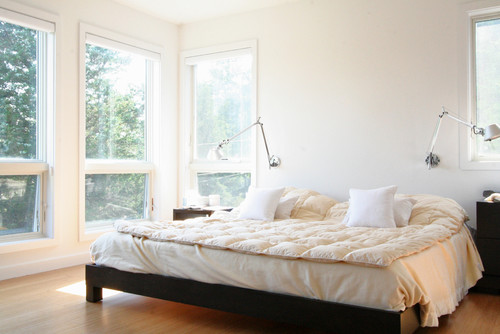 [Image: Resolution: 4 Architecture]
To have a good night sleep of at least 8 hours is a must for a healthy mind and body. Condition your room in such a way that you get a peaceful sleep at night. To keep your health in balance, open up the curtains to let the natural light in and keep away from all the technological devices for as long as possible.
Give TV its own Room
[Image: Crestwood Construction Inc.]
Don't kill the family time by placing a TV in the main living room. Instead, give a spot to TV in your house so that one can be discouraged from watching too much of it. Avoid being a couch potato and use TV for as little time as possible.
Be more outdoorsy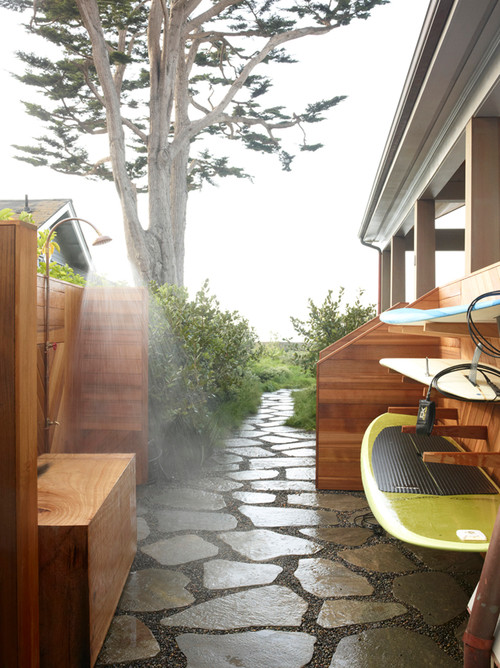 [Image: The Office of Charles de Lisle]
If you live close to great biking trails or beaches, then you are in for luck as you can ditch the video games and hit the outdoor action. Make sure that you are always equipped with all the necessary gear so that you can hit the trails or the beach whenever you like. For the beach lovers, they may consider an outdoor shower or a place to store the surf board. However, the bikers and hikers would like an outdoor storage to lock their gear in safety when not in use.
Add some Outdoor Fun inside your House
[Image: Wagner Design Studio]
If you love rock climbing, then why not dedicate a wall in your house for this purpose? The climbing wall can be a great outdoor activity and you can do it at your own home. You can also add a skateboarding ramp, as well to add more action in your front yard!
Make Space for Workout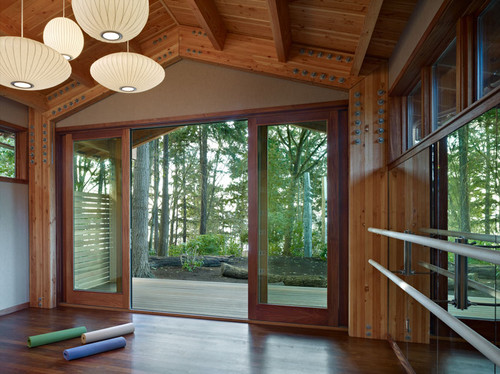 [Image: SHKS Architects]
Regardless of what your workout activity is going to be, you must have a space in your house that can be allocated to these activities. Doesn't matter if you already have a gym membership, but the option to be able to work out at home, when you cannot go to the gym, can be a good choice. You can also use the outdoor deck for a peaceful yoga session.
Plant your Own Garden
[Image: Watermark Landscapes]
You don't need a lot of garden space to plant your own garden. You can do that even with a few numbers of pots. However, if you do have a lot of space and time, then you can plan a bigger garden with many varieties of veggies and even fruits. It is very satisfying to grow and eat your own food. You can also involve your children and make them pick their veggies of the day. You can also keep yourself active by pulling weeds.
Outdoor Dining Table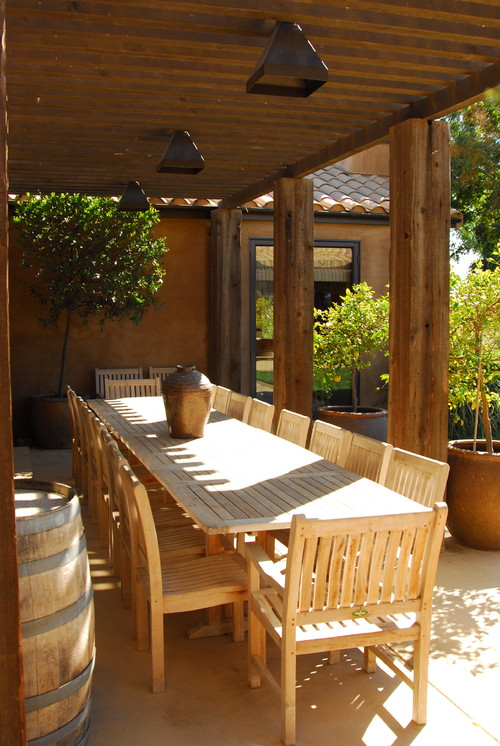 [Image: Westfall design Studio]
You can add a big outdoor dining table to your house and entertain guests with a leisurely weekend of lunch or dinner. You can also think out of the box and position your dining table next to the garden for the fresh fragrance of home grown veggies that will add to the flavour.
Safe place for the kids to play  
[Image: Jessica Helgerson Interior Design]
This should be on your priority list to give your children a safe spot to play outside the house. If your little ones have a safe place outside their house to play and explore, the chances are that they would prefer to be outside. Use large windows in your house to have a clearer view of your backyard from where you can watch the kids can play.
Get Some Fresh Breathing Space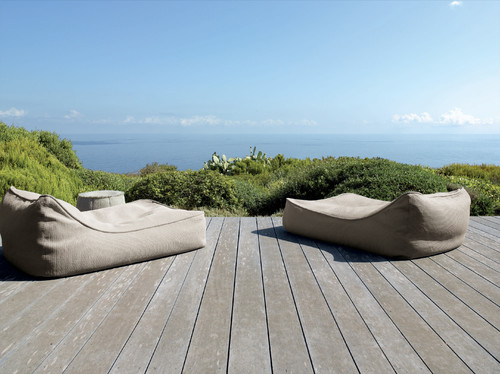 [Image: Escale Design]
When you spend some time in the fresh air, it is not only healthy, but also helps in relieving anxiety. You may have a small balcony or a large backyard with an incredible view, which should be your biggest motivation to rearrange the outside space for some peaceful time. Put some lounge chairs if you have a good view or use planters if your backyard faces the neighbour's house.
There are many ways to make your house ready for not just active lifestyle, but also your peaceful haven. With little planning, creative design ideas and help from professionals, you can add a lot of variation to your house and make it perfect for yourself, your children and even entertaining friends.