It is mandatory in every bathroom to place the soap next to the sink. However, the soap bars can become very unpleasant to look at when they are wet and not to mention the scum can even spoil the surface they are on. There are also dispensers available in the markets that can hold liquid soaps, but they are hardly attractive and do little or nothing to improve the way your bathroom looks.
Contemporary bathroom decorating ideas
Thanks to the aesthetic living and such home solutions, there are many attractive dispensers in the market that can add to the glory of your bathroom and still hold the cleansing soap right next to the sink. Just match the style and design as you need and you are ready to go! You can also look around your house for that unconventional container that can be adapted into a liquid soap holder. There are many attractive bathroom decorating ideas and ways to take the bar off the vanity and still have a soapy solution within reachable distance.
[Image: SYRINGA REALTY]
You can use attractive dispensers that are readily available in the market and are the perfect solution to holding that liquid soap. In this image, you can see how the dispensers have been placed aesthetically above the vanity surface, which eliminates the dirty soapy rings caused by these bottles.
Jenni leasia design
Eclectic bathroom decorating ideas
[Image: Photographie Panotonic]
You can also plan to match the dispenser with the décor of your bathroom. In this image, the powder room has been designed in a futuristic flair and the decanter that has been placed to hold the soap fits right into the overall theme. It is the perfect addition and feels just right.
Bathroom soap holder ideas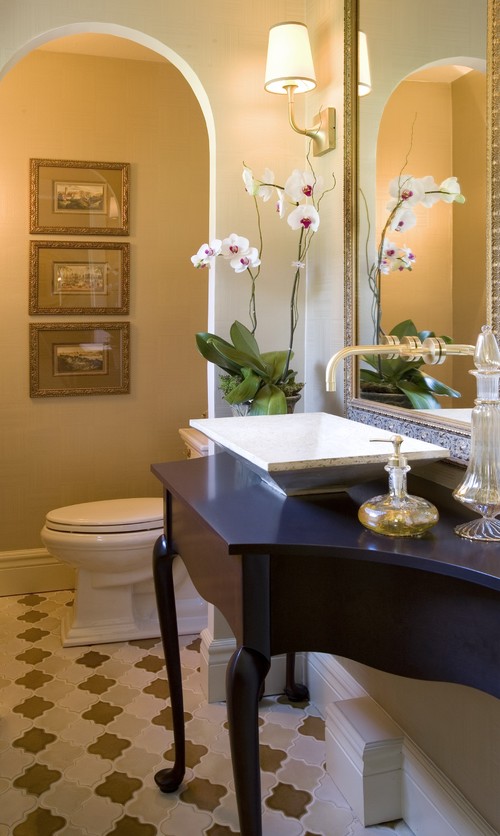 Rotating soap holder
[Image: Petrella Designs, Inc]
If your bathroom or powder room has been designed traditionally, then you can place an elegant looking bottle as shown in this image, to the vanity. This bottle looks ideal and plays well with the décor of the bathroom.
Soap dish ideas
Innovative soap
[Image: Jenni Leasia Design]
The best thing about getting creative with the soap dispensers is that they don't have to be permanent fixtures. If you don't like the way they add to the room, then you always have a choice to get another one. This is why you can choose to be creative and see how it complements your vanity. In this image, the soap dispenser mimics the industrial oil can, which adds to the character of the bathroom setting and dresses up the sink.
Soap design ideas
[Image: Three Legged Pig Design]
If you are looking for a modern or out of the box sort of dispenser, then you can either use a carafe or even a laboratory beaker that appears innovative and contemporary. It is a good break from the usual pump style bottle, which is a regular design. Get funky with this style and make your sink look futuristic.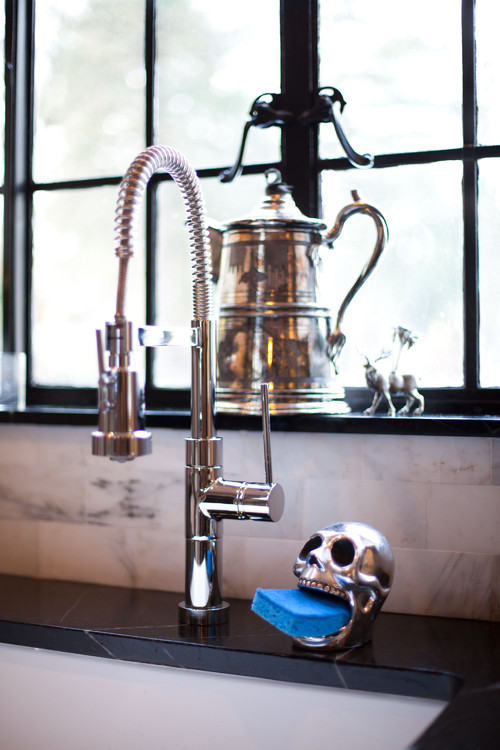 French soap holder
[Image: Tess Fine]
In this image, you can see that a skull head holds a sponge. However, you can replicate this style by putting a bar of soap instead. If you do not like the look of the skull sitting on your bathroom vanity, then you can also consider placing a vintage looking toy truck, a shell, an old doll bed, a rock or any other such possibility that you would like to transform into a soap bar holder.
Shower soap holder ideas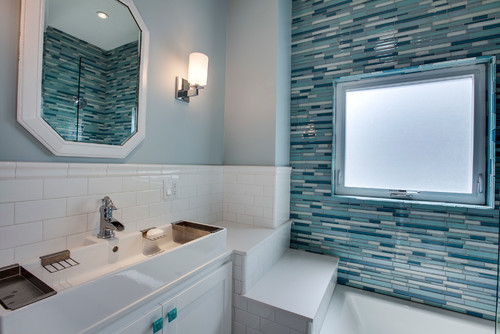 Soap bar holder
[Image: Luke Gibson Photography]
You can free up your counter space by adding soap holders that are suspended in the air. They hang through the edge of the sink and eliminate the collection of soapy residue, which can spoil the surface of your sink or even the bar holder. It is a very neat solution for a contemporary styled bathroom.
Contemporary bathroom ideas
[Image: Murdock Solon Architects]
You can also consider getting a niche close to the sink or vanity that can hold your bar of soap. This too is a good solution for freeing up counter space while keeping the soap close at hand.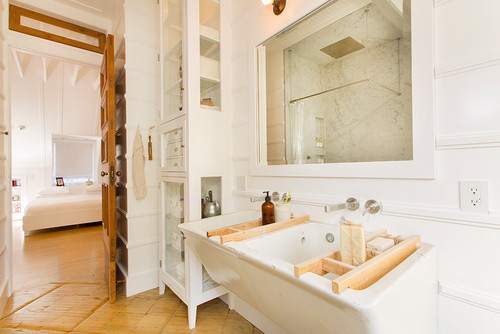 Bathroom interior decorating ideas
[Image: Thea Home Inc]
Soap caddy is a very innovative way to hold bathroom supplies together in place while keeping the drips in check. You can also apply the same principle to a trough sink as well as the one styled as a vessel as seen in the previous photo.
[Image: A+R]
Magnetic soap holders are a great way to take the bars off your vanity and free up the space. Just insert a metal button into the bar of soap, which is then fixed into a wall mounted stem with the help of a magnet. You can either run your hand across the soap surface for cleaning or remove the bar for a more vigorous hand wash, and then stick it back when you are done.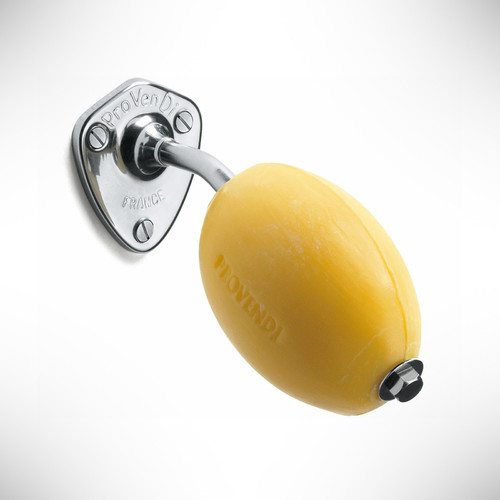 [Image: Gearculture.com]
Rotating soap holders are one of the most commonly used concepts in France and that too for a very good reason. They not only in keep counters free but also allow the soap to dry out quickly that eliminates the dripping of wet soap. They are mostly used in public places or schools. Mostly these holders will come along with a soap attached to the holder and is good for at least 1000 washes.
[Image: SimpleHuman]
There is nothing that can beat the convenience and sanitary aspect of using a touch-free soap pump bottle. All you need to do is place your hand underneath the pump and press the top of the bottle to dispense just the right amount of soap from the bottle. When you place them at the edge of the sink, any spills will wash down the drain. They are the traditional method of holding soap solutions, but they are also the most commonly used and convenient ones. There are many styles available in the market that you can choose from and mix it with any kind of bathroom interior.
Bathroom soap dispensers may not be the first thing on your mind when you are looking for bathroom interior ideas. However, their tiny presence can make a lot of difference to its utility and the cleanliness of your space later. Just a little thought will go a long way in making your bathroom a pretty place down to even the tiniest details.