Your coffee table does not have to be a regular run of the mill piece of furniture when with a little creativity, you can create statement pieces. Don't just hop on to the nearest store before you take a look at some of these fancy alternatives. These options are designed to use some of your discarded old ware or have been repurposed to double as a creative storage space. However, the one that is common between them all is that they will instantly attract attention and will become a point of visual interest in a room. Use some of these decoration ideas to get started on your very own coffee table.
Flying carpet coffee table 
[Image: Emily Campbell]
A Persian rug that has been simply added on a table adds a very unique character to it. It has been placed atop plywood table and don't forget to notice a hookah that adds more to it. All you need to do is remove the carpet for cleaning, as simple as that!
Old pallets and crates
[Image: KuDa Photography]
Who would have thought that wood crates or pallets will make such a fine piece of furniture? They can make a traditional coffee table look incredibly versatile by using simple design techniques. All you need to do is turn these tables upside down. However, if you are one to shift your furniture a lot, then you can also screw them together. Other options include stacking them or cutting them down to reduce the size. All it takes is a single coat of paint to transform these old school crates into a fine piece of the coffee table.
Be sure to check where these crates originated from or what they stored before you got them home. Don't pick the ones that were used to store toxic materials.
[Image: Walter Barda Design]
There are many ways to transform a wood pallet into interesting designs if you use your creativity to the best of your ability.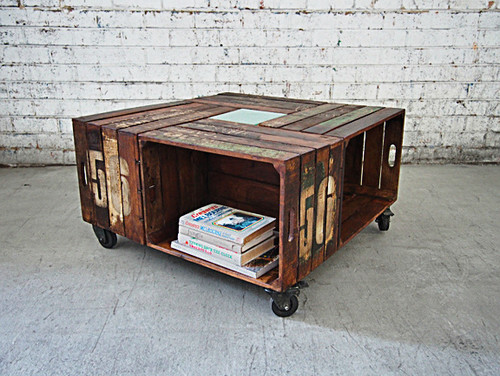 [Image: Holy Funk]
In this image, you can see how the old crate has been done up fantastically to meet the storage space utility and also a sound design for an innovative coffee table. You can put your magazines, books, or any other item as you please. No more excuses for that inexplicable clutter!
Add a vintage with travelling trunk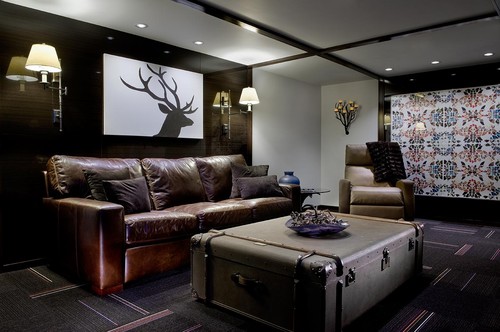 [Image: Pavilack Design]
A trunk inspired by the steamer has been used in this room to serve as a centre table which brings an old world charm to a manly room. Not to mention how it also acts as hideaway storage for all the junk that was initially littered around the house. There is always an option to get a new one from a home décor store. But don't forget to check out an old garage sale if you want to add real character to this table. You may also get them at a thrift store for a lesser price.
Do consider size of the trunk before you buy it. You don't want a coffee table to fill out a room. The height should be similar to that of a table ideal to be in the centre of a room.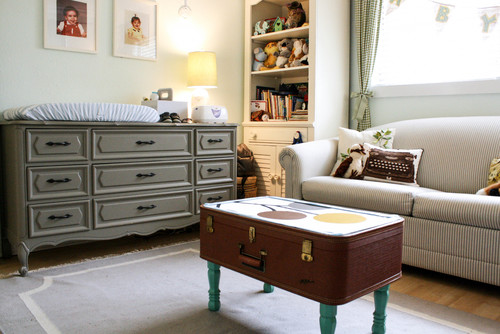 [Image: Mina Brinkey]
If you do find a piece you do not wish to leave but is too short to be a coffee table, you can always add some additional legs to enhance its height. In this case, the owner of the trunk took extra measures to make this trunk look attractive by adding a piece of fabric they bought from Ikea. It adds beauty and also prevents coffee marks or rings to affect the surface of the trunk.
Old doors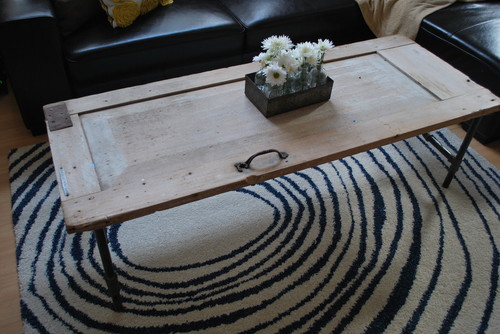 [Image: Urban Wood Goods]
Although any flat surface will do just fine to make a coffee table, you can also use an old door that can be repainted or cut to suit the size. However, this one has been used in its original size with the inclusion of a handle that has been left for dramatic effect. Steel pipe legs only add more to the look of the table.
There are far too many options for our comfort, when it comes to choosing the right one that just fits right in. But if you find something in unique colour, just add a coat of polyurethane for durability.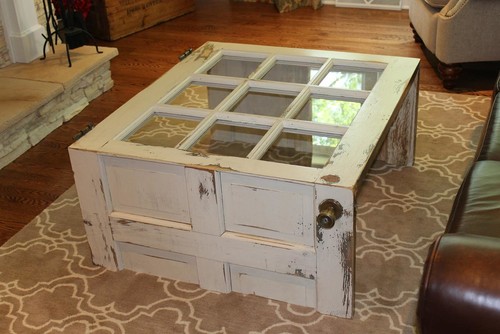 [Image: John Melby]
You can also use a combination of door and windows as is shown in this image. This too makes for an interesting piece of the coffee table for a contemporary room.
Add castors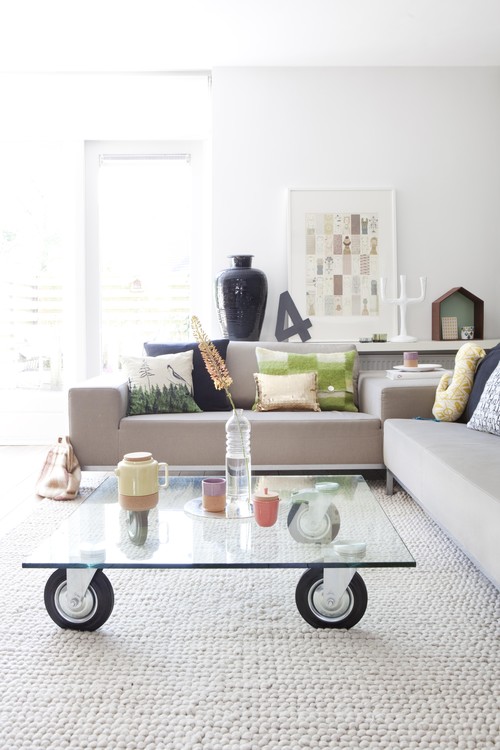 [Image: Gosto Design & Lifestyle]
A simple piece of glass has been transformed into a moving coffee table with the addition of castors. It gives it motion and necessary height to be kept in the centre.
Create an organic look
[Image: Josh Partee | Architectural Photographer]
How about creating an atmosphere of nature in the house? Treated stumps of wood will make for an interesting table in any room. If you are lucky, you might not even have to pay for it!
Old Factory Gear
[Image: Margeaux Interiors – Margaret Skinner]
There are so many things that can be transformed into a coffee table by simply adding glass tops. Like in this one, an old factory gear has been put to use and make for an incredible base.
Old Drum Kit
[Image: Rebekah Zaveloff | KitchenLab]
If you have an old drum kit that once became a momentary obsession with you, but since then has been lying discarded in the attic, then we have a perfect use for it! Repurpose them to make for an attractive coffee table by adding a glass top.
The good old style
[Image: Anna Lattimore Interior Design]
This coffee table is not only unique but also has an extra addition of cute kid's chairs that have been bought separately but together work in absolute harmony. It is not only a great coffee table idea but also serves as an activity space for the kids. This is one of the best ways to use your kid's old tables and chairs when they grow out of them. However, you don't need to have kids for this arrangement, it will work just fine even without them.
A discarded cart
[Image: theoldpaintedcottage.blogspot.com]
There has been a sudden rage in home décor for all the industrial carts that have been repurposed to meet coffee table requirements. You can find them at antique stores or even buy an imitation.
You can also make one of your own as a weekend DIY project. Just sand, stain and seal it up with an addition of a glass top. You can also bring in further customization if you like.
[Image: Paul Rice Architecture]
In this image, an old French cart has been given new life by adding a piece of glass on top.
Stack the storage boxes together
[Image: Marie Burgos Design]
Storage boxes are so cheap that they make amazing coffee table alternatives without burning holes in your pocket. Just top them with a vase for a neater look and fill them with essentials to double up as a storage solution. You can also move them to other parts of the house if you are looking for a fresh interior option.
Stool Cluster
[Image: Scheer & Co.]
You can keep it cheap by putting together a cluster of stools to serve as a centre table. They not only work as a perfect coffee table but can also be used as extra seats when the guests come over. Try playing with the scales of the stools or different designs that can be clubbed together for an effective look.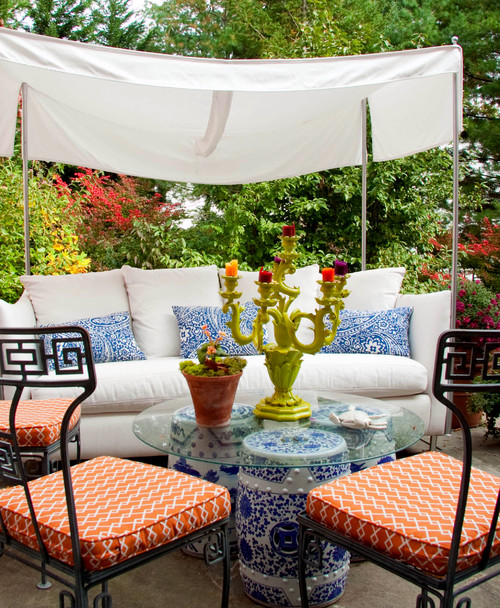 [Image: Leslie Hayes Interiors]
You can also add a glass top to a flat surface stool to hide the cluster and bind them into one design.
Coffee tables and especially the interesting ones can breathe life into a boring room without even demanding too much. All you need is a bit of an insight, creativity and a little help from these design ideas and tips to come up with a style of your own.