We all love how the well decorated table looks! It just adds the right amount of zing and fun on the table, and completes the meal look. Having a lovely centrepiece is a source of joy. While eating, the guests enjoy a beautiful table, and the right look can be achieved using simple arrangements with flowers, spices, candles and inanimate, unusual objects and they are simple enough to be executed by you at home. Just the very basic supplies do the trick. Let's look at some table decor ideas and inspirations!
Glasses and pulses: Take a nice set of simple, clear glasses and fill those about thirty percent with your favourite colourful dries pulse and legume, say peanut or black eyed peas. Just take single twigs of flowers in a bright hue and cut them off right where they just about reach the brim height. Just stick them in, that's all! Such a great looking centrepiece!
Styrofoam wonder: Take some Styrofoam cups, paint them in nice patterns and colours and let them dry. Once done, you can fill them up with some sort of potting mixture or fillers and arrange the twigged flowers in them, making them look like miniature pots. They look amazing and attract attention right away, without much effort.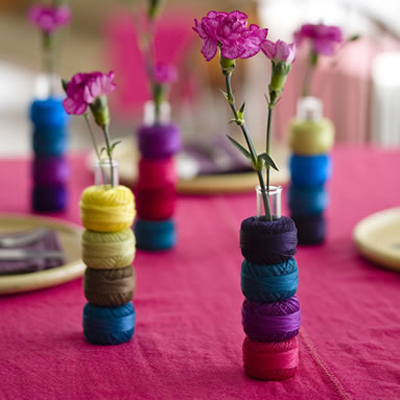 Thread and glass: This one is really interesting. Take some spools of crochet or embroidery thread- the one that comes in a ball shape with a hollow in the centre. Stack a couple or more over each other and put a glass test tube through. This makes your vase. Now any long stemmed flower will look great in this!
Pots and kettles: Arrange kettle and saucers and cups creatively and the hollow in the kettle (minus the lid) can be a great centrepiece for flower arrangement to go in.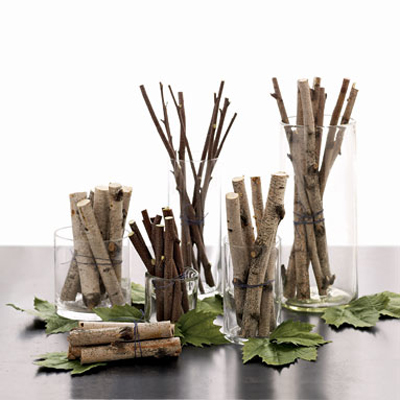 Wood and spices: Collect twigs of spice plants or other aromatic plants and cut them up in same sizes. Arrange them in glass tumblers, kept on leaves acting as coasters and you are done! This simple arrangement will not even take five minutes to assemble.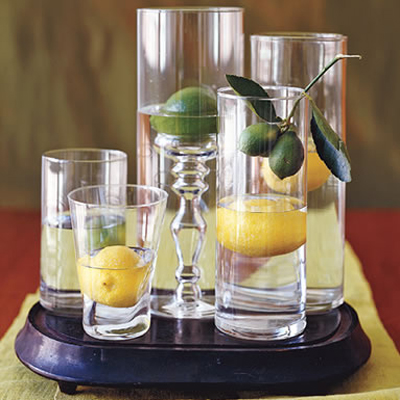 Life and lemons: Pick a set of varied sizes of glasses, and arrange them on a rectangular stand or tray. Fill them up in varying quantities of water and drop green and yellow lemons in the glasses. Other tangerines can be used, as well. This stunning piece is attention grabbing and so minimalistic and easy on the eye, you will love to make this up whenever something special happens.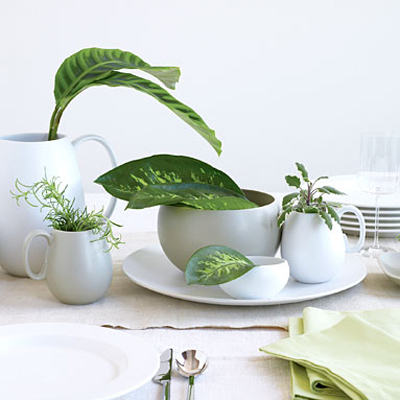 Organic and foliate: Bring the greens in; it's time for some table decoration. Arrange the chinaware, preferably monotone, in the centre of the table. Gather different types of interesting leaves you can find around the area and place them in different pots. Just make sure, this style will go floppy soon so you may have leaves, which are succulent in nature. Keep it minimal and you have it right there!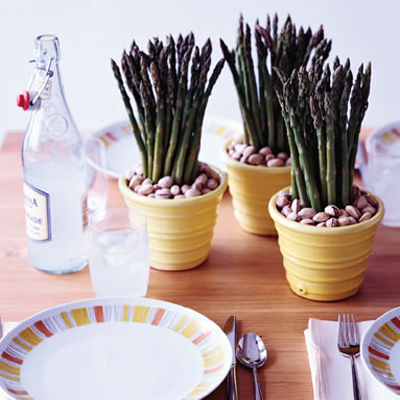 Eatable decoration: Fill up pots with pistachios and place asparagus sticks in the middle like it's a potted plant. Totally eatable arrangement!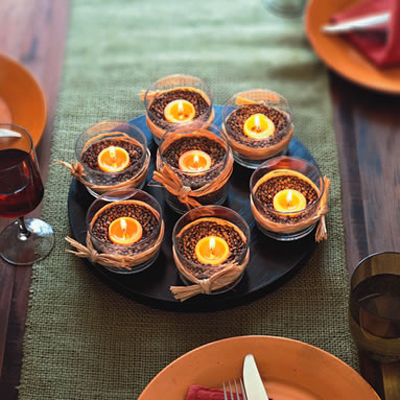 Coffee bean meets the tea candle: This is an amazing design! Get inexpensive tea candles and get hold of some shot glasses. Fill them up with coffee beans and tie raffia or hay strand around the glasses. Put the tea lights in, and just when the guests arrive, light them up! The coffee bean aroma and the brownish glow hint warmth, liveliness and welcome. Pure joy!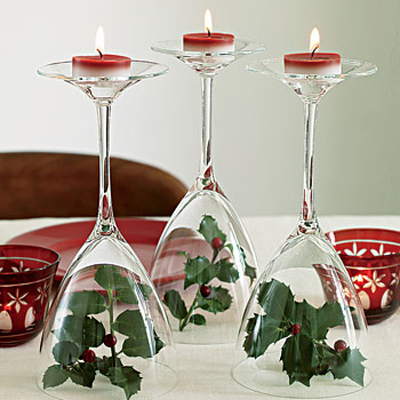 Champagne time: How about something romantic? If you have some wine glasses, you are good enough. Get them out, slip a sprig of cherry or lavender underneath the upturned glasses and balance the tea lights on the base; which now acts like a stand. A simple, easy, and very effective arrangement!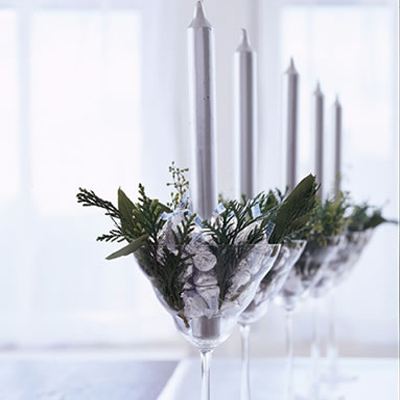 Silver and winter: Champagne glasses can be filled with some dry plants or spice plants or even fresh holly or lavender or cherry twigs and in the centre, a single candle can be illuminated. This gives a very happy winter feel to the arrangement, but never make it stand alone, always have many glasses in a row or group. Ideal for festive times and birthdays!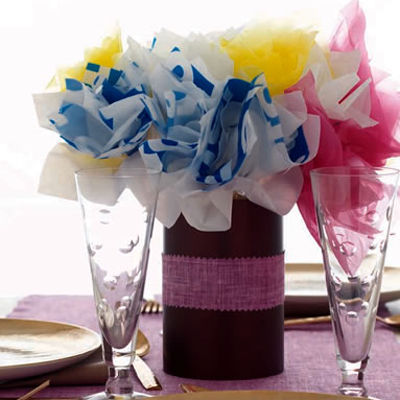 Fabric flower power: Well this is a strange question. Have some huge fabric flowers in contrasting and peppy colours? Well then, that's your new centrepiece. Arrange them in a pretty vase, not made out of glass preferably and see the table brighten up!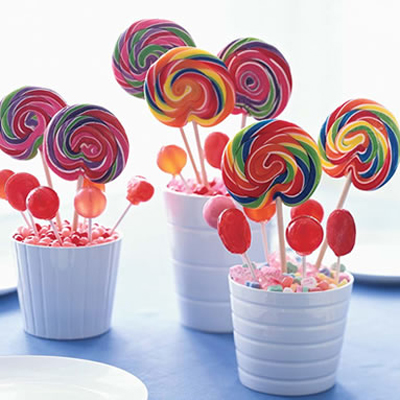 Candy Bling: Get some ceramic or Styrofoam glasses or cups and stuff them up with candy! Colourful, bright and edible- this is an ideal decoration for a kid's party. Let them sit on the table, and, then, give away at the end of the party. Fun and exciting!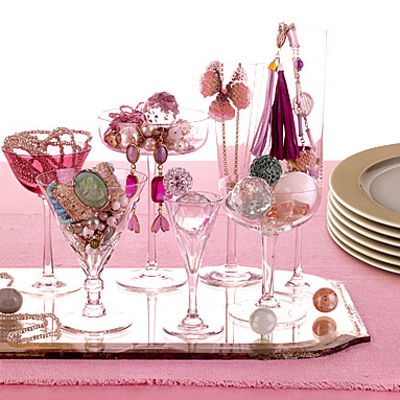 Jewellery and ornaments: Get the fanciest glasses out, and also, get out your best jewellery and ornament pieces. Get the fanciest tray and arrange them over. Exactly, that it! That's the centrepiece. Stunning and glittery; this is the look for a lady's party.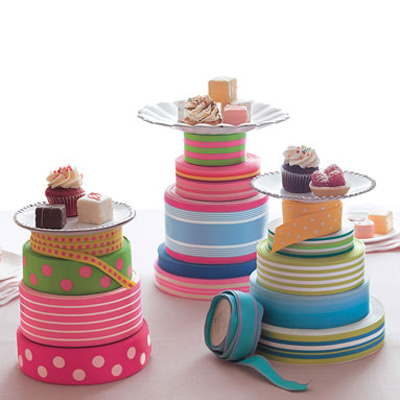 Ribbon rolls: We all have some craft supplies lying at our place, don't we? Get out the ribbon rolls, stack them up in decreasing order and place saucer plates on the top of the rolls. This will act as a surface for sweets or goodies and will attract attention of all the guests. Go for this look and grab some eyeballs.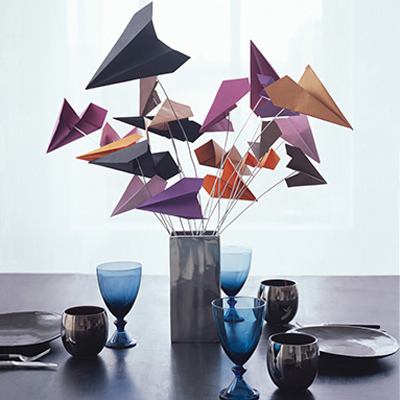 Airplanes in the sky: As kids, we have all made airplanes, and now it's the time to make a nice centrepiece out of it. Attach wires wrapped in ribbon at the bottom of the planes to give them a shaft to balance.
These romantic, suave, sophisticated, unusual, and fun table decoration ideas will brighten up any table and reflect your taste, style and brilliance as a hostess. Use them and bask in the praise!