People think that rattan and wicker are the same things. Well, they are, in most cases. Rattan is a plant that is harvested from palm that creates the grassy design. However, wicker is made of woven material that is created from natural fibres that may or may not be rattan. You can use either of these materials to give your house an everlasting and timeless look.
The Visual Difference between Rattan and Wicker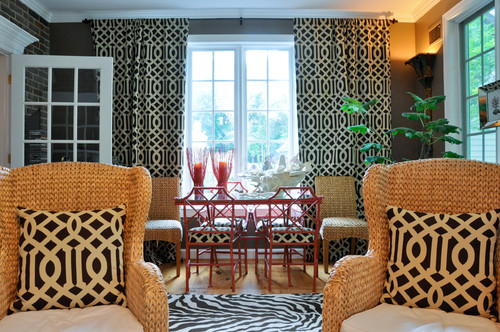 [Image – CM Glover]
In this image, one can see clearly what separates the two materials from one another. All the furniture in this room is made of rattan. However, the tan chairs and the other two coordinating chairs are clearly wicker as they are made of woven material. Rattan is ideal for an interior décor that is based on organic theme and the people that are looking for a handmade natural feel to the interiors. Wicker, on the other hand, is inspired by nature – it can be rattan/natural or not.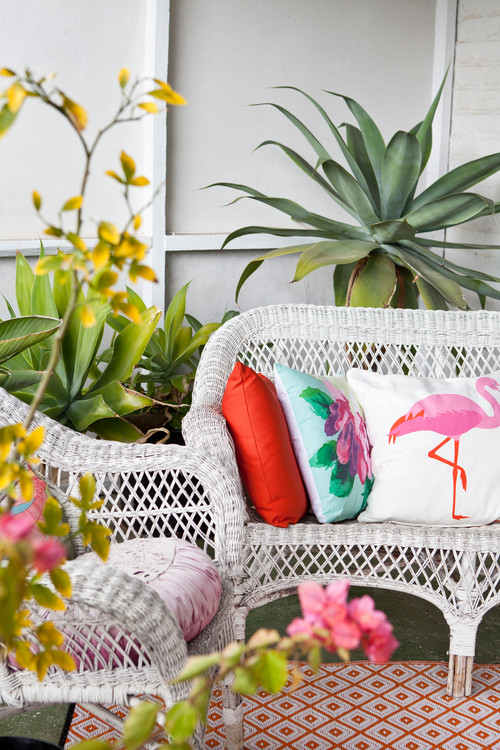 [Image – Twinkle and Whistle]
Original Rattan or artificial rattan can both give your furniture and design a raw and exotic feel. Rattan is in fact, grown in the tropical regions of Africa and Asia and exudes the same air. You can get them in bright colours and decorate your outdoor spaces with this furniture coupled with interesting accessories.
In this image, the wicker furniture looks handmade due to the difference in weaving pattern at the core and the base of the furniture.
Use them to decorate your indoors too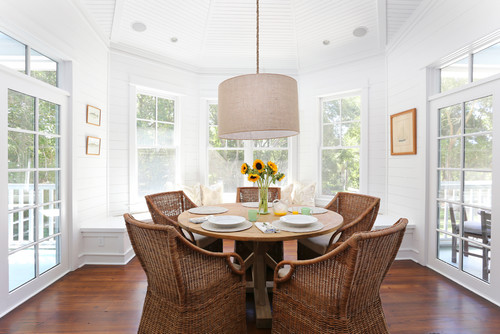 [Image – Mathew Bolt Graphic Design]
It is falsely believed that rattan can only look best outside. You can also use this casual looking furniture inside the house. In this image, to suit the indoors, the frame of the weave is much tighter, but it retains the strong frame of durable equipment.
[Image – Colin Cadle Photography]
In this image, the weave of the wicker has been used in the classic Brentwood style to make it look elegant and refined. These chairs work perfectly for dressing up a small outdoor nook for private dining purposes.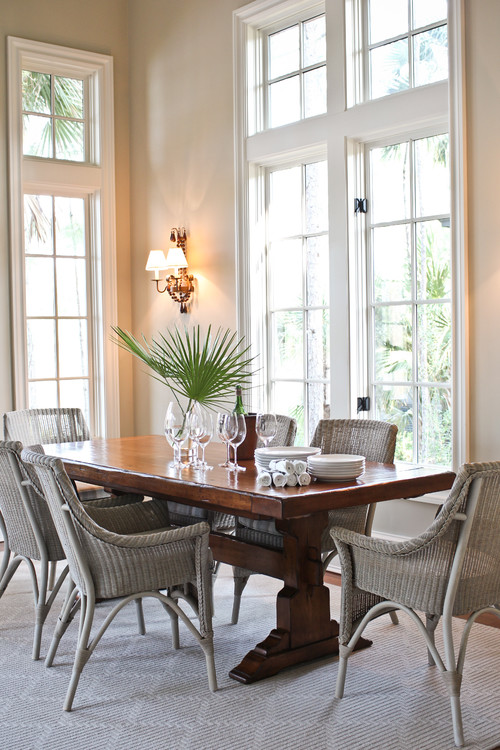 [Image – Margaret Donaldson Interiors]
You can also match wicker and rattan furniture with wood because of its plant-based weave. These two materials complement each other greatly, especially since they have soft and hard textures. In this image, the dining chairs are made of small core rattan weave to suit the hardwood table thus offering some remarkable dining room design ideas.
Make them into Accessories
[Image – Lucy Interior Design]
When you need to add a high-end visual appeal to your room, you can use the accessories made of rattan, banana leaf or cane. Even something as small as a serving tray can make the room look classy.
[Image – TerraCotta Properties]
For greater utility, you can also add baskets in the room made of rattan or wicker. These items are perfect for storage and complement the room's décor very nicely with their earthy appearance.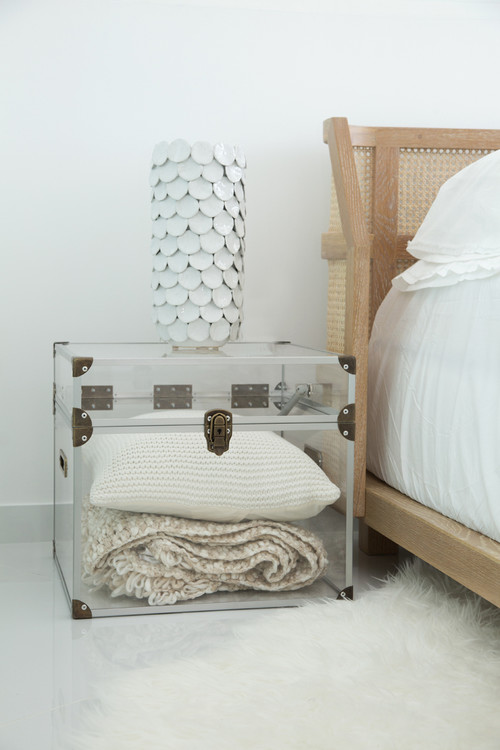 [Image – Toronto Interior Design Group | Yanic Simard]
These materials are durable and simple, which make them ideal as a bedroom furniture choice. In this image, one can see the cane bed, which is natural and looks affordable. You can also make this more luxurious by spending more. However, it does create a statement of its own.
This bed coupled with bright white walls give an instant vibe of the beach. Its natural woven pattern, simple looking accessories and white surroundings make the room look airy and breezy at the same time. This is perfect to induce a beach-like environment to your bedroom.
Give your Patio a Fresh Natural Look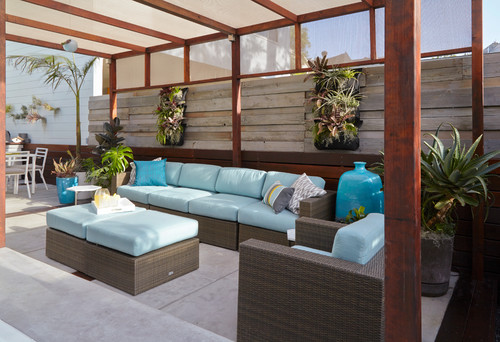 [Image – Reynlds – Sebastiani Design Services]
Wicker is when the material is woven into a basket like pattern and not the material itself. Hence, in some cases, the wicker may be natural and, in some cases, it may be synthetic. When someone says 'real wicker,' it may also mean synthetic material, which in most cases is.
In this image, the woven texture is pressed into plastic and is not truly woven all the way. One can also see it from a distance as the plastic has been used more than the fabric.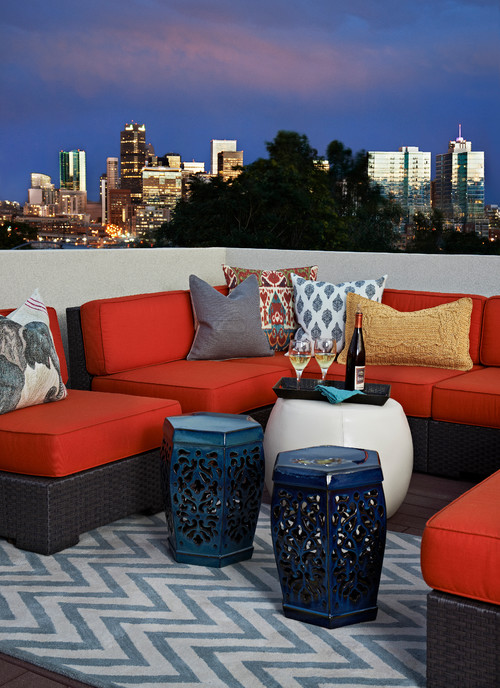 [Image – Andrea Schumacher Interiors]
It is okay to use synthetic for your wicker. Resin wicker is considered to be more durable and can last longer when used outside in the patio. In this image, the sectional seating has been made of resin wicker and is much likely to survive the outdoors because of its durability. In fact, many experts may even recommend that you use synthetic fibres for wicker when using it as outdoor furniture.
[Image – DD Ford Construction, Inc]
You can use the furniture made from the natural fibres indoors. These will remain protected from the harsh weather conditions and will last a very long time. When the natural fibre wicker is used outside, it can rot or wear out in a short period of time.
In this image, the storage ottomans and the woven seats sit perfectly with the navy coloured furniture set up to give a nautical feel. The wicker also provides the old school charm and warmth thus enhancing the interior decor of the room.
[Image – Lda Architecture & Interiors]
If you truly want to do justice to the old school feel of rattan and wicker, then it is the best to use them both in a proper combination. For instance, in this room, the rugged tables made of rattan have been combined with wicker chairs to give a luxury cottage appeal. You can experiment with other spots in your home to add this woven design to your theme.
Wicker and rattan are timeless for a reason. They are durable and very less demanding, which means they can be easily paired with any kind of furniture and they are sure to complement them. You can add them both indoors or outdoors depending upon your design and style of the house.