Many of us have never considered what old and vintage secretary desks are capable of. Contrary to popular belief, these pieces can make an excellent addition to your modern household. Secretaries provide ample of storage space within in its compact unit and serves not just décor purpose, but also utility. If you own one already, then you can use these simple decor ideas and tricks to give it a facelift. However, you can also consider buying one and use these colour combinations as your design inspiration.
Red
Image: Mina Brinkey
Just colour the old secretary in bold Cinnabar red, which goes extremely well with Chinese lacquer work. It also does wonders in a traditional assorted arrangement. If your secretary desk lacks the lacquered look, you can use an artisan or a skilled craftsman to get the appearance. You can also finish it as a weekend DIY project and match the look yourself.
However, be sure to style further by adding blue pottery inside the secretary cabinets for a quirkier colour combination. It will be a perfect addition to a room with pale blue walls.
Exterior Paint white and the Interior in Citrusy hues
Image: Michelle Workman Interiors
When this secretary table is closed, its look is extremely timeless and pristine with its white exterior shade. However, when you open it, you are greeted with a bold green coloured with glossy lacquer finish and are a surprise to the onlooker. White works really well with green citrusy shades. For added pop of colour, you can also experiment with yellow, orange and bright pink.
To further enhance the look of the secretary, you can also hang some artwork by the doors of the cabinet. Use small and light hangings so that they can be hung over adhesive hooks and can be easily removed when you want to change the look.
Monochromatic Black and White
Image: Nicole Norris Design Studio, Inc.
The age old combination of black and white can hardly ever go wrong. They are the safest of all combinations that are bound to enliven even the oldest furniture. Use your creative brain and colour the sides and drawers in white while keeping the rest of the desk black. You can also experiment with other such variations depending upon your taste and preference. The idea is to play out the contrast of the two shades in the most aesthetic way.
Dark exteriors with a dash of colour in Interior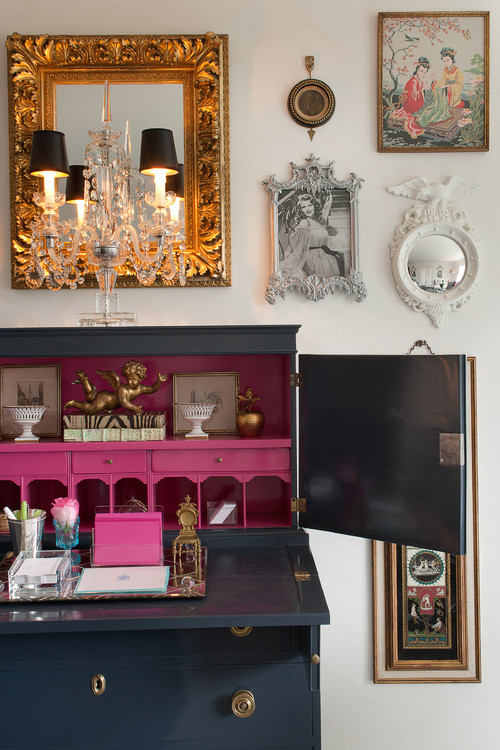 Image: Donna Benedetto Designs LLC
When you are looking for a dark colour for your old secretary, black and midnight blue make for ideal shades. You can also consider steel gray as one other choice. Mix these dark colours with a cheerful hue like blush pink or any other shade to give it a jewellery box kind of an appearance.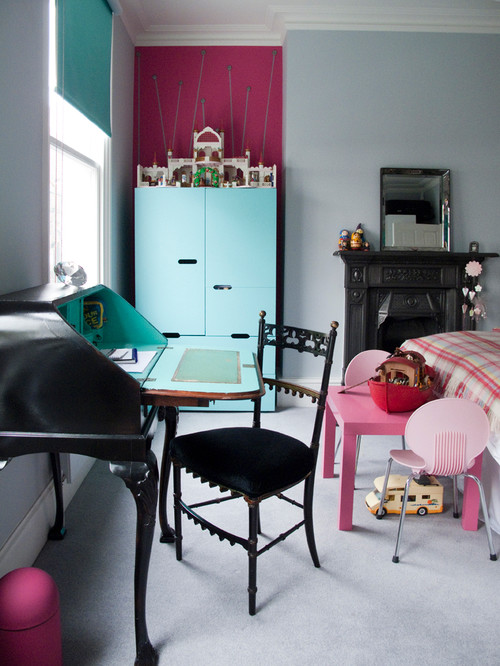 Image: Armstrong Keyworth
If you already have a secretary that is coloured in a dark shade or black, then you can choose pop colours for the interior and do it yourself as DIY project. Choose from any of the warm colours like aqua, cherry red or raspberry to have an impact.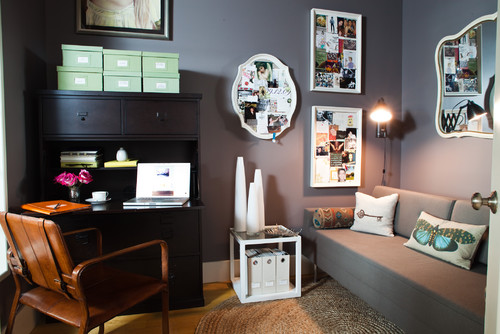 Image: Deakins Design Group
There are also many other ways to mix and match the shades of your secretary. Instead of colouring the interiors, you can also place your black table against a wall that has deep and rich colour. This can be a very helpful idea in a space that is small as the secretary will blend into the room without seeming too overbearing. However, if you do need a pop of colour, you can add colourful boxes of paper storage atop the desk for fun looking secretary.
Old and Distressed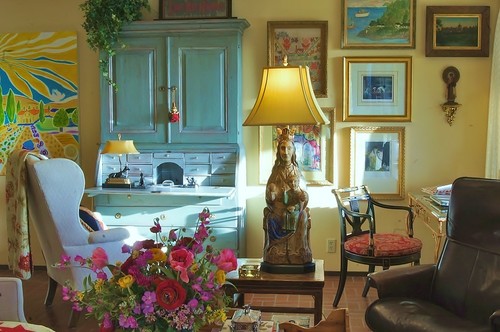 Image: Becky Dietrich, Interior Designer
There is no better way to dress up an old secretary like a distressed look. You can use milk paint to bring antiqued and worn-with-time appearance on your old wooden secretary. In order to complete the rich look, use a mix of similar colour in two different hues that blend in and contrast at the same time. To take the distressed look to another level, you can sand off the surface gently and provide a finishing touch around the edges for a worn out look.
Black
Image: Honey Bee Interiors
If you have a small secretary table, then an all black look will do just fine. To make the black looking table more fun, you can switch the knobs and make it more interesting. This is one of the easiest ways to bring out the best in the old table and make it look like an exciting addition to the décor.
Decorative Finish
Image: Katie Leede
It is not necessary for your secretary to have an inherent antique look. You can also get that appearance by giving it a decorative finish by hiring a painter. A professional can paint eclectic images on your secretary that will instantly make it look like a vintage piece. Choose from a range of designs and patterns that can fit your décor.
Accessorise with Knobs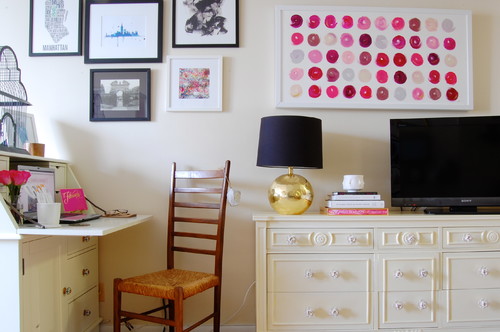 Image: Corynne Pless
A white secretary may not be such a fun thing to your room but just throw in some accessories and it suddenly becomes more interesting. You can add stylish knobs to the table and make the piece look fancier without treating it too much.
Secretaries have been treated as an old piece of furniture that needs to be discarded. However, these simple and novel interior design ideas are a great way to bring in a stylish décor addition to your home without making it look like something out of the age.