How about that glam bedroom from the pictures you saw on magazines and websites? Not possible? Why not! Your own bedroom in your home can look like a featured bedroom from a fancy sounding designer – and it is not that difficult. All you need is a step-by-step rundown for the to-do list and you are good to be clicked in your bedroom! Exactly the way the magazine publishes it! So follow the list given below and see your bedroom shine with sophistication and click-ability!
Find and save what you want:
(Kerrisdale Design Inc)
Finding the correct and relevant inspirations is quite important; and so is a good eye to judge whether those inspirations are fit to be used in the bedroom you are revamping. Also, organize the inspirations or bedroom design ideas properly to have a backbone to work on. Nailing down matching items and styles is a good way to create the perfect looking bedroom – make a list, mix and match results and open your mind's eye to see how they will look together. Sometimes, the inspirations and the visualizations are dependent on some items you have seen, liked or already purchased envisioning a placement in the renovated bedroom. Well and good – you can build your other ideas around that item.
Choose your wall treatments:
(Corynne Pless)
Start with the walls. What do you want to do to them? Paint them nice or paper them up? Regular paint or textures and patterns? Plain paper or dimensional ones? What color? What style? These are all questions, which will take your plans forward. Figure out what is to be done by looking at your inspiration list. It will give you options and it will get easier to match everything by putting together the ideas.
What to keep, what not to:
It is generally not possible to throw out everything and redecorate. Usually, the favorites or utilizable items stay. Figure out what all you want to retain. Does it need restoration? Does it need to be modified to match the new set of things and decorations that will come into the room? If yes, how will you change them to match the new room? Make a plan for whatever you want to keep back. Also, make a list for everything new that is needed. If a list is not made for this, it will easily slip out of proportion and your budget will break through the roof.
Have a furniture plan with measurements:
(Rikki Snyder)
Take the rooms dimensions on paper and have it with you at all times when you look through furniture. Have a plan for the furniture placement and purchase, and base it majorly on the amount of space you have in the room. A tweak is fine if you find something that really hits your fancy, but no point buying it if it kills all utilizable space in the room in the process.
What bed:
(CDA Interior Design)
Which type of bed will you like to have in the room depends on your wish and the room's size. Also, it will vary with the type of bedroom it is – king or queen for the master bedroom, twin or double for the guest bedroom, and so on.
Nightstands: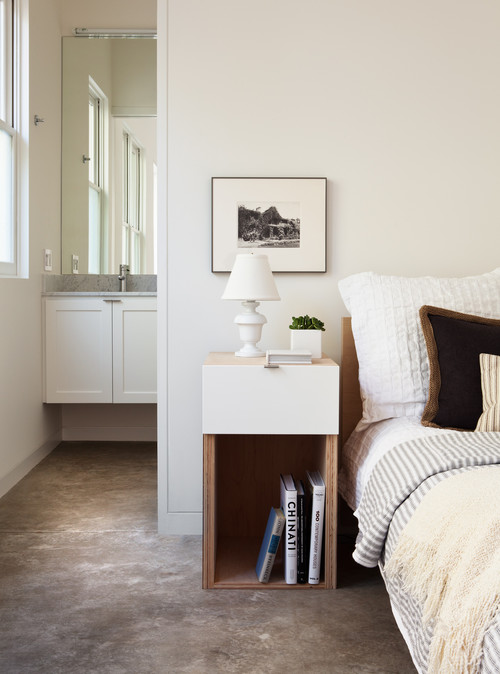 (Michele Lee Wilson Photography)
The side tables or nightstands will be bought or fashioned according to the bed size and style. The basic rule that works with nightstands is that it should not be lower than your mattress – higher works. If the space is little, hang a small shelf on the wall instead of a legged nightstand.
Dresser decision:
(Jessica Helgerson Interior design)
The dresser looks great if it is long and low and does not match the bed completely. If there is a space constraint, go for a tall chest of drawers. When revamping, put enough consideration to make it look stylish and versatile instead of predictable.
Lighting solution: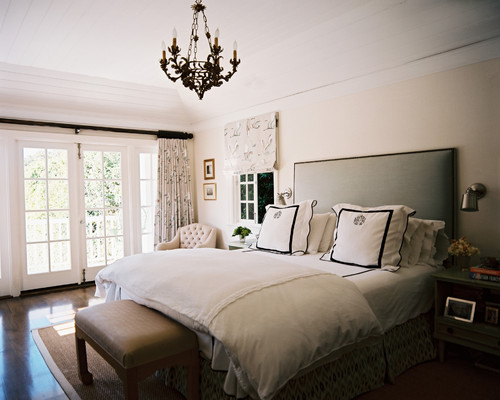 (Hillary Thomas Designs)
For the room to be considered well lit, it needs to have at least three light sources – the bedside lamps, overhead lighting and some novelty lighting idea is a good combination. One of the best lighting ideas is to go for dimmable or three level lighting for the bedside lamps. One can also have concealed wire sconces if the light fixture needs to be moved more often. The overhead light will look best semi –concealed. For novelty lighting, multiple options are available in the markets. You can also come up with your own – like fairy lights wound over a cage or bed posts!
Rug makeover:
(S.B. Long Interiors)
According to the room's layout and decoration plan, you can either go for wall to wall carpeting or just a spot of carpeting to land on when you get out of bed. For the former, the rug should at least cover area within a foot of the walls and the latter can be a runner or kilim to be put around the bed. The rug adds softness and comfort to the room.
For the window: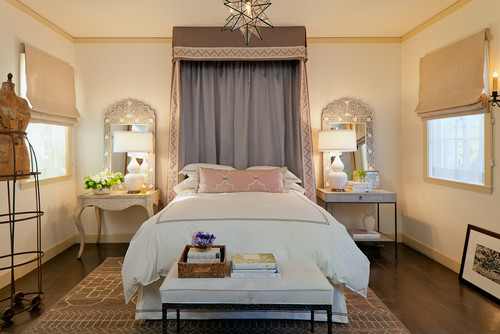 (Laura Martin Bovard)
Blinds or curtains? Fabric or plastic or bamboo or something else? The decision needs to be taken later in time, but it needs to be taken, and it is not an easy on as there is a plethora of options. It is best to look around, call people home with samples so that you can get an idea in a better way. Try to make a rational, informed decision, you need to look at and operate the window treatment all the time.
How about the bed furnishing:
(Jacqueline Glass and associates)
The beds these days are not just mattresses covered in sheets and a couple of cushions thrown around. Decorate the beds in matching quilts, customized pillows and bolsters and put a sheet over the skirt. It is a planned activity – making the bed. Choose the elements carefully for ease of use, cleanliness and style.
Seating area in the bedroom: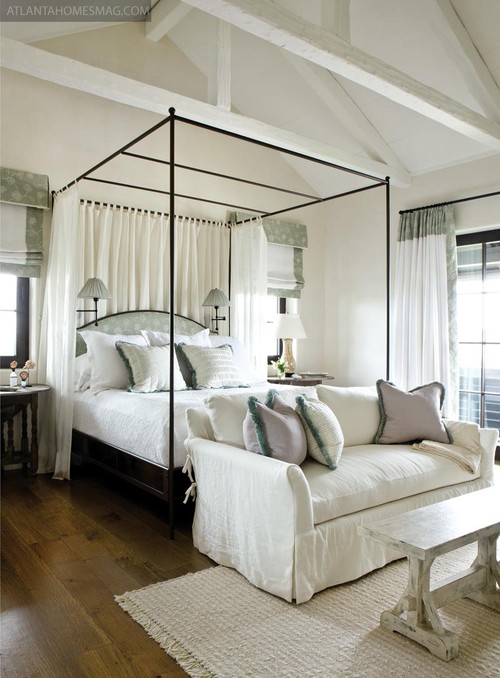 (Atlantahomesmag.com)
Gone are the days when bedroom just had a bed, and if you wanted to sit in the bedroom, you could only use the mattress. Adding a proper seating in the bedroom will allow a more comfortable sitting without harming the mattress. Add a set of chairs with a table if the space is much, if not so much, a low-seating or cane chair will also do!
Artifacts:
(Yamamar Design)
The decorations in the bedroom are strictly how you like it. Mostly people want their bedrooms to be clutter-free and light, so keep only what is really great and meaningful. The artwork on the walls should be especially minimal for an airy and light headed feeling.
Finishing touch:
(Roughan Interior Design)
To add a personal touch to the room, and this comes at the end, add some fresh flowers, doormats, curtain tie backs, books on the nightstands, etc- basically make the room yours!
The bedroom is a sacrosanct place to be – a place where you will rest and rejuvenate for handling the struggles of a new day. Make the place ethereal and relaxing. Collate your design ideas or inspirations well and have a nice collection of your favorite things in there for a truly comforting area for you and your loved ones.