It is not that simple to keep following the trend. It is not only expensive, but it would also take a lot of efforts to keep aligning our interiors to a new fashion trends every now and then. However, we would also like to bring in change every so often in order to break the monotony and bring some freshness to our home. This is the reason top designers recommend that for the expensive items like furniture, it is better to choose neutral shades so that they can be redone without incurring too much cost. But for the affordable elements like accessories and paints on the walls, you can easily play around with the colour scheme and can easily introduce a facelift without spending too much. Besides, if you finally get a colour palette of your choice, chances are that you will stick with it for a while.
Bold magenta with Soft Gray   
[Image – Niki Papadopoulos]
Even though, it can be slightly tricky to pull off bold hues like in this image where the sofa set is magenta. However, with little gray in the background, you can easily offset the loudness of bold colour and allow it to blend naturally to the overall colour palette. Don't be afraid to experiment with loud colours as far as you can balance them with other neutral hues. Just let the strong accents take the limelight. Give it a thought for some great living room design ideas!
Blend of Green and Red
 [Image – Wheeler Kearns Architects]
This combination may be a little hard to play around with as they are opposite colours on the spectrum and offer an obvious contrast to one another and not in a black & white way. The idea to let the two colours complement each other is to soften one of the hues.
In this case, a pure green wall is a light, soft shade of green while the deep dark red is more on the maroon bend. Also, since the colours are used on opposing items like a wall and furniture, they don't tend to clash. This is an unpredicted palette, but does great to the room's interior by creating a cool and modern looking space.
White and other bold hues
[Image – Rad Design Inc]
White never fails to amaze with its ability to create light, inviting and airy spaces with its simple and soft hues. However, it is also not such a bad plan to inject some spirit by adding more colours just to liven things a bit.
In this case, if you must add more colours to the room, then let it bold ones like pulsating orange which works in harmony with lighter shades of white as well as blue. They work really well together, like in this example; dormant blue balances the brightness of orange and reflects off white.
Play of blue and Gray
[Image – S Interior Design]
Gray and blue are the most evenly complemented palettes in the usual scheme of colours. They are so well suited to one another since they belong to the same spectrum.
However, in this image, a little brightness has been induced with the help of crisp whites and dark chocolate brown furniture to offer a deep contrast.
Bright Shades for Outer Spaces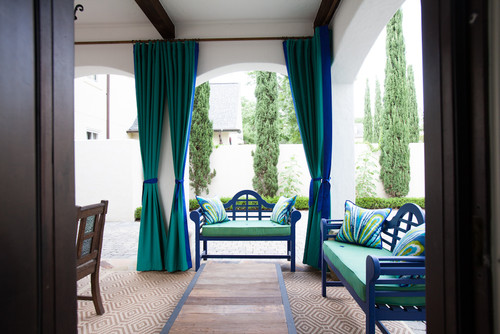 [Image – Laura U, Inc]
Fall may be just round the corner, but it will be only a matter of time when spring season makes a comeback. This is the reason you should not ignore the outer spaces, and this is also the best time to pick up some fancy outer living room pieces at a discount.
A combination of cool colours will make the room look not only inviting, but also vibrant with its rich hues. Since it only requires an investment in fabric and paint, you can easily switch them from time to time.
Gray for Neutrals
[Image – Found Design]
Gray has always been a better choice over beige when it comes to neutrals. With a small addition of colour like bright yellow, it can exude a different light altogether.
Pair your gray furniture with warm hued tones like yellow and green, like in this picture, and instantly add a sense of sophistication to the living room. The gray can be used in various shades as a base tone and any other dash of colour will blend in just as fine.
Watery Blues and Bright Green
[Image – Willey Design LLC]
This quintessential palette just never goes wrong. The watery blues and the shocking green have a certain element of life and calmness to it. They complement each other so well that they almost seem like made for each other. They are cool in their tendency and together bring out a certain inviting quality to the living room enhancing the interior decor.
Navy Blue is the Softer Black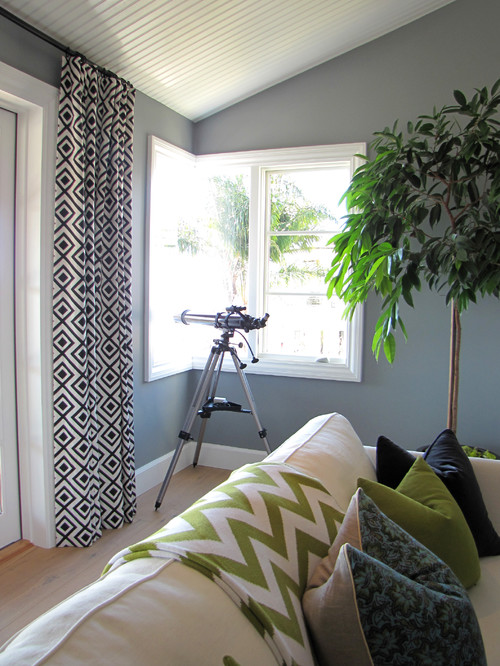 [Image – Tara Bussema – Neat Organization and Design]
Navy blue is yet another neutral that has a quality of doing great with brighter shades. The one thing that makes this colour so obviously special is that it is able to naturally complement all the other colours. Accented pillows and windows give a picture perfect appearance to this living room with a fine combination of green, gray and blue.
Toned Down Neutral Hues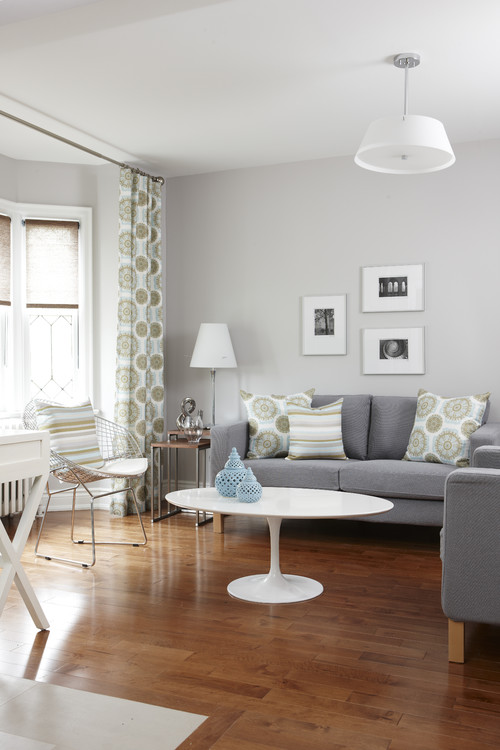 [Image – Jo Alcorn]
It often happens that bright colours always steal the limelight and deflect attention from the interesting artwork. With soft hues, you can have a light and airy looking room and use dark colours only as soft accents so that the major theme remains the more toned down look of neutrals. When the soft gray, blue and green are mixed together, they bring out the best in one another.
The living room is the most important part of the house and requires a bit of thinking and aesthetic sense to design. These colour palettes will give you a head start to play with existing colours and create a warm, as well as an inviting space.