When the summers arrive, we think of the finest reds and oranges that come in the flowers, but have you given a thought to blue? Rare and truly mesmerizing, blue flowers make an impression which prompts people to take a picture or even think of decorating homes with such flowers.
While it may seem good to design the home with blue flowers, there is a need to understand the internal conflict of blue with other summer shades like yellow and red. We talk of some classy combinations and settings for blue flowers and bouquets and how you can use them for your house. Among the colors of flowers, think of the options like phlox, clematis, delphiniums, and Cornflowers. Of course, there are other garden flowers, as well, but we are sticking mainly to the summer flowers.
Blue flowers in solo:
Finding a bouquet of blue flowers can be extremely tough in many parts of the world, but if you have your local florist, you can ask for a bunch for special occasions. In general, most blue flowers look exciting when used in a large bouquet, and you can place one on any table, no matter the placement. Solo designs in blue flowers are quite eye catching, and there is something that you can find for every corner of the house. Keep in mind that that these are expensive bouquets, for almost all kinds of flowers, so keep the setting exclusive for those exclusive days.
Blue flowers in harmony with other things: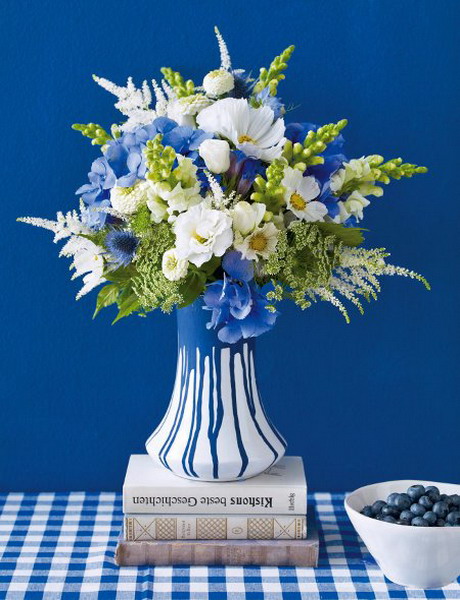 When you want to induce the blue color in the house, there is no better way than adding blue flowers with other small elements in blue. You can think of the most banal and conventional décor items in this regard, including the upholstery of furniture, cushions, vases, wall collages, dishes, only to name a few. Add a bouquet of love blue flowers, and you can turn any summer day into celebration, matching aptly with the beauty of the summer skies.
Combinations with other colors:
Blue is one of the few colors that works universally with many shades and has an impact for its own. Among the colors, the first one is white. Mix your favorite white flowers with blue ones or just match the vase or table settings in white with a blue touch. This is one of the most stunning and royal settings that you can have. Another color that works beautifully with blue is green, though in small proportions. You can also choose to add a hint of other colors like purple and yellow, depending on the kind of color theme you have in the interiors.
Bouquets in blue have a special appeal that is catchy enough to be inspired. Make sure you set one of your parties or gatherings in such a theme, so that your guests have some memorable design ideas to take back home.