When you are able to form a connection between the indoors and outdoors in your house, it automatically feels more inviting and expansive. If you have been planning to change the way your house looks, these 11 design ideas and tips will go a long way in giving your home a proper facelift.
Create Steady flow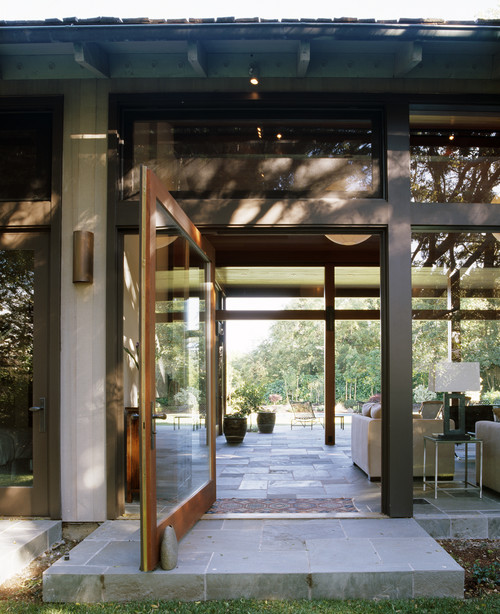 [Image: Charlie Barnett Associates]
A huge glass door in the entryway has the ability to make a standalone impression. However, you can tie the backyard with your front yard by using a glass door at the back too. To create a proper flow of the design, use the same flooring material from the front to the back that will create a seamless course.
Around the Corner Window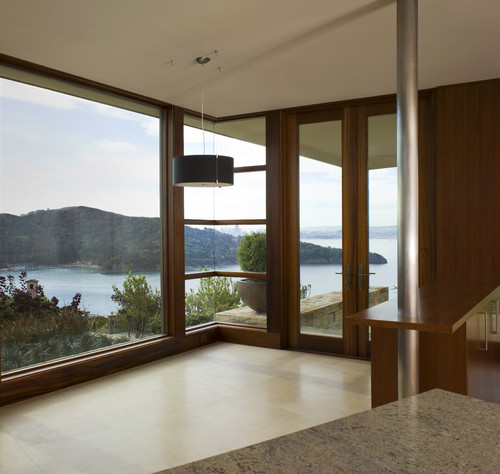 Image: Sutton Suzuki Architects
One of amazing bedroom interior design ideas is adding a window pattern as opposed to the traditional walls to allow uninhibited flow of light into the room. Incorporate a corner window break to imitate the wall pattern and add to the outside view to make it a part of the room. This spot can be called the focal point of the room with naturally changing scenery. Use a corner window in a room that has a spectacular view of the outside.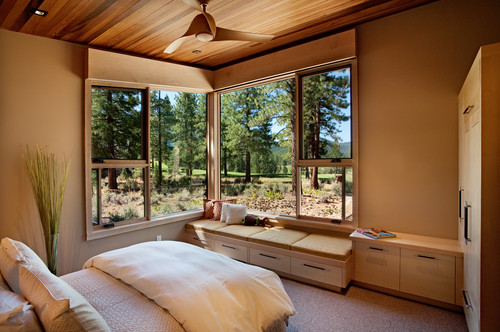 Image: Ryan Group Architects
The corner windows cannot only add view to the room with grand vistas, they can also open up to your backyard to bring in the outdoors.
Make a private Garden Entrance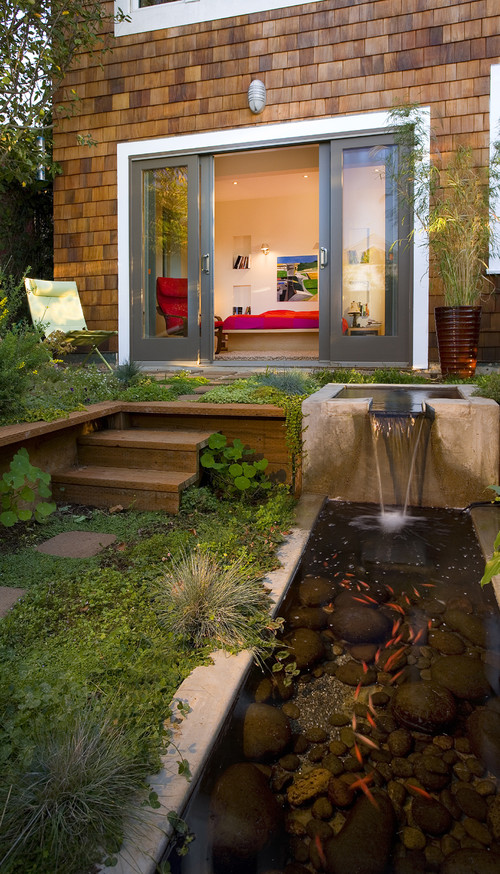 Image: Rossington Architectures
A small garden located outside the master bedroom can be a good idea and a great place to relax after a day of long work. Add sliding glass doors to enjoy the view of your garden even from inside your room, and it will also allow natural light to flow in. Add shrubs or fence to create privacy in your private backyard garden. You can also add a water feature to make the place look serene and drown out unnatural sounds from the neighbourhood.
Plan a Garden outside Bath
Image: Butler-Johnson Corporation
One of the bathroom design ideas is to add a garden feature to your bath without having a huge yard for it. Use the narrow stretch on the side of the house and plant bamboos for privacy with a wall of glass to give a full view of the garden. You can also add shoji screens for added privacy measure.
Add Shelter to Outdoor Seating
Image: Sam Crawford Architects
It is fun to have an outdoor room when the weather is amazing. However, you can also have a covered space right outside the house to have the same benefits and full view of the garden. You can add a comfortable seating space, and also, a fireplace to make it accessible even during winters. The best thing is that you can enjoy the rains sitting in your backyard!
Provide View to your Work Desk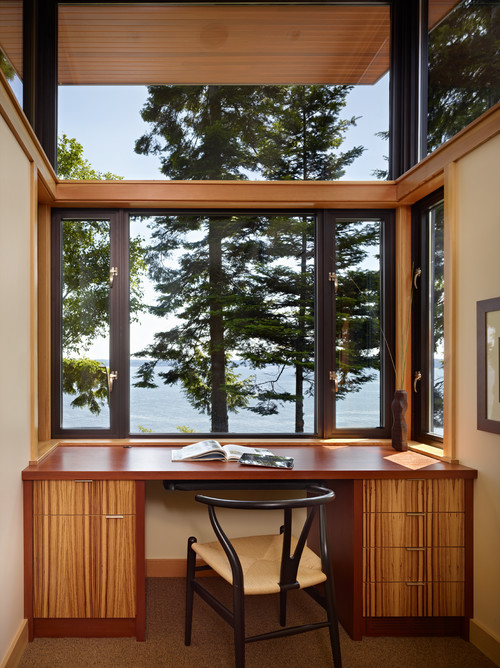 Image: FINNE Architects
If the desk is where you like to think and plan, then the best thing would be to give it a fabulous view. Take your desk to the top most room facing the views. Regardless of where you live, by adding windows till the desk level to the ceiling, you would not only be able to get amazing views, but also a lot of natural light.
Family Room with Huge Doors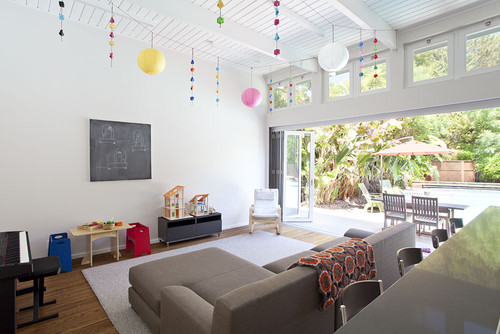 Image: Klopf Architectures
You can enhance the look of your ground floor or basement living room with the pocket doors. You can also add garage doors to allow for huge opening. These doors can be opened all the way till the end that literally beckons the outdoors to blend with the indoors. With the help of this immediate and obvious connection with the garden, your kids can be lured to play outside and get more active.
Remove the wall completely
Image: Paul Davis Architectures
To create a high impact change to your room, you can introduce glass doors starting from the ceiling height. If you have modern homes or midcentury architecture, as well as, the décor, then these glass doors will work perfectly. It is better to check with a professional to understand the climatic feasibility before you plan to install a door like that in your home.
Redo the Breezeway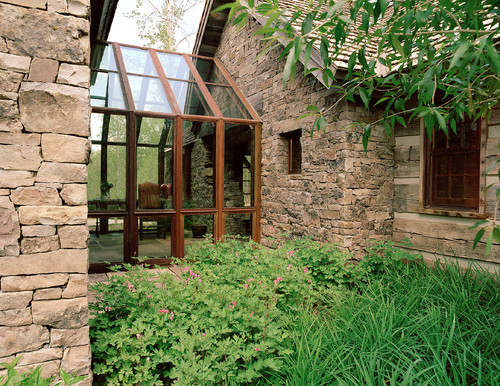 Image: JLF & Associates, Inc.
Instead of leaving the breezeway to its own accord, treat it like a greenhouse and a natural opening for the sunlight and ventilation. This small structure is not just breezy, but also a good source of natural light into the house.
Make your Outdoors Congruent with Indoors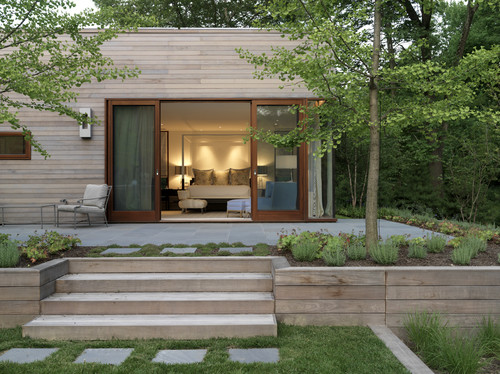 Image: Ziger/Snead Architects
Add a patio outside your room that goes around in a wrap. Pairing this structure with sliding doors will make the space connect with each other in an aesthetic and a natural way.
The idea behind allowing the indoors and outdoors to naturally connect with one another in home décor is to propagate ventilation and an active lifestyle. Gardens are a good place for recreation and a quiet relaxing time, which can be a good reason to ditch being indoors and focus on being out more.