We may have seen pocket doors or sliding walls in our old homes where the rooms were divided from one another. You could open a space to accommodate more people when attending guests or close it off to create privacy. If you are renovating your house from the scratch, the perhaps you can think of using this feature in your home to create more space.
Pocket Doors
[Image: Shannon Malone]
Pocket doors are built-in features that provide you the flexibility of dividing the two adjoining rooms. When these doors are closed, they can slide into the wall and leaves a wide opening, which creates an illusion of space.
[Image – Carl Mattison Design]
These doors are made of solid wood and work wonders as sound barriers. They can easily block off the outside sound and create peace and calmness if you need it. Offering one of the practical living room design ideas, this is a perfect addition to your home if you would like to entertain guests late at night without disturbing the children.
[Image – Howell Custom Building Group]
If your house will be undergoing renovation, then you can plan to add these pocket doors to your house design. You can also use doors with glass panels if you want that the natural light should be let through into the house. Even if the doors are shut, your room can still get enough natural light.
Japanese Room Dividers called Shoji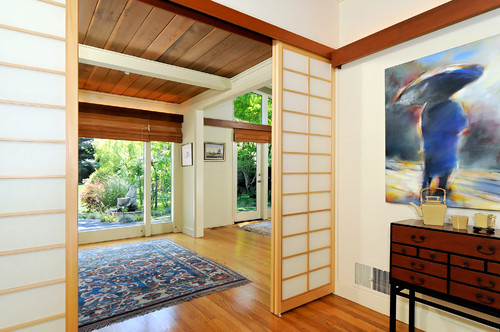 [Image – Merz & Thomas Design/Builders]
This is a very common feature that is available in the traditional Japanese interior design. Shoji doors are used to conserve space in the house. The materials used for these doors are washi paper on the wooden frame of the door which slides along the tracks. You can open them completely and the divided rooms will appear like one big room. You can also shut them to create a more private spot.
[Image – Kuhn Riddle Architects]
The panels used in these doors are made of translucent material that does not compromise the natural source of lighting even when the doors are closed.   
Sliding Doors
[Image – Studio Garneau]
In a small space, a sliding door can create a divide between a room and a living room. In this image, the door is left open to create the illusion of space that can be shut out in the evening to transform it into a private room. In this studio apartment, there is a Murphy bed, which has been closed in the daytime and makes the living room appear larger.
[Image – Wade Griffith Photography]
They are not just useful in small spaces, but can also be used in big rooms. An amazing interior design idea like in this image, the sliding doors are used to shut off the private area from the public one in the house. However, when left open, it adds length to the room.
[Image – Feldman Architecture, Inc.]
Another variation of a sliding door is a huge barn door that can also be used creatively to divide two adjoining rooms. You can add this between your room and that of your children to give them a private play area and also attend to them in the night if needed.
Glass Sliding Doors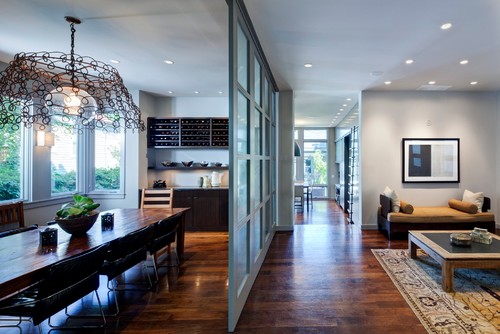 [Image – Nicholas Design Collaborative]
These are your ideal option when you want to divide the room without compromising on the light in the rooms. You can add these doors with made of wood and glass panel in the kitchen which can shut off the dining area after night meals. This is one of the fabulous kitchen design ideas if you like the idea of an open kitchen, but do not want the guests to be exposed to the dirty kitchen and the dishes after dinner.
[Image – Ohashi Design Studio]
The sliding doors made of frosted glass can provide privacy in a room without blocking the flow of natural light into the room.
Sliding doors or pocket doors have a great utility and can be easily incorporated into the design of the house without changing too much. They can be stylish and blend in with the design to give you functionality along with flexibility to create open and/or private spaces as per your requirements.