There are often many spots in our house that lay uselessly without of their angles. However, with little design technique, you would be able to utilize those spots in a much better way. It could be an empty corner that you never paid attention to or a spot that needs clearing and would make up for an available corner.
You can always find a corner in your home that can be used for a much better purpose. The first place to look in this case can be your kitchen. You can plan to use these corners while remodelling or just use these smart design ideas to make space available for other purposes.
Install a Sink on your Window
[Image – Lake Country Builders]
This is one of the most common designs in homes these days. You not only get to use the window space more judiciously, but also get the opportunity to free up a corner for other uses. You can also get access to the outside view of your house from the window while doing the dishes.
Get a Small Dining Nook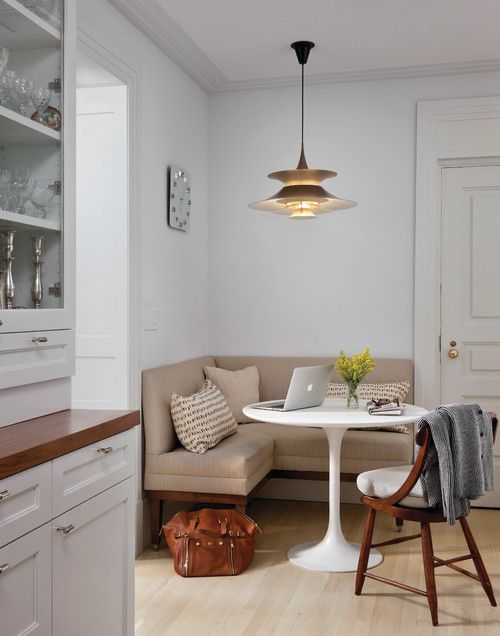 [Image – Best & Company]
If you have a tight kitchen, this small corner seating will maximize your space and also give you an eating area. Use a kitchen table and a banquette to design the corner for intimate breakfasts or quick meals for the children.
Range for the Corner
[Image – Allen Construction]
This is a common design across homes in the US, and it is much easier to find a customized range that fits the corner in your home. However, it may not be an option for everyone as it uses a lot of space. The good thing about it is that you can make the whole work area functional in one side of the kitchen. It also makes your kitchen look more sophisticated.
[Image – Dalia Kitchen Design]
You can discuss the possibility of installing a corner range with your designer so that they can suggest more ideas. The professional can help the installation process less complicated, but you can also do this as a DIY if you are proficient at home projects. However, take the following points into account before you get started with the DIY:
The range must also accommodate the vent hood and should the corner too.
Your drawers and cabinets should be able to function normally when the oven is open. The use of these elements should not be obstructed.
It is possible that the handles on your range may stick out more than a cabinet or drawer handles. You need to be mindful of that, as well.
There should be ample of space for the oven door to open when you want to use it. It should not interfere with the island or general movement in the kitchen. You should also be able to grab things from the other side when the oven door is open. As a trial, try to put heavy dishes into the oven to see that you are able to do that without much hassle or obstruction.
You would be able to justice to the corner range much better when it has counters on both sides. It allows you to work better in the kitchen.
[Image – Julie William Design]
In this image, one can see that the kitchen has been oriented as per the corner. The corner enjoys the focal point of the kitchen with the bar's view centred in that direction.
Cabinet Next to the Window
[Image – Renewal Design-Build]
If you have a small kitchen, one of the amazing kitchen design ideas is to use the wall adjacent to the window as a space for cabinet. Glass door cabinets can be easily installed between the window and the wall. However, make sure that you have enough space for the doors to open at least 90 degrees. Don't forget to take the door knobs and the window handles into account when planning a storage space in that corner.
Fill Deep Corners with Tall Pantry
[Image – The Closet Works, Inc]
If you have corners reaching far into one end of the kitchen, a tall pantry can act as a fabulous storage space. You would not only get more space to store kitchen supplies, but it will also use the corners more wisely.
Drawers in the Corner Bend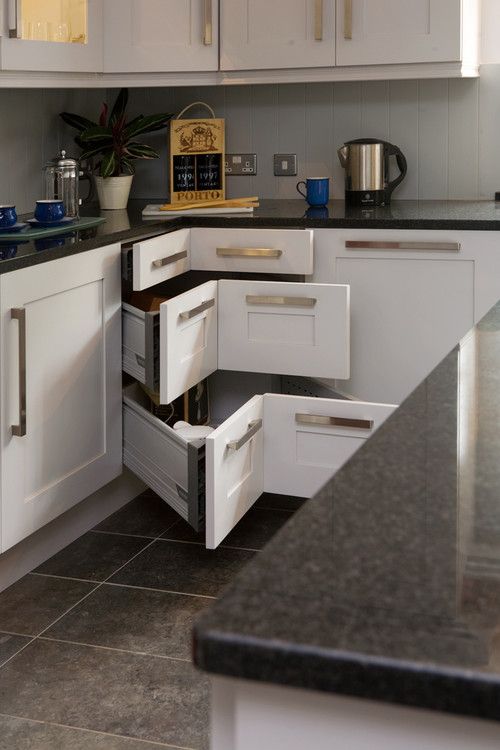 [Image – Glenvale Kitchens]
You can also use the clever draws that can be installed in the bend of the kitchen corners. This is the novel way of using the corners in a better way for storage space.
Tower Display for Kitchenware
[Image – Emery & Associates Interior Design]
Towers can be an aesthetic way to showcase your unique and beautiful kitchenware. It not only adds to the kitchen's design but also works an innovative way to store china. You can also display any other showpieces to enhance the look of the corner that can double as a storage space.
Setup a Mini Office
[Image – Mary Prince]
To make the best use of a small corner in your kitchen, you can add cabinets and counters that will make for a small office nook. You can also use spots under the cabinet to light up a corner for doing your work while you are in the kitchen. This is one of the smartest ways to use the kitchen corner for homework. You can use it for professional reasons or managing your household by looking up recipes, taking note of the family schedules, etc.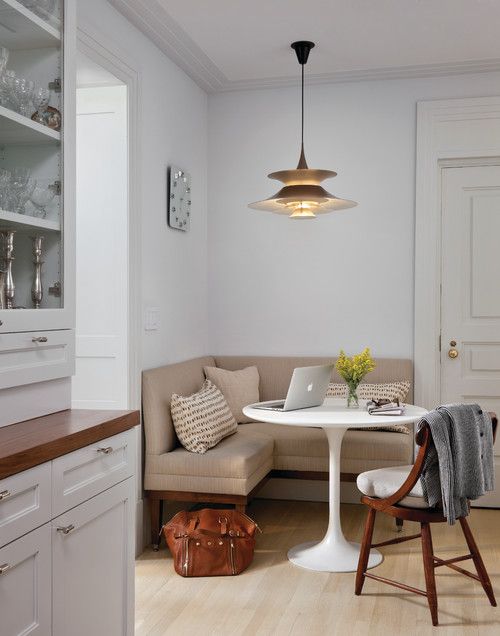 [Image – Sarah Bernard Design]
In this image, you can see a much simpler version of the kitchen office. The area has been stripped to accommodate a laptop and a seating area for one person. You can store your iPad, laptop, or any other device in a small storage that has been made available on the counter.
Make more space available for seating
[Image – Jeneration Interiors]
Most people have a habit of using every available space in the kitchen for storage reasons. Don't install cabinets wherever you find a possible space. With little editing and smart storage, you can install a cosy bench in the corner that can seat two or three people. It makes up for a nice breakfast spot in the kitchen.
Install Shelves on the Walls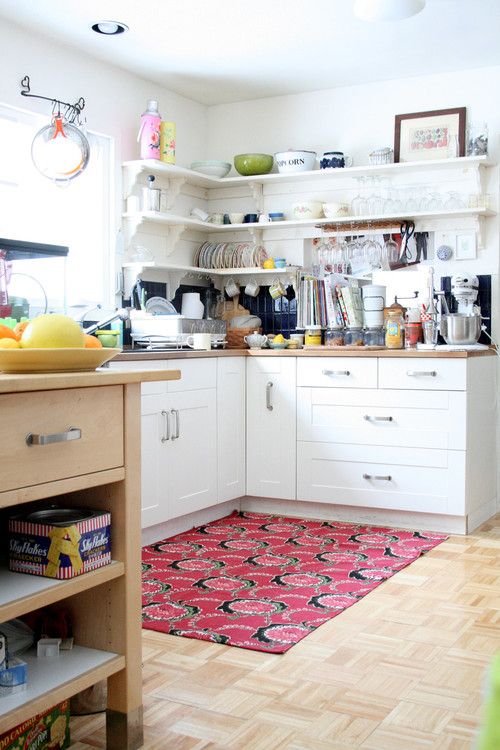 [Image – Nest Pretty Things]
When you use floating shelves in the kitchen, they make up for excellent storage and do not really need any additional or available corners. With the help of these shelves, you can create the illusion of a larger kitchen. However, do note that they are likely to get dusty over a period of time. This is the reason it is advisable to use it to store pieces that come in handy every day and will be washed on a daily basis. Also, dust the shelves at least once a week to keep it clean for storing the utensils. Although it sounds like a lot of extra work yet when you realize the true potential of these open shelves, you wouldn't mind the occasional labour of clearing them every once in a while. Use a step stool and duster and reach the peskiest corners for cleaning.
Kitchens are the most underutilized spaces in the house. We end up only using them for cooking or eating purposes, but they can serve a lot more than that. With little design techniques and these interior design ideas and tips, you would be able to use the kitchen to its full potential.