Living room troubles bothering you? Still wondering how to get the living room layout right? It is not that difficult when you have a nice guideline to get it just right – simply follow the design ideas and techniques for achieving the perfect layout for your living room and make it look better. Enjoy the luxury of a well-set living room, here is how:
1: Plan ahead –
(Image: Habitar design)
Especially helpful if you are bent on new furniture and stuff! You must know what you want from the room and how. This will help you set the required elements apart from the avoidable ones since most of the times all wishes cannot be realized into a design. Make sure you have everything noted down and well – this will help you and your designer to get things the way you expect. How much stuff to have, where to have it and how to function? – This should be your main concern. Feeling trapped in an overly decorated or filled room is the biggest foolishness ever.
2: Setting and arranging –
(Image: The Cross Interior Design)
Your room is something else in your eye as compared to someone else. It really helps if you and your friend or someone not used to looking at the room together move the stuff around and see what layout looks good. You can judge the various rearrangements on the basis of whether there is enough room to walk around, whether everyone can watch the TV from all seats or if every person is able to enjoy the fire. Try to keep a foot or foot and a half gap between the couch and coffee table. The main pathway should be at least 2 feet across and could do with going up to 4. Angles need extra care and symmetry is fool proof – keep these points in mind before considering the layouts.
3: Correctly scaled things –
(Image: Meredith Heron Designs)
The room's look depends much on the size and dimension of the stuff kept in. A tall and high solid wood large coffee table will totally destroy a small living room, and so will tiny pouf's, in a large grand living area. One basic interior décor idea is to match the scales of the furniture and other objects you place in the room and you would do just fine.
4: Buy new furniture with care –
((Image: Terracotta Properties)
The room is not a storehouse for the furniture outlet things – keep in mind utility, style and price before buying the said item you have loved at the store. Look for stuff which will not be out of place even if it has to go in some other room with minor or major modifications. Buy right and you shall never regret the purchase.
5: TV issue – Where to place and how –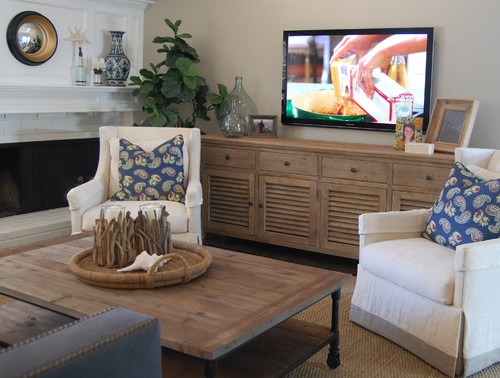 (Image: Dana Nichols)
Luckily with the advent of flat-screen TV's, half the problem is already solved. Keep it on a comfortable height on the wall, place it at least 6 and max 10 feet off the couch and it may or may not be the focal point of the room. It is all your choice to camouflage this gadget and surround it with books and curtains around it or make the room more conversation friendly instead of everything pointing to the TV set.
The ideal living room is composed of all this – and you can have your own special requirements from the room, like amalgamating it with the den or study. If so, your layout will change accordingly, accommodating the rest of the stuff too. Just keep the main pointers in mind, and you will be just fine with the layout of your perfect living room!