This stunning luxury home is located in Island of Maui, Hawaii and is named as Jewel of Kahana. Designed by well known design studio of California, Arri Lecron Architects, this large home has a sprawling area of 9,200 sq ft. The house features seven bedrooms combined with attached deluxe bathrooms along with an oceanfront guest home with an area of 529 sq ft. The beautiful oceanfront pool with spa brings amazing luxury, while a three-car garage ensures the functional aspects are taken care of.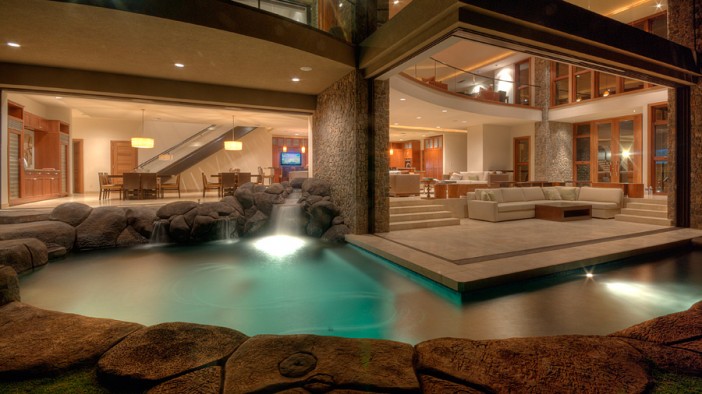 The exteriors of the house are designed to offer the best views from each of the bedrooms. The materials used in the entire house, including interiors, comprises of concrete, stone, marble and lots more. The large open areas offer a fine living area for guests at home, and each bedroom has glass windows and walls ensuring the light and views are never restricted. Inside the house, luxury defines all choices, right from the furniture to the lighting. The entire house has generous lighting options with ceiling mounted LED lights and source lighting used in a speckled balance.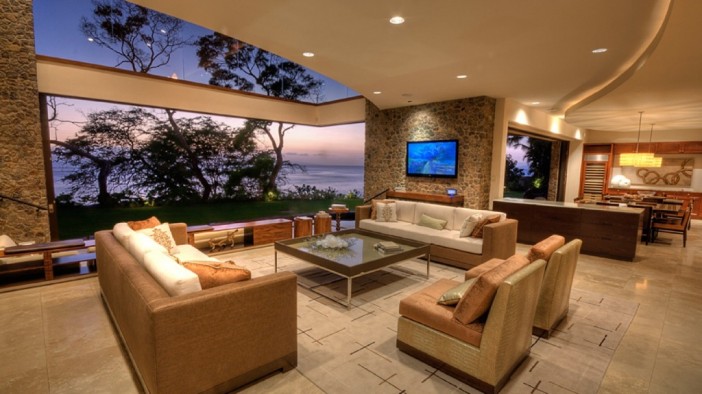 What works in favor of this residence that is open for rental purposes is the use of furniture. Using wooden modern style furniture with more stylish eco friendly options, each piece in furnishings demands attention for its unique use. The kitchen cum dining is also in the open style for the just right sights of the ocean. Using expensive appliances for the kitchen and each of the rooms, the design studio has converted the entire home into an area for entertainment and pleasure. Stylish and truly lavish, this is a home that is meant to splurge visitors in fine and sophisticated living.
Photos courtesy of Maui Estate International