How about a kid's room, he will not want to get out of? We know you are so tired of the simple chores themselves that you have no drive for another round of long term renovations and janitor's around the house. We have simple design ideas and magical tricks and tips for you to add a gleaming newness for the kid's room. Go for these over the weekend transformations for a new look:
1: Change the ceiling paint: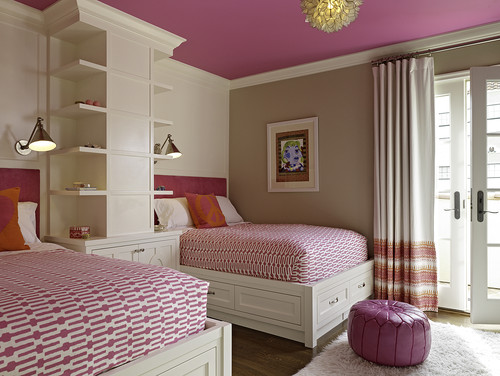 (Artistic designs for living, Tineke Triggs)
This is a simple enough solution for a boring looking room and can be done over two days. You can even do it yourself! Add a lovely dash of bright paint and let the imaginations soar!
2: Add an accent paint wall:
(Irvin Serrano)
The epitome of being a simple bedroom transformation, but look how refreshed the room looks with this single wall painted sunny yellow. Imagine a room without this wall. Does it even look like an interesting room?
3: Paint on a nice motif:
(Kate Thornley-Hall)
Hand painted walls make the room personalized and look lovely. A bold paint on the backdrop with dainty designs on the wall in a light hue makes a great child's room. How about getting your girls room a nice makeover by having a professional around for painting or doing it yourself – the family time way? You can also use a stencil if your hand is not that fine.
4: Striped wall:
(Joel Antunes Photography)
Talking of painting a wall for accent in the room, even stripes look timeless and fun and are easy to create. For a boy's room, go for a nautical feel using the blues and compliment using a striped rug and hint of red in the accessories.
5: Add a rug:
(Jay Corder, Architect)
If the room in question is a simple and monochromatic room, why not have a colorful rug that makes it look fun and varied! This white room for kids is a quiet place if not for the rug. Add matching cushions and pillows for more fun.
6: Add one charming piece of furniture:
(Heydt Design)
The kids will love the focus and attention the one interesting piece of furniture demands, like the dog rocker in this room, or the vintage beds. You don't need anything else to go with this, they are sufficient to dress up the room.
7: Fun headboard:
http://www.houzz.com/photos/556534/Girls-Bedroom-eclectic-kids-miami (Deborah Houston Interiors)
Try something new with the headboard, instead of leaving it the way it is like most people do. Get it covered in the same fabric as the curtains, for example, and see how lovely the room starts looking!
8: Time for new lamps: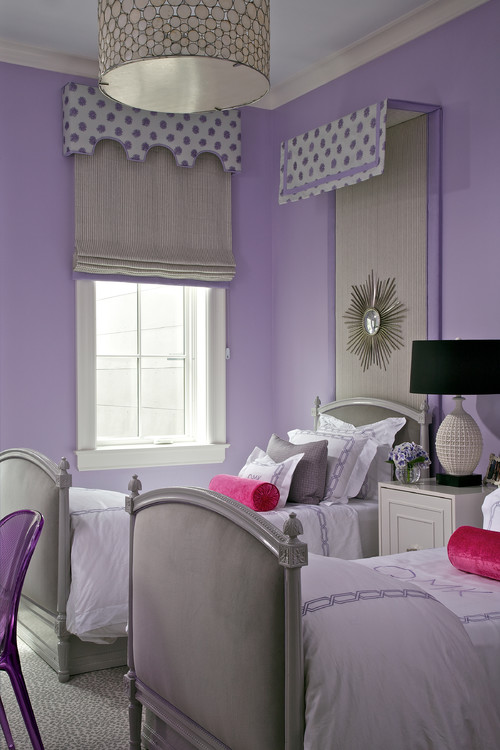 (jamesyochum.com)
It is astounding how simple things like lamps and light fixtures can be of so much value from the eye of decoration – add a stylish pendulous lamp to the room and see how it changes the space. Simple yet endearing design ideas for kids' bedroom!
9: Change the curtains:
(Nick Noyes Architecture)
Soft furnishings have a deep impact on the room's look and feel and sometimes a little tweak can infuse a lot of energy and variety. This lovely room is made more special with these very elegant curtains on the window.
10: Change the bed coverings:
(Wayne Windham Architect, P.A.)
New sheets smell great and look so beautiful! A fresh combination will make the room so much newer and interesting!
11: Mix it up:
(Lord Design)
When choosing new bedding, go for a mix of many, instead of monochrome and single hues. This way the room looks less aged and the fun prints make it full of energy. Go for many colors if the kids are small and many designs in similar colors if they are older.
12: The single quilt effect:
(Hamilton Snowber Architechts)
Sometimes a plain room with just a single interesting quilt or duvet looks superb too! Just make sure it stands out but is not way too off from the general scheme. It should be in tune with the room's theme.
13: The Chandelier:
(Grace Dumalac Design)
You need to be careful of this fixture because it does not go with every room's theme. To pull it off, you need other elements to accentuate the dreaminess, like here the princess beds are a catch – but nevertheless, the chandelier is a beautiful fixture to add and create the perfect fairyland in the room.
14: Fun bed designs:
(Our Town Plans)
If you are looking for something really unusual and can invest some more time than the 2-day transformations we have talked about so far, you are in for a treat using fun bed transformations. One of the very eye-catching designs is the idea of the rope suspended beds, which are essentially planks of solid wood suspended at a comfy height using thick ropes. The swing element comes without compromising on the sleep quality and the children will never want to leave the room!
15: Soft Headboards: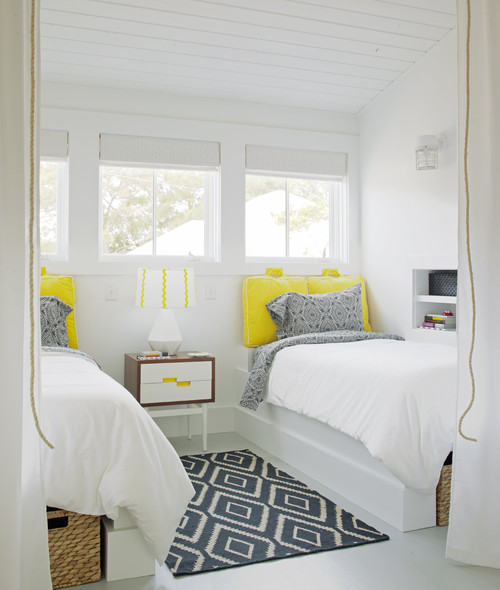 (Rethink Design Studio)
If the bed in the kid's room does not have headboards, you don't have to go out and get it done. Just suspend some real-cozy bolsters in a square or rectangular shape using hooks. Cover the bolster in a bright cushion cover and admire the look!
16: The contemporary: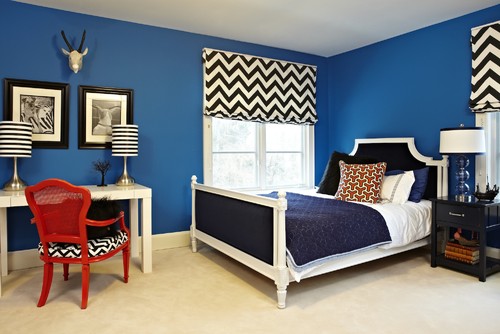 (Jill Sorenson)
Having more elements changed ensures more variety in the feel of the room. Combine starkly different pieces and fabrics and create an eclectic looking room. The classiest is the blue-red-black combination. When done tastefully, it makes the room perfect looking for a young adult.
17: The whole hog:
(Sheila Rich Interiors)
The perfect storybook bed! Your little girls will absolutely love this very demanding, but so worth it princess bed: the hut shaped bunk is a place any girl would love growing up in. This bed is the perfect gift to give your daughter if you plan on a wholesome renovation. Get it built to size and add lots of nice things! Match the curtains and get ready for lots of adulation.
Whether you have a day, two days or week to give to the renovation, there are interior ideas for everyone! Change the way your kids live by tweaking their bedroom interiors for the novelty factor! Have fun and let your kids help in the process!