Even though, porcelain tiles and concrete floors really make your kitchens look trendy, they also wreak havoc on your joints if you stand on them too long. Many homeowners realize their mistake of using the hardwood floors pretty soon in their lives when they suffer from immense pain in their legs or hips or backs due to excessive standing on that surface. However, thanks to the innovation, there are plenty of softer and flexible kitchen floors that are not only highly functional, but also aesthetic for a modern designed home.
Cork
[Image – Zacklde Vito Architecture + Construction]
Cork is made from the bark of the oak tree and is a very successful choice for the kitchen floors because of its cushioning abilities. Since it is available in a huge variety of colours, as well as the textures, they can be easily blended with the interior design of your home. Even though, these floors are self healing, you can add an extra layer of protection by waxing the floors regularly or using protective felt pads under your shoes for added care.
Linoleum
http://www.houzz.com/photos/734380/Inverness-contemporary-kitchen-other-metro
[Image – Pohl Rosa Pohl]
Linoleum is not the same as vinyl flooring, even though it looks the same. It is made of all the renewable materials like powdered cork, linseed oil and pine rosin. Even though, it has a soft underfoot feel, it can be a very durable material for the kitchen floor. There are also many colours and patterns that are available to choose from. If you provide this floor with a protective layer and proper caring regime, you would be able to keep it looking as good as new for many years.
Rubber
[Image – Ogawa Fisher Architects]
Rubber may seem like an unconventional option, but it is very common these days in households that have a lot of traffic and wear possibilities in their kitchen. They are not only cost effective, but also a durable choice for your kitchen. Available in tiles and sheets, you need to seal them after the installation and repeat the process after every 2 years to maintain longevity.
Vinyl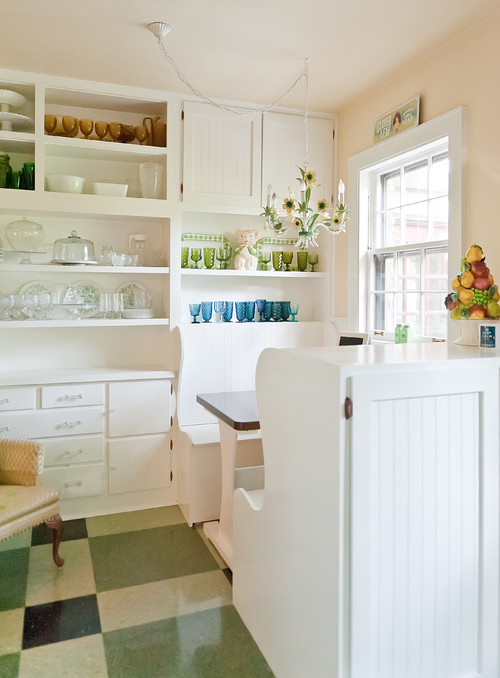 [Image – Kristie Barnett, The Decorologist]
Vinyl flooring is one of the most commonly used forms of flooring in the kitchen. It is not only durable, but also cheap, which makes it an ideal choice for the customers. You can get any style from sheets or tiles with a wide variety of colours and patterns. However, it is not as long lasting as one would want them to be and can actually lose steam in a matter of years. It has a relatively shorter life span as compared to other materials.
Wood
[Image – Merzbau Design Collective]
Wood is one of the most preferred kitchen flooring materials and has much greater cushion than stone, porcelain, concrete or ceramic floors. It is also much more stylish than the normal looking flooring. However, one of the biggest disadvantages of wood flooring is that it can be easily scuffed and scratched so you need to be extra careful. You also have to make sure that it is protected from water. It is better to use the site finished wood in the kitchen than the prefinished wood. By sealing the floor after installation, you can prevent water and dirt to creep into the joints.
Bamboo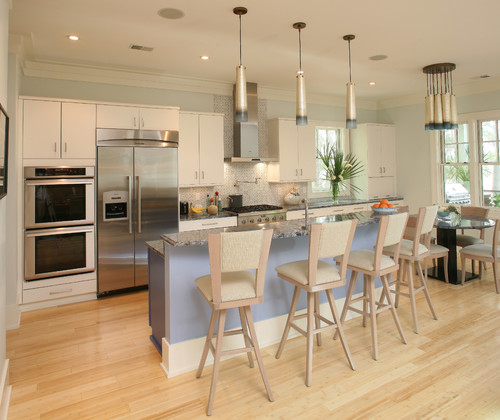 [Image – DLB Custom Home Design]
Even though, it is not wood, but it definitely looks and feel like one. Bamboo also has some common pros and cons of the wooden flooring. While bamboo may not be the most durable choice for a kitchen, however, if you want to get one, then it is advisable to look for moso bamboo, which is long lasting and hardest material.
Laminate
[Image – Galko Homes]
Just like vinyl flooring, laminate is also budget friendly flooring, which has a soft underfoot feeling as compared to much tougher materials like ceramic or concrete.  They have much greater ability to fight the moisture as compared to the wooden floors.  However, they are not a solid material until the core, if damaged, it cannot be refinished.
There are so many new and creative design ideas and ways to make your home a comfortable zone that there is no reason to subject yourself to any kind of discomfort. These options are a sure shot win for a woman, who spends a lot of time in the kitchen and has little or no respite. These floors will make her kitchen experience much better.