If you have always wanted an elegant or sophisticated kitchen, then these simple upgrades will give you the desired look without bringing in huge changes. Just simple tweaks like new lighting or a coat of paint is enough to give it a facelift. Here are some quick kitchen design ideas to help you get started.
Cover your windows with Roman Shades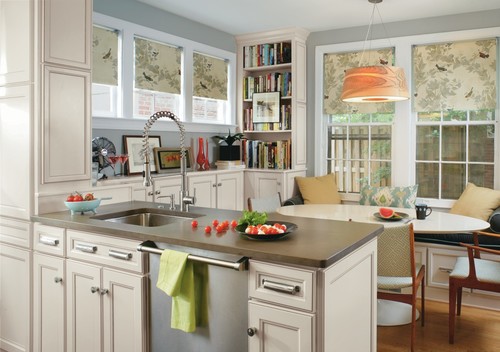 [Image – MasterBrand Cabinets, Inc.]
When you want that your kitchen should ooze the classic finished look, then these Roman shades will do the job for you. Choose the colour or pattern that can complement the rest of the décor and you are all set with a chic makeover that goes with everything. The best bet is to use neutral shades that are much easier to blend in.
Pair of Topiaries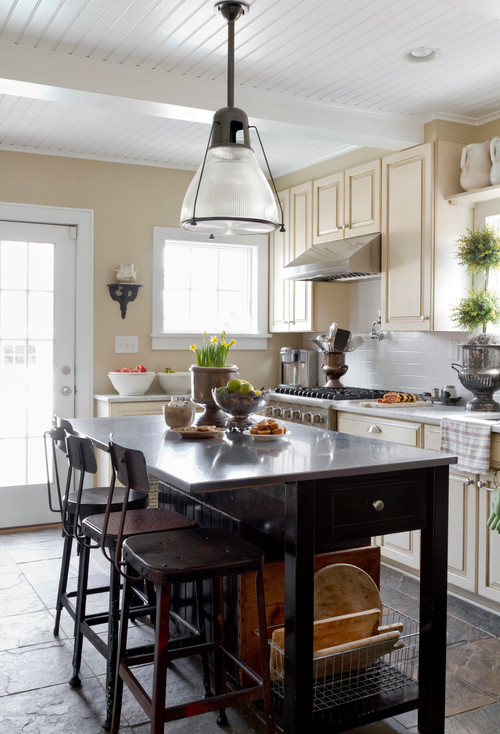 [Image – Rikki Snyder]
This simple idea is so elegant that it brings out an instant eccentric look with its mere presence. You can add two topiaries by the sink that can be covered in burlap or any other design that can complement the overall theme of the kitchen. You can also bring a vintage champagne bucket as a cachepot. You can add lots of natural plants if your kitchen gets copious amounts of natural light. If not, you can also make do with fakes that are not too unreal.
Ambient pendant lighting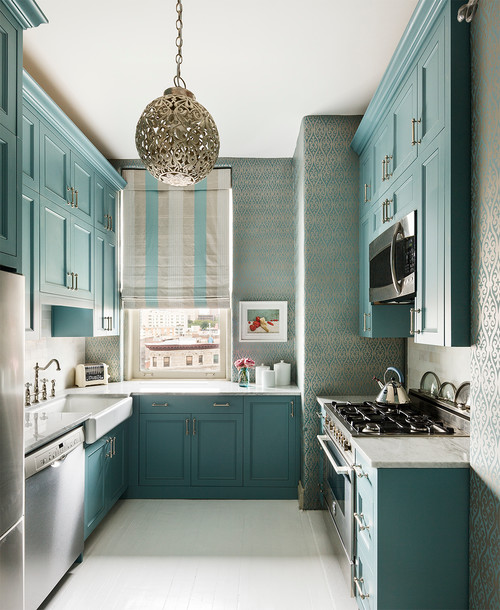 [Image – Sheila Bridges Design, Inc.]
Right kind of lighting can always have a very interesting impact on the room. Replace your plain ceiling lights with something more stylish and unique. A classy lighting idea is to add a pendant light, which can be the focal point of the room. You can also experiment with the sizes. Don't be afraid to use the large ones even if your kitchen is small in size.
Rich colour for Cabinets
No matter if you use natural wood or stained wood, if you paint them in rich tones; they can have a very good impact on the décor. This is perhaps the cheapest way to change the look of your kitchen without changing too much. You can use the unique blue-green hue like in this image or any other such colour that is capable of standing out on its own.
Paint the walls      
[Image – Hartley & Hill Design, LLC]
If you are not looking to paint the cabinets, you can still alter the look of your kitchen by painting the walls. Since there is already too much space on the wall taken up by cabinets and other accessories in the kitchen, it is much easier to paint the walls as there is far less surface area, not to mention, cost effective too.
Design the counter stools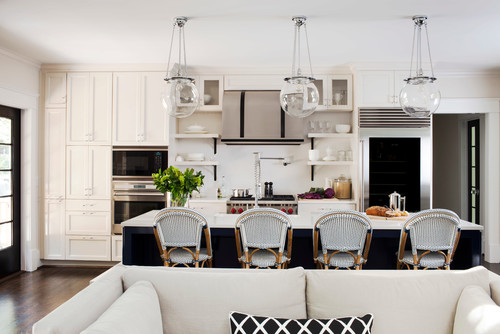 [Image – TerraCotta Properties]
There are so many patterns these days to experiment with that you do not have to stick with the plain kitchen stools, unless, of course, that is your first preference. You can use from the variety of options like the bistro stools in this image or sculptural wooden stools. The choice remains yours.
If you have a long kitchen counter, you can further adorn the space with pendant lighting along the length of the table. This will bring focus and design to this particular area. Glass pendant lights used in this image are not only simple, but also an elegant addition to the existing décor offering awesome lighting ideas.
Glass Cabinets
[Image – Kenzer Furniture]
You can change your old wooden cabinets and replace the front doors with glass ones. They are not only cheaper, but with this simple change can alter the complete look of the kitchen. Whatever you place in these cabinets will also be visible at all times and the things will be easier to locate.
Add a rug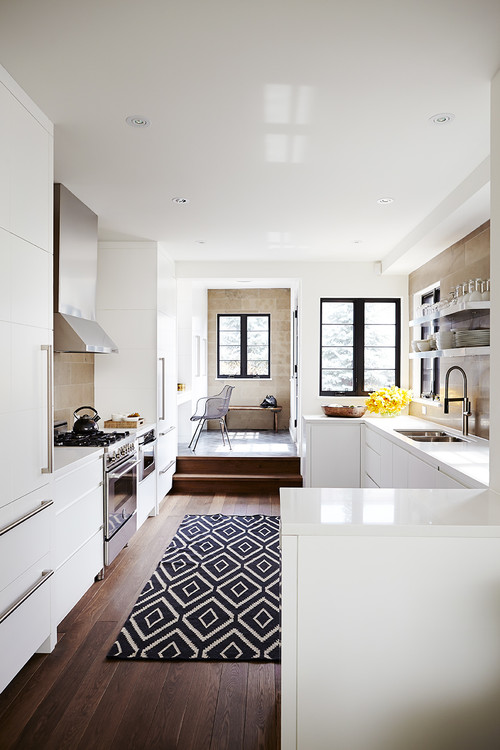 [Image – Barbara Purdy Design Inc.]
There are many people that refrain from using the rugs in their kitchens for the fear of stains and spills. However, these days you can get the indoor-outdoor variant, which is available in many designs and can easily hide the stains.
[Image – Sarah Greenman]
If spills don't bother you all that much, then you can also add an elaborate rug, which will make your kitchen look instantly elegant. You can get a less expensive version of an oriental rug to dress up the kitchen floor. The ones made from natural fibres and wool can also be cleaned easily if you act on it immediately.
Add Branches in a Vase 
[Image – Venegas and Company]
Branches are so chic, contemporary and last much longer than cut flowers. You can add long seasonal branches into your glass vase and to instantly boost the kitchen's appearance.
Ornamental Detailing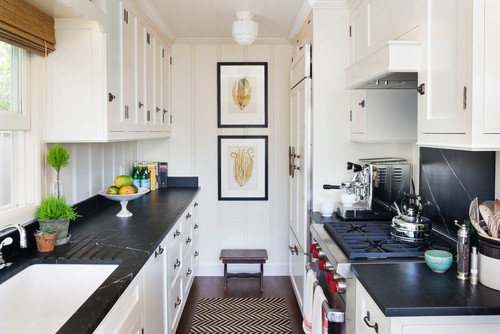 [Image – Clark Collins – Collins Design & Development]
You can also add framed artwork on the walls of the kitchen. However, don't just choose art that is suitable for the kitchen, but something that can be used in any room of the house. This will bind your kitchen's décor to the rest of the house and add polish to the style.
Place mirrors strategically
[Image – Logan Killen Interiors]
Mirrors always play such a huge role in the décor of the house, and this time you can add it to the kitchen, as well. Just place them in strategic spots so that they can reflect off natural light. In this image, a small lamp on the counter is an additional source of light that introduces warm glow to the kitchen without being too imposing.
An elegant kitchen is all about being simple yet unique in its own little ways. It is these little ways that you introduce into the décor, which makes it so sophisticated. You can also experiment with other design ideas so far as it they are not too overwhelming. Don't be afraid to toy with your creative bend of mind and explore the limitless options to make your kitchen look interesting.